The season has started fairly quietly, but there are fish about…
Jim McNiven was out on the Loch last weekend and as he was passing Balloch Castle made contact with the first reported springer of the season. Unfortunately for Jim the fish made it's own contribution to stock conservation and released itself at the net…..the angler's nightmare. It was estimated to have been around the 15lb mark and a bar of silver…..' the one that got away'….
On Thursday John Bell ventured out for his first trip of the year and as well as enjoying the good weather had a successful day on the troll with  three sea trout, a well mended salmon kelt and pike all caught and duly returned.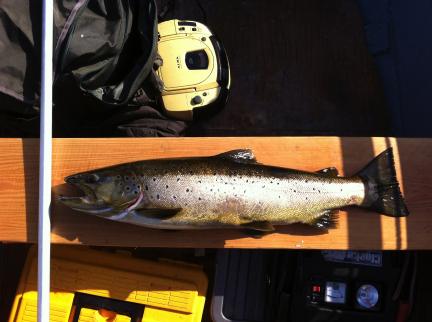 The loch holds some very big sea trout and each year the earlier part of the season produces fine examples. John's biggest fish of  10lbs was in great condition and would have been a fly fishers dream. It was caught just of the 'spit o' the Murrin' on an orange and gold rapala…. and it's still there…….