River Leven
Although April was generally a fairly quiet month it ended with definite signs of spring fish running into the system. On Friday 27th Chris Arthur landed a spring salmon at the Cables. The fish which, which was caught on the fly, weighed in at 12.5  lbs. On Saturday 28th it's believed that a further two fish were accounted for though no details at present.
On Wednesday 2nd May, Leven anglers Bob Baxter and Andy McAlwee had fish, both believed to be grilse, of 4.5lb and 3lb respectively at McKinnons.
Few anglers out on the river, but as reports of fish coming off circulate, many will be organising fly boxes and oiling up their reels.
Loch Lomond
Loch fisher Scott Sinclair was out from Balmaha on Saturday 28th and hooked sea trout of 3lbs and 8lbs on a tomic and a rapala.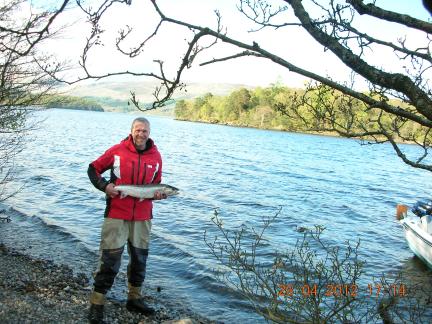 Scott went ashore with the larger of his fish to ensure its safe return.
More Loch anglers are now venturing out and we would hope that over the May holiday weekend we'll hear of the first salmon of the season 'into the boat'.
Contact Reports at: web@lochlomondangling.com