River Leven.
Recent fluctuations in the Loch level have led to the gates being open midweek, after having been closed briefly. They opened again yesterday and with more rain forecast we should see the river at a reasonable height until the weekend at least.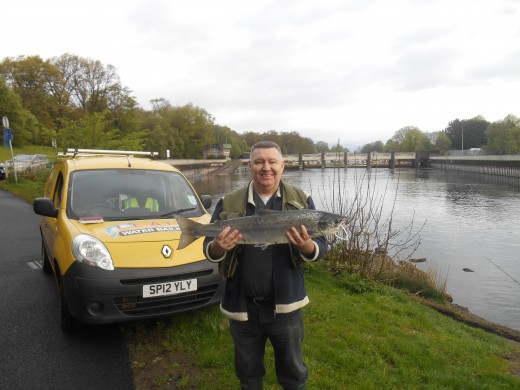 Monday 5th May was a red letter day for Wullie Little. He successfully landed two spring salmon, 10.5lbs and 11lbs at the top pool, both on the worm. The larger fish was released back to the river. Well done Wullie!
On 1st May, Alex Doey opened his season with an 8lb springer and on 3rd May, Jackie Millar netted a 13lb salmon. Both fish were taken at the Top Pool.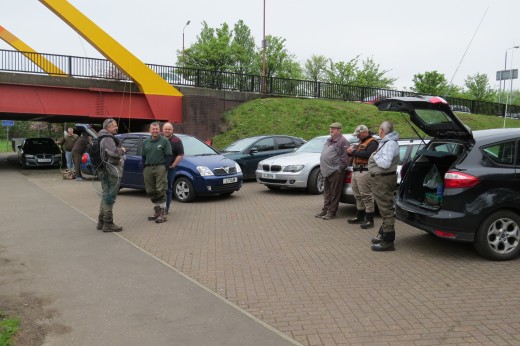 The Leven was quiet last week , but the news of a few fish coming through saw more rods appearing on the river at the weekend……though some never seemed to leave the Bridge car park.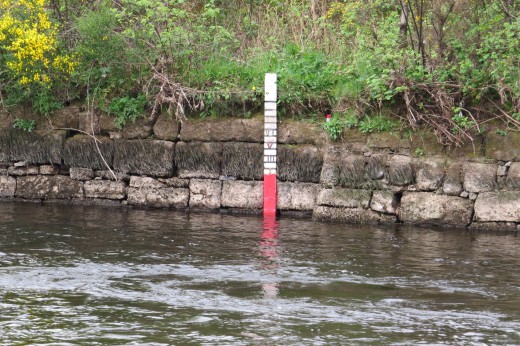 Those of you who fish the river regularly will immediately recognise this marker at the Bonhill Pool, showing weekend low. We hope very soon to be able to bring you daily river height updates on this website. The Endrick and Fruin webcams are very popular but providing the same coverage on the Leven isn't easy. However our IT wizard is looking at some type of suitable alternative meantime.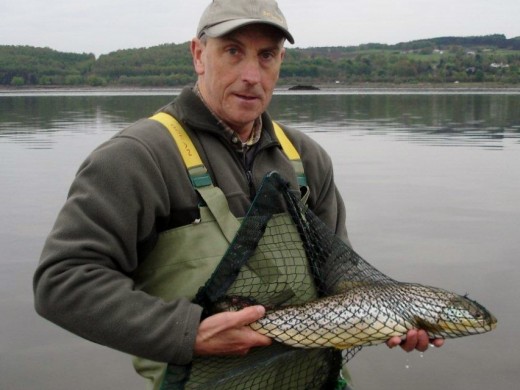 Anglers fishing the Estuary are enjoying good sport with sea trout to 4lb. On 3rd May, Iain Morison returned this fine specimen.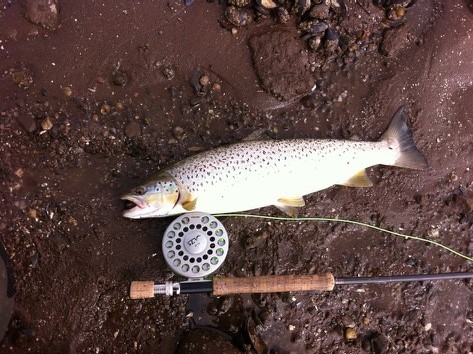 Crawford Thompson landed and returned this fly caught bar of silver near Cardross. Anglers fishing the Estuary for game fish are advised that a permit is required.
Loch Lomond.
Last Saturday turned out to be mirror calm and a bit chilly…..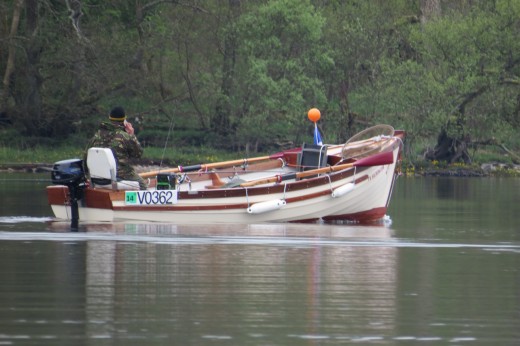 but it didn't prevent Bank holiday hopefuls from venturing out….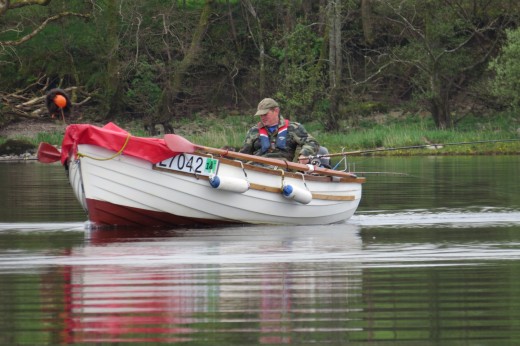 for a day on the troll….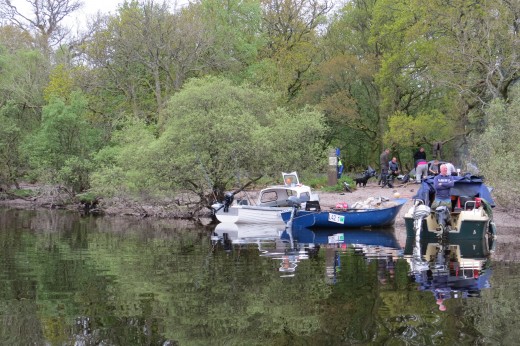 and a good drum up.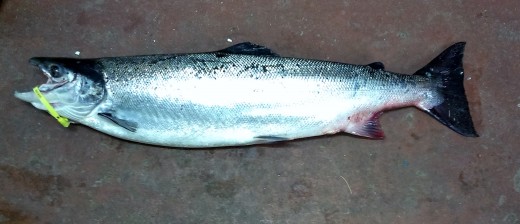 One boatman did have success. Phil Shannon boated a 16lb springer at Darroch on a zebra toby.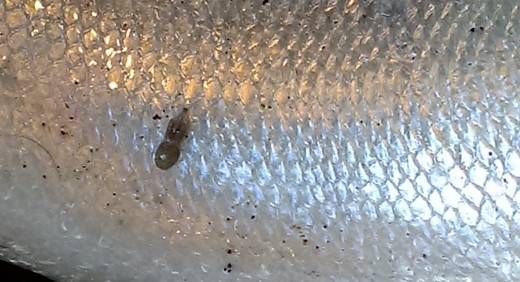 Fresh and still sea liced.
With the barrage open and increased rainfall we should see a few more shortly.
River Leven Clean Up.
The first clean up on the River Leven will take place on Saturday/Sunday 17th-18th May,depending on weather conditions.  Meet at Bonhill Bridge Car Park 9.00am. Gloves, bags and refreshments will be provided. All welcome. – (Now cancelled to weather forecast and expected river height.)
Glasgow Angling Centre Sponsors Spring Catch and Release.
Once again Mr Paul Devlin of Glasgow Angling Centre has agreed to sponsor our 'release a springer' initiative. Every angler who catches and releases a spring salmon before 31 May will receive a £20 tackle voucher from GAC and the LLAIA will increase this to £40. All claims should be forwarded to the committee for decision and must be witnessed and supported by photo or video evidence.
Award of Honorary Life Memberships.
It has come to our notice that some members are unaware of the full circumstances surrounding the grant of HLM's to Mr Michael Brady, former Chairman of LLAIA and Mr Angus MacRitchie. A full statement from our Chairman explaining the reason has been posted on the Committee's blog section of this site.
JR
Contact Reports at : reports@lochlomondangling.com