Bill McEwan Trophy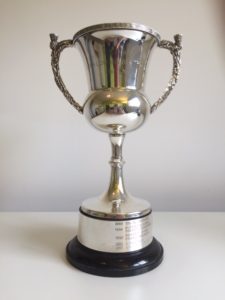 It was announced at this year's AGM that the ' Bill McEwan Memorial Trophy' for the the heaviest 'fly caught' Loch Lomond sea trout had been restored and would once again be fished for annually. The cup was introduced in 1993 when it was won by Colin McCrory. It was fished for each season until 2002 (Allan J Stewart – 7lbs) Some of the weights are also engraved and it's interesting to note that in 2001 Matt Stewart won it with a fish of 15lbs. Authenticated entries including photos, measurements and witnessed if possible should be forwarded to the secretary and the winner announced at the end of season.
Catch Returns
At the 2017 AGM the importance of catch returns and non submission was  highlighted and debated. The committee looked at this and decided that rather than introduce monitory penalties the administration would be tightened up in an effort to improve submission. As a result we received forms from 379 members (85%) and 114 associate members. Late returns received during January and February have been collated and additional catch figures forwarded to Marine Scotland.
Currently a condition of issue of permit states ' Ticket holders are requested to send in a return of all catches made to the secretary at the end of the season' . It was recommended at the AGM that this should be strengthened to ' Ticket holders are required to submit a return of all catches made by 15th December that year and prior to any renewal being granted'  For avoidance of doubt this also includes members declaring a 'nil ' return.
Everyone will be aware that catch returns are used by Marine Scotland to determine each river/system's salmon conservation status. This is calculated using a five year average and 2017 returns will be included in the assessment for season 2019. Although we are still strongly contesting this flawed methodology we depend on our anglers doing their bit to support the LLAIA by making sure that every fish counts….
The website 'Catch Register' proved popular with members and associate members but there are several design flaws which cannot be rectified. An alternative service will be introduced which we hope to have functioning before October.
Joining fee waived/ Issue of permits.
If you're thinking about joining the LLAIA or a returning member this is as good a time as any. The committee have waived the joining fee until 30 April. Details of how to apply can be found on our website at Membership
Please note that issue of permits can take up to a fortnight to process and anglers should not set out on Association waters without a valid permit, which is your legal 'written permission' to fish.
Advertising
Last year we embarked on a successful  campaign to promote the Association and we're on the lookout for further opportunities.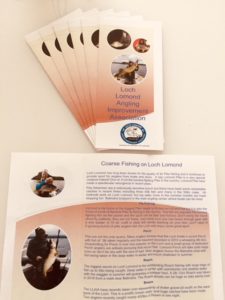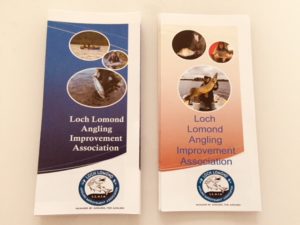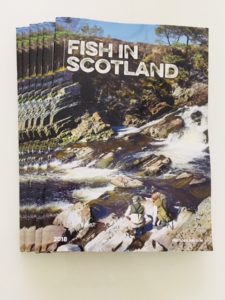 A new 'Coarse fishing tri-fold' leaflet has been produced complimenting our 'Game flyer' and is being distributed to  our outlets. Last year two 40lb+ pike were caught on Loch Lomond so there's a strong expectation among the coarse angling community that the 'Big Loch ' will very shortly produce a new British record.
Last year we signed up to Visit Scotland's website which commands a world wide audience. One keen angler visiting Scotland from California took out a membership of the LLAIA in advance of his trip. The LLAIA are now included in their quality magazine 'Fish in Scotland'
Scottish FlyFair 2018.
The Association was represented at the  Scottish FlyFair held was in Stirling 10-11th March. The event was very well attended and an excellent opportunity to raise the LLAIA's  profile.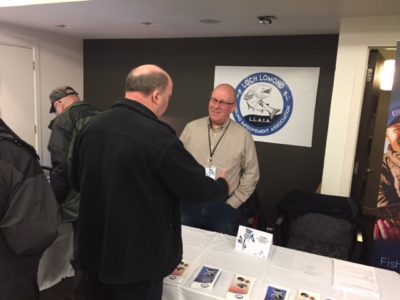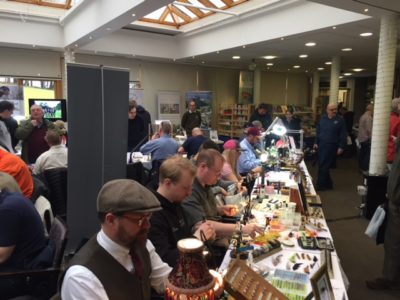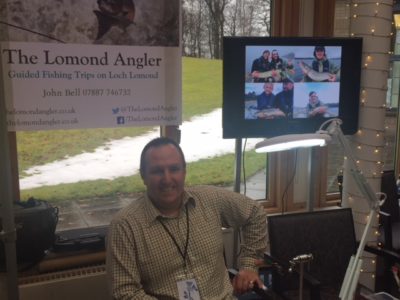 We found that weren't alone…Association members Chris Turner and John Bell also saw the Fair as chance to promote their services. Chris specialises in bespoke furniture including fly tying desks  and presentation fly boxes. John provides guiding services on Loch Lomond operating from Balmaha.
Committe Members/River Leven Representative
Although we have a strong committee there's always work to be done. and the more hands we have on board the better. If you have some time and motivation to spare and would like to contribute to the success of the Loch Lomond Angling Improvement Association please get in touch with our chairman or secretary.
If you are a regular angler with a keen interest in the Lomond system, particularly the River Leven, you are requested to apply for the committee post of River Leven Representative. You must have a genuine interest in helping to improve fishing on the river, an understanding of the management problems and restrictions faced, good communication skills and above all want to make a difference. Our secretary will be pleased to hear from you.
New Website
You'll have noticed that the LLAIA website has taken on a refreshed format but includes the same information as the previous build. Once again we invite you to share your reports and photos with our members and viewers by email to reports@lochlomondangling.com. If you would like to subscribe to our email update system please use the form on our Contacts page and enter 'Email subscriber request' in the subject area.
If anyone has any thoughts, suggestions or concerns you'd like to share please contact the chairman at chairman@lochlomondanglnig.com or secretary at secretary@lochlomondangling.com
Whether a river, loch or estuary fisher, we hope that all our anglers enjoy another great season on the Lomond system.
Regards
LLAIA Committee