River Leven
No water shortage now and the Leven is currently at an excellent height for all methods. Good numbers of grilse and some summer salmon about but not lingering for long.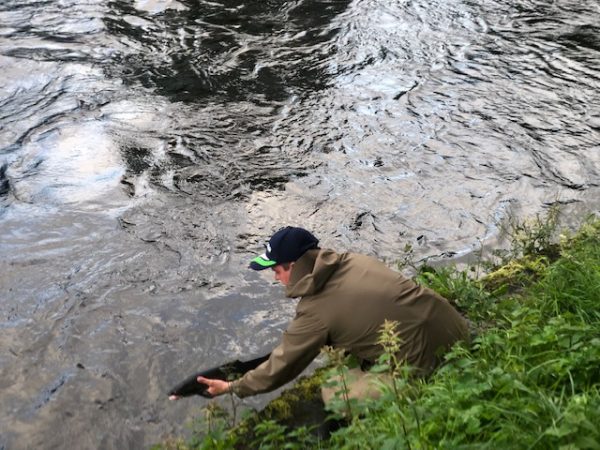 Regular Leven fisher Graham Stewart returns his third grilse (6lbs) in two days, caught at the Top Pool on the fly (pot belly pig).
Other reported catches: 14 August: Peter Rodgers (12lbs) Dalquhurn Lade, worm. 16 August; Graham Stewart (6lbs) Top Pool, fly. 17 August; Graham Stewart (7lbs) Top Pool, fly. 19 August; Alun Pryce (6lbs) Double Pipes, flying-c, returned. 21 August; Sean Miller (5lbs) Top Pool, flying-c.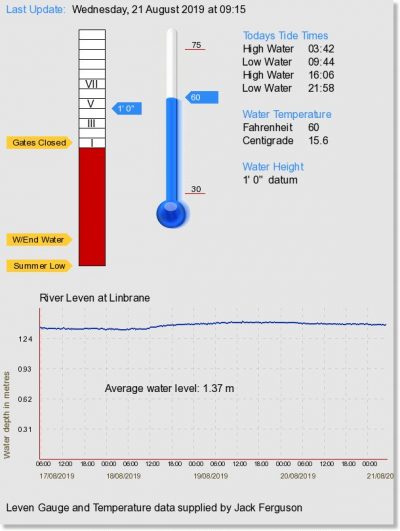 Visit our website for the latest River Leven conditions
Loch Lomond
The recent wet, blustery weather has been good news for river anglers but hasn't encouraged many out on to the Loch….including myself. However, seeing a weather window yesterday I headed down to the Bay where. Gerd Elsweiler was already getting ready to head out. Met Colin Lewis who tells me that despite blustery conditions last Thursday, he landed his third fish of the season, a grilse at Mill o Ross on a small Rapala.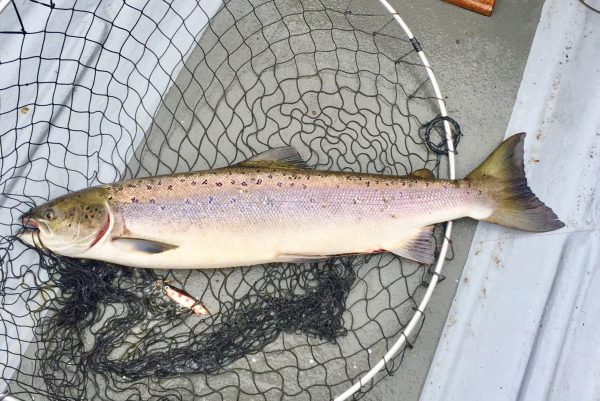 I was immersed in 'Tap End' tranquillity approaching Cullness when suddenly the inside rod screamed into life. Looked round to see the surface erupt as this beauty confirmed its presence. After a spirited fight a hen salmon was netted……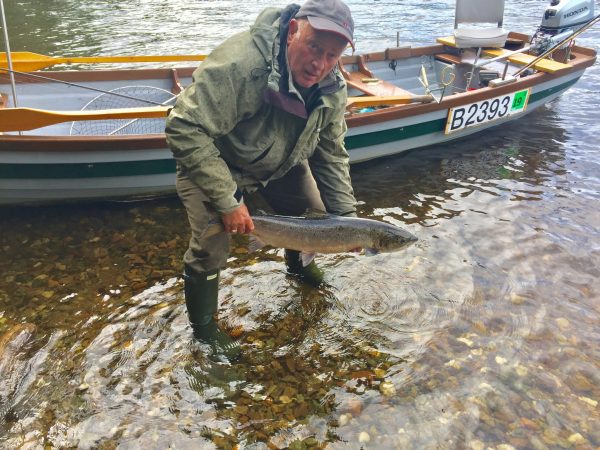 ……..quickly taken ashore, revived and released, swimming off strongly. Weighed in the net at just over 14lbs (32″). Thanks to Gerd for his assistance and photos.
Didn't pass another boat up top yesterday but believe there were quite a few anglers in the southern basin. With the grilse run continuing that's probably the place to be….
River Endrick
Recent regular spates have helped the Endrick come to life bringing fresh grilse and summer salmon in from the Loch. It can sometimes be difficult to get reports on the level of activity, but between now and the end of season, with conditions right, the Endrick is definitely e worth a trip. Very much a spate dependent river, so timing is important.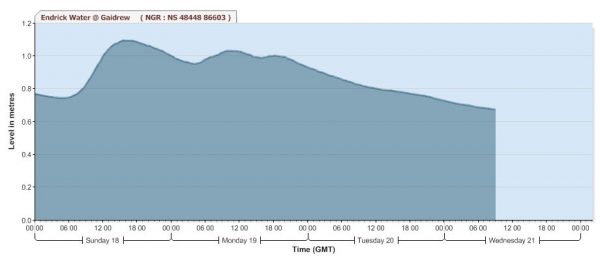 The SEPA water levels site may be a few hours behind but will give a good indication of River Endrick  level.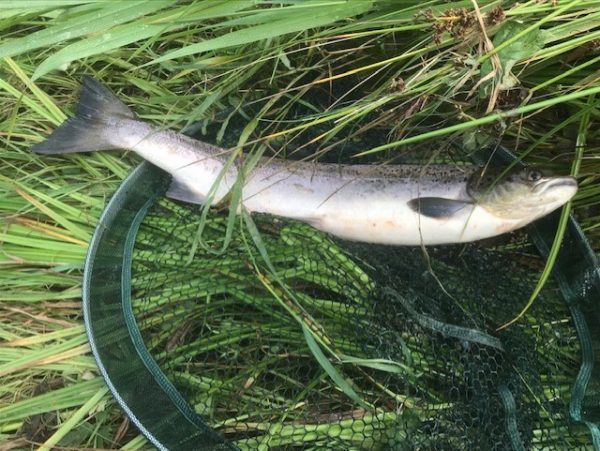 12 August: Angus Soutter took a day off from the Leven by heading up the Endrick. He soon found that it was worth his while, landing this fresh grilse (5lbs)
We hear that other Endrick regulars are also having success: 13 August; Chris Turner (3lbs) sea trout. 17 August: Chris Turner 3 x grilse (5-6lbs). Alan McKee (10lbs) and (6lbs). Colin Ferguson grilse (5.5lbs) sea trout (4lbs)
The LLAIA stretches are fly only and available to full members. Updated maps can be obtained from the secretary. Bear in mind that the River Endrick is a Special Area of Conservation (SAC) and the annual Salmon Conservation Category for the Lomond System is influenced strongly by Endrick catches, so we really need as many anglers out there as possible.
Information Requested
One of our members reports recently catching a pike on the Loch showing signs of damage caused by some type of lice. We've now conferred with SCENE at Rowardennan who believe that the parasite is Argulus foliaceus. It's a native species to UK which may have been introduced to Loch Lomond a few decades ago along with coarse fish species (ruffe etc).  This louse is not harmful to fish per se because it's not normally found in very high numbers but it could cause serious damage, as it has done in the past (Loch Fad being a good example). It's not necessarily rare for pike to have lice but this particular fish has more than would be expected. SCENE would be really interested to hear if other anglers are catching pike (or any species) with lots of lice this year or noticing a change in the lice numbers compared to previous.
JR
Email Reports at: reports@lochlomondangling.com