It is with our deepest sadness and regret that we wish to announce the recent death of Angus MacFadyen of MIlton of Buchanan.
In his younger days Angus worked at MacFarlane's boatyard. He built a number of beautiful clinker boats in his workshop at Milton of Buchanan and was still carrying out boat repairs when he was well into his 80's. As testimony to the quality of his work many of his boats are still in use on the Loch today. The image below is Angus launching of one of his beautiful clinker boats at Balmaha. Angus was quite a character with a wealth of local knowledge and stories to tell.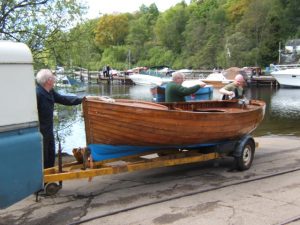 Nothing was ever a problem to him and over the years was a friend to many Loch anglers. A sad loss.
Our sincere condolences to Angus's family at this sad time.