Following the earlier notice (published 28th August 2020) concerning required actions should any angler catch a suspected farmed fish this is latest official guidance how to deal with any farm fish capture.
Official Advice
Inform immediately the LLAIA or LLFT given we don't have a ~District Salmon Fishery Board (DSFB).
Photo to be taken and scale samples, we need to know where and when caught, method and approx. weight.
Fish to be immediately humanely dispatched and not returned to the water.
Online form at FMS to be completed and Fish Health Inspectorate informed ( If anglers give us the info we will do those steps for them).
Fish is not to be kept or eaten!! (That's the official advice for any farm fish)
This only applies to farmed fish, anybody dispatching a wild fish, must only do so within rules of the L.L.A.I.A, they may be subject to prosecution under fishery law with regards retaining of wild fish.
The above advice and steps relate to the capture of any farmed fish not just the Carradale North incident.
Part of the collective response to the appearance of adult fish in the Lomond catchment is to collect scales from the fish and have them examined.  The growth patterns on farmed salmon scales are easily distinguished from those of wild fish.  Collecting scales gives us one index of the occurrence of the escapees in fresh water, and will confirm that our catchment has been potentially adversely impacted.
To that end we are requesting every angler to take scale samples for all farm salmon caught, information explaining how scale sampling should be performed can be found here:
https://asfbuk.sharepoint.com/:i:/g/ERVyukZbaqpDvEz-S1o-a3MBmn5Ct6Dhwo1bFe9sCM3xQQ
Scales should be stored in paper packaging (e.g. wrapped in kitchen roll or in a paper envelope). It is important that scales are not stored in plastic nor dried on a direct heat source.
The L.L.A.I.A will provide scale envelopes and we will distribute these to bailiffs, VOLDAC and also to Derek Hughes the River Leven Rep. So as soon as a farm fish is caught please get immediately in touch with ourselves or the LLFT and we can arrange collection of the scale samples plus a photograph where at all possible.
In addition to the scale samples the following online form must be completed, again if you need assistance with this then please contact the L.L.A.I.A or LLFT who will either assist or complete the form on your behalf with details provided by the angler.
Link to the form is here:
https://app.smartsheet.com/b/form/b432577f816b400cbe8902bd3b799200
The L.L.A.I.A and LLFT will coordinate collection of all the scale envelopes for forwarding on for analysis.
All on the L.L.A.I.A Committee continue to monitor and manage this as a matter of importance as the genetic strains of our wild fish are critical to preserve, especially those in the Endrick.
But if we all play our part correctly should we encounter these farm fish then please follow the information above.
We will keep everybody updated as and when more information is known.
Further information can be found below
Fisheries Management Scotland: Guidance on Capture of Escaped Farmed Fish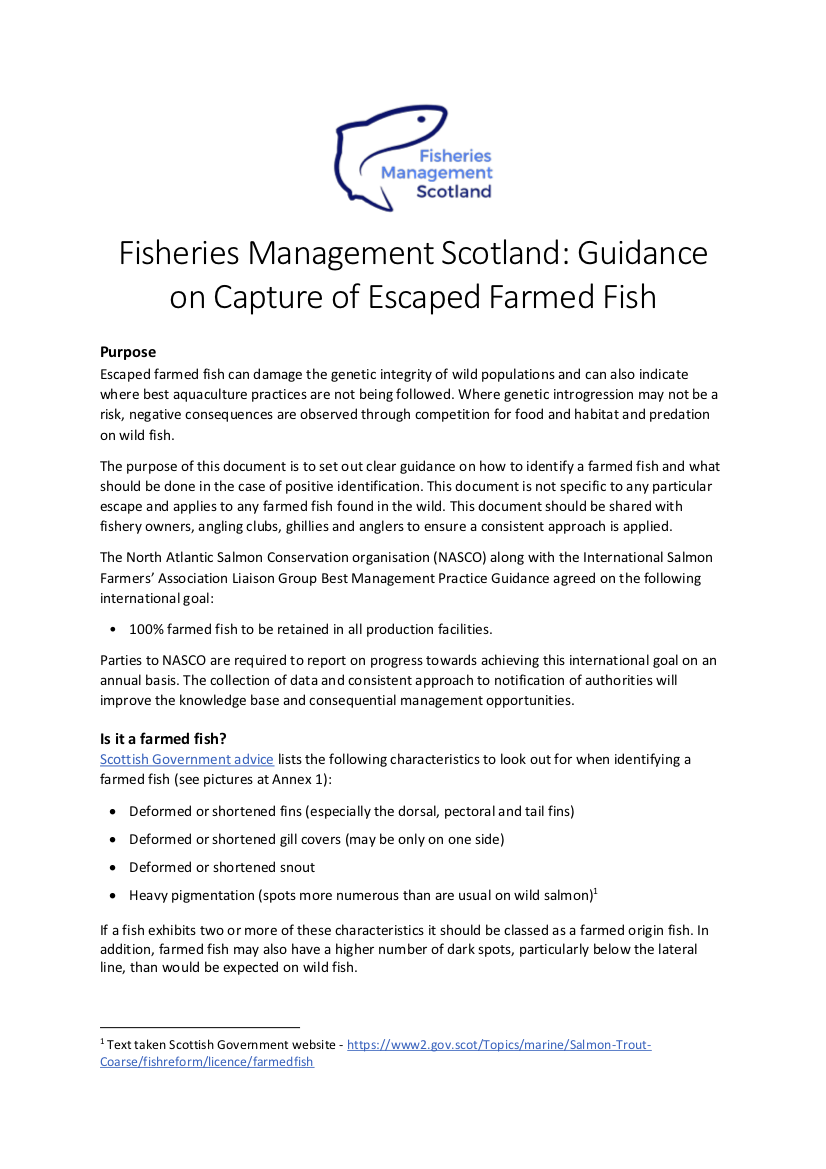 Further details concerning guidance on escaped farmed fish can be found by following this link http://fms.scot/fisheries-management-scotland-publish-new-guidance-on-escaped-farmed-fish-2/