Overview
The prolonged dry spell and high temperatures during the last few months have made for difficult conditions with water temperature reaching a worrying 23.5 degrees c on occasion.  However recent rains have brought a welcome rise in levels and have provided some welcome relief and hopefully refreshed most parts of the system. Despite relatively low rainfall, conditions have allowed decent levels and flow on the River Leven at least to be maintained .Significant numbers of fish seen moving through the Leven but not holding up in the lower stretches of the River. Grilse have continued to be landed during July, August and early September even which is encouraging. The dry and hot conditions have however done nothing to support fishing on The River Endrick and Fruin but hopefully the fall in temperatures and the rains of recent weeks will continue and thus allow things to improve on these parts of the system.
River Leven
As mentioned there have been good numbers of fish being sighted moving up the river with some notable numbers of Sea Trout amongst them. It would certainly appear that fish entering the system are not stopping until they reach the mid and upper parts of the river. Angling activity has been busy with those anglers who are willing to put in the hours generally being rewarded with fish. The recent much welcome rains will hopefully have helped to freshen things up and provide some encouragement for fish entering or moving up through the system.
The 6th July saw Leven angler Robert Clifford landed a good Grilse of 6.5lb which was caught on the Top Pool using the worm, congratulations Robert.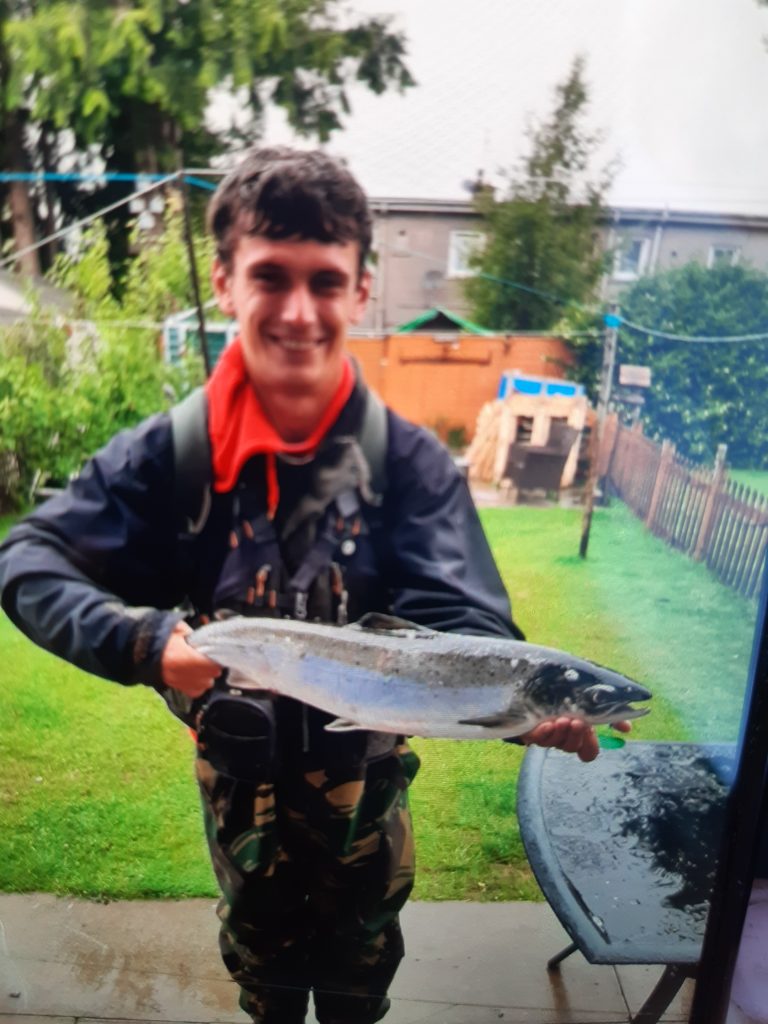 Angler Richard Gill landed this lovely wee Grilse when spinning McKinnons on 9th July
On the 12th July experienced angler Alex Doey successfully hooked and landed a Grilse of 5lb, congratulations and well done Alex.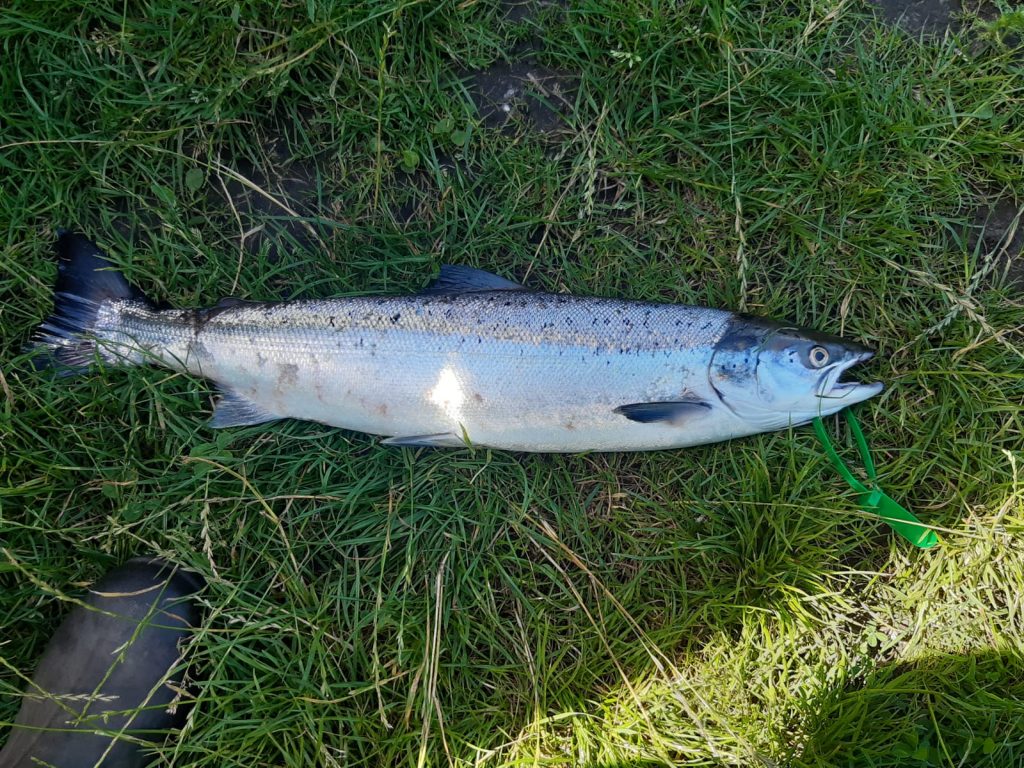 Ansell Swann landed a fine Sea Trout of 2.5lb in the last light at the very end of the day on the 13th July at The Glebe whilst fishing the fly. Congratulations Ansell.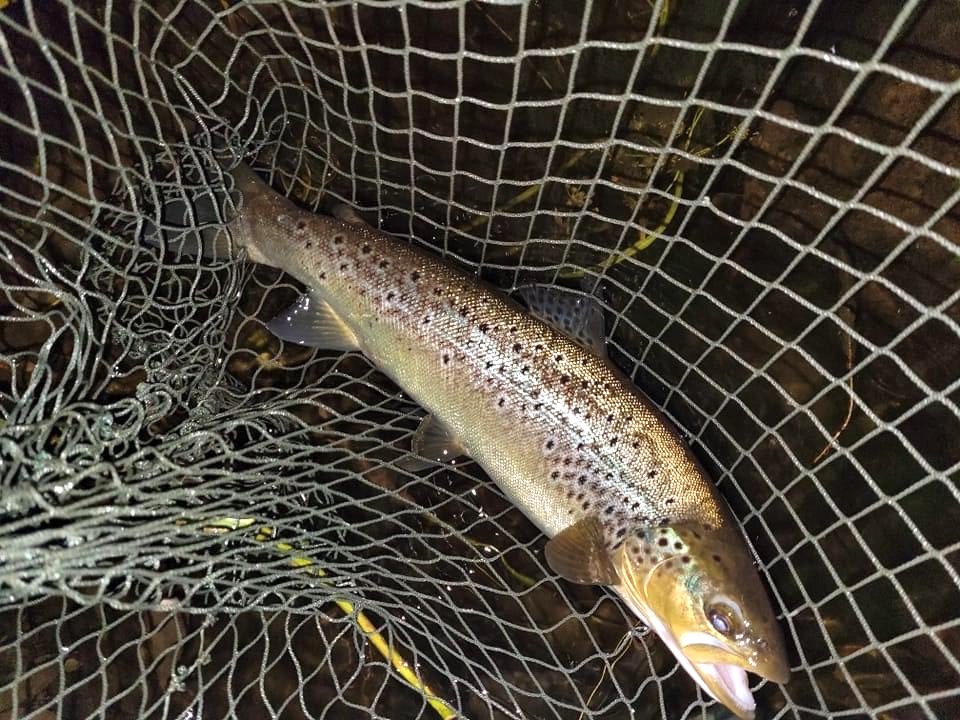 On the 14th July Leven angler Craig McKerry successfully landed a fine fresh looking Grilse of 5lb once more on the worm and again at the Top Pool, this fish was safely returned. Congratulations Craig.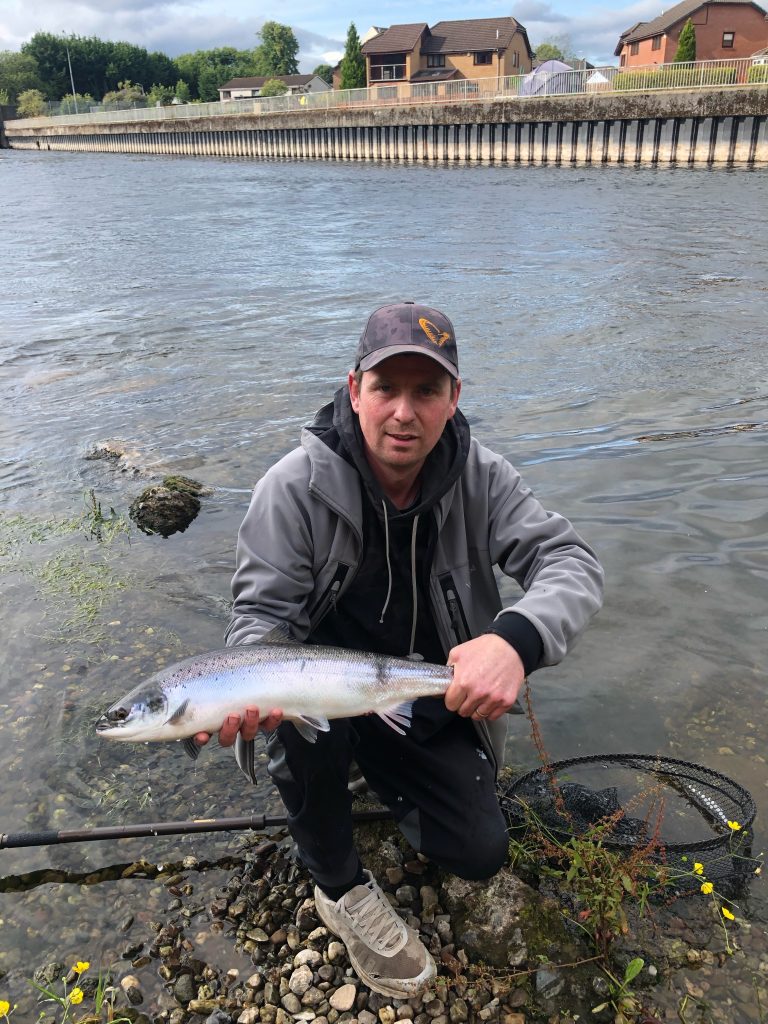 On the 4th August Craig McKerry's success continued with a Grilse of 7lb caught near the Stuckie Bridge on the worm, well done Craig. Once more this fish was safely released.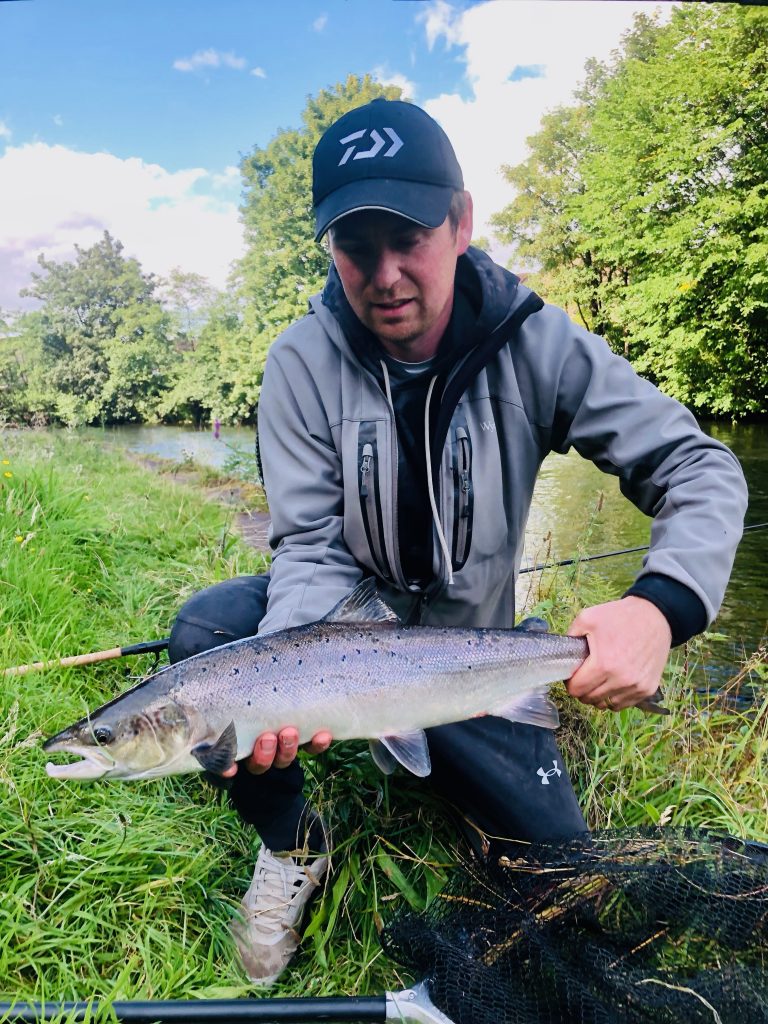 Its now 6th August and yes guess who, Craig McKerry weighs in with a good Salmon of 12lb from the Top Pool once again caught on the worm, congratulations Craig. This fish was also safely returned.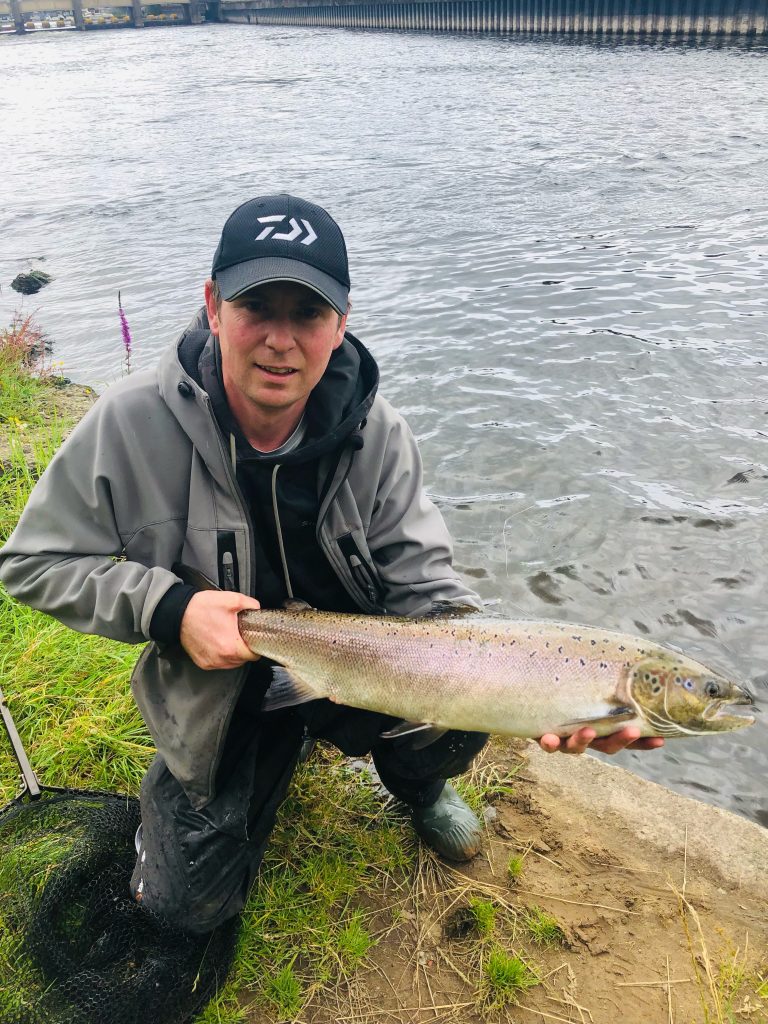 On the 29th August John Todd landed a beautiful example of the Brown Trout in our system with a lovely wee brownie of around 1lb caught at the Top Pool. This was caught on a Flying C and safely returned.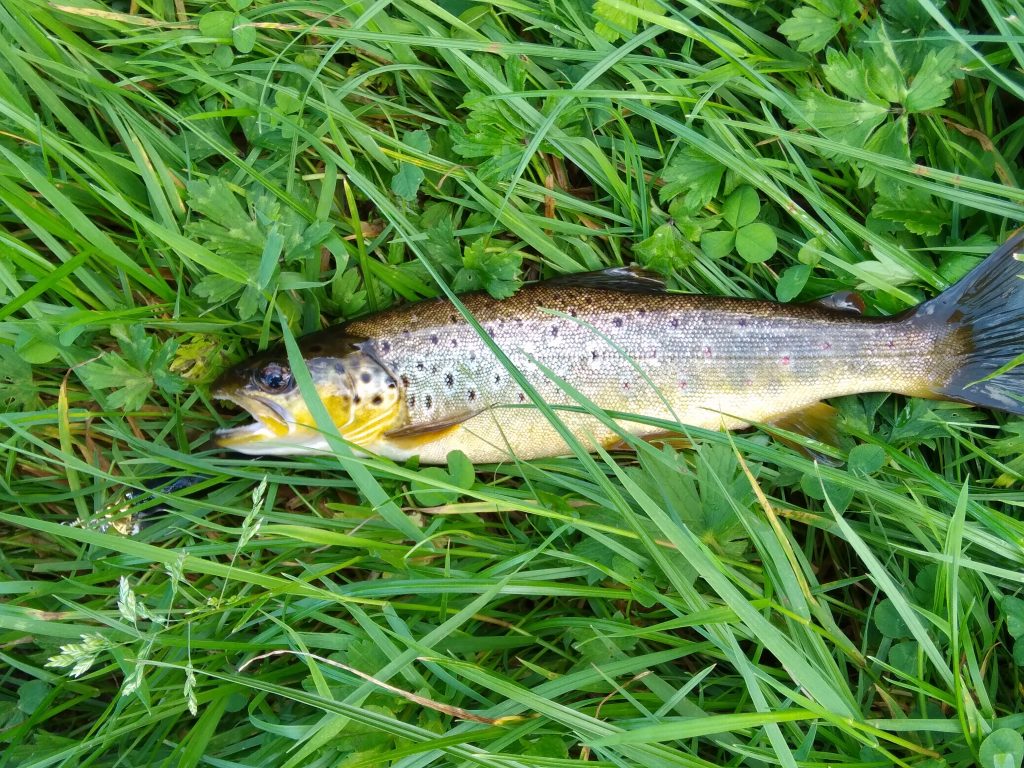 September has begun with a good start for visiting angler Robert Smith who landed a fine Salmon of 12lb at Linnbrane on a Tiger Toby, this fish was carefully released. Congratulations John.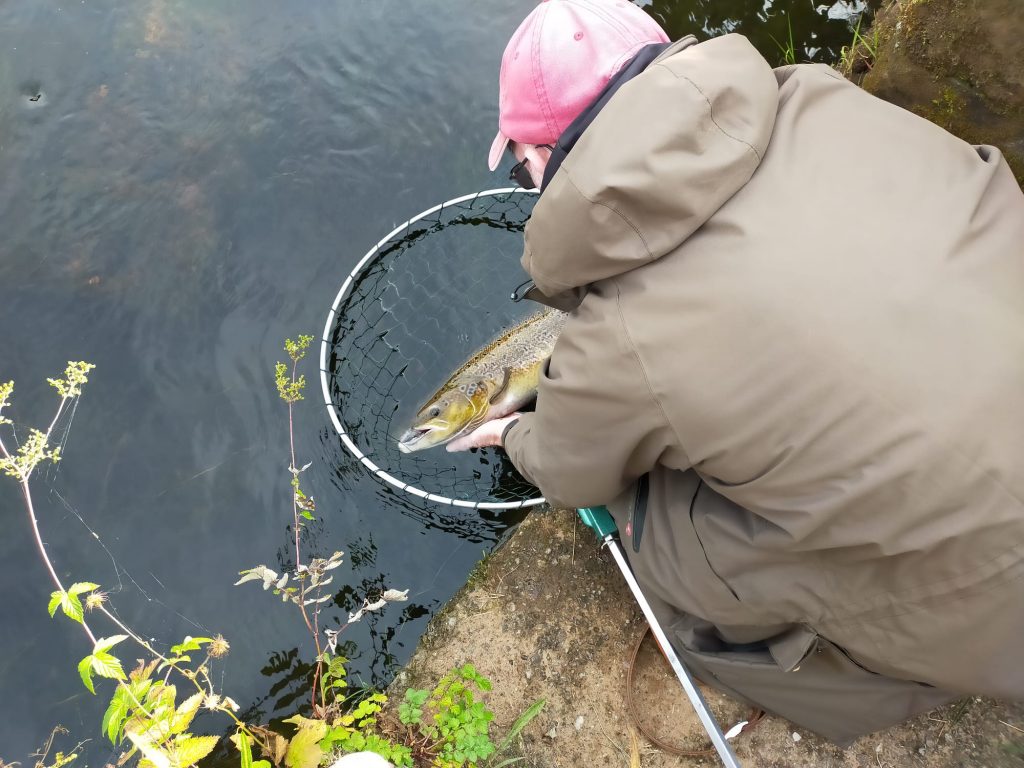 Experienced Leven angler Graham Dunsmore landed this beautiful wee relatively fresh Grilse of around 6lb at The Piles on Friday 9th September. This was all more special as he landed it on a size 10 cascade tied by his very own hand, congratulations and well done Graham.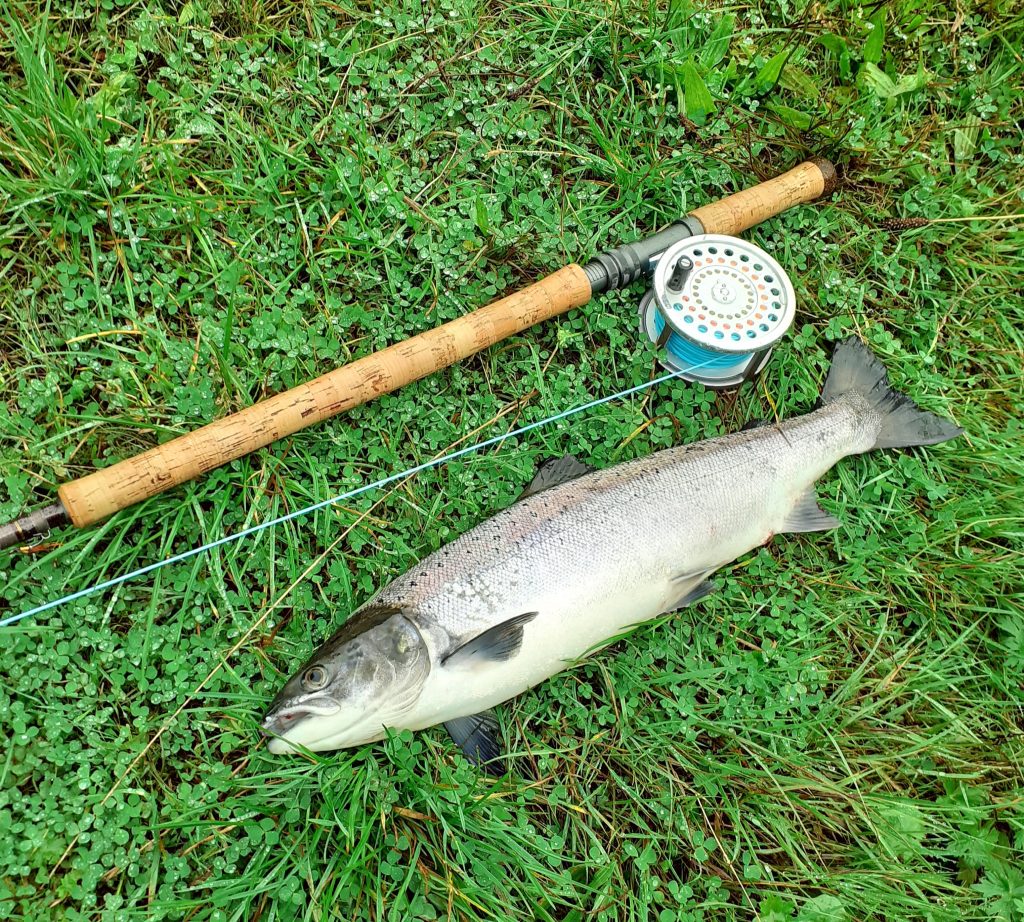 River Leven Water Conditions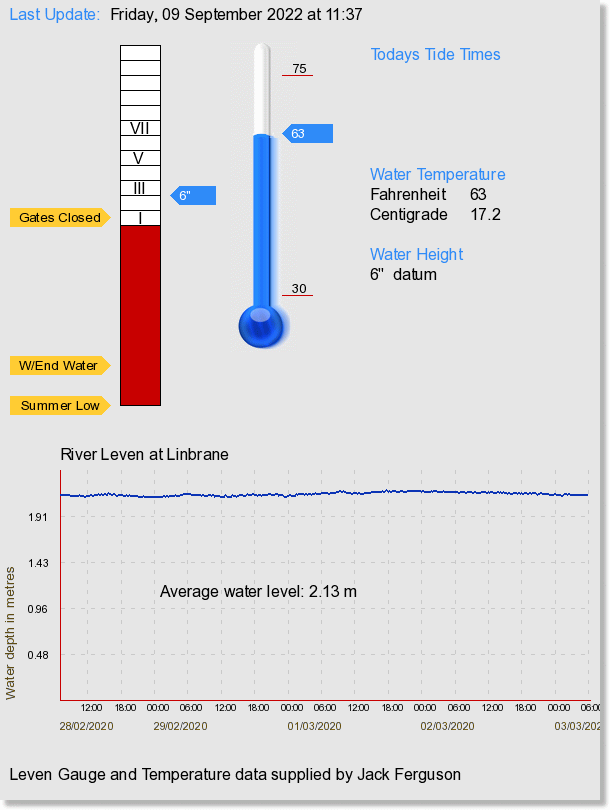 Additionally the current water gauge level for the River Leven at Linbrane can be obtained from SEPA by following this link https://www2.sepa.org.uk/WaterLevels/default.aspx?sd=t&lc=133107
Local information concerning tide tables can be found here http://www.ukho.gov.uk/EasyTide/easytide/ShowPrediction.aspx?PortID=0404&PredictionLength=7
Loch Lomond
The number of boats venturing onto the Loch over the past weeks has been steady but perhaps less than normal perhaps as a result of the hot weather conditions and high temperatures. However as can be seen there are some good Loch catches being made.
The 25th June saw Loch angler Jim Currie successfully hooked and landed a Grilse of 5lb, well done and congratulations Jim.
27th June saw Scott Laird land a lovely Salmon of 11lb, congratulations Scott!
On the 29th June Loch angler James Sheen was lucky enough to land a lovely Salmon of over 16lbs, well done James.
On 2nd July experienced Loch anglers Rab and Shaun landed a very respectable Salmon of 17lbs, congratulations and well done both.
Also on the 2nd July Loch angler Jack O'Malley landed a nice fish of of 12lb, congratulations Jack.
Once more on the 2nd of July well known Loch angler Dick Dickinson successfully hooked and landed a lovely well proportioned Salmon of around 15lb near Ptarmigan which was safely returned. Congratulations and well done Dick.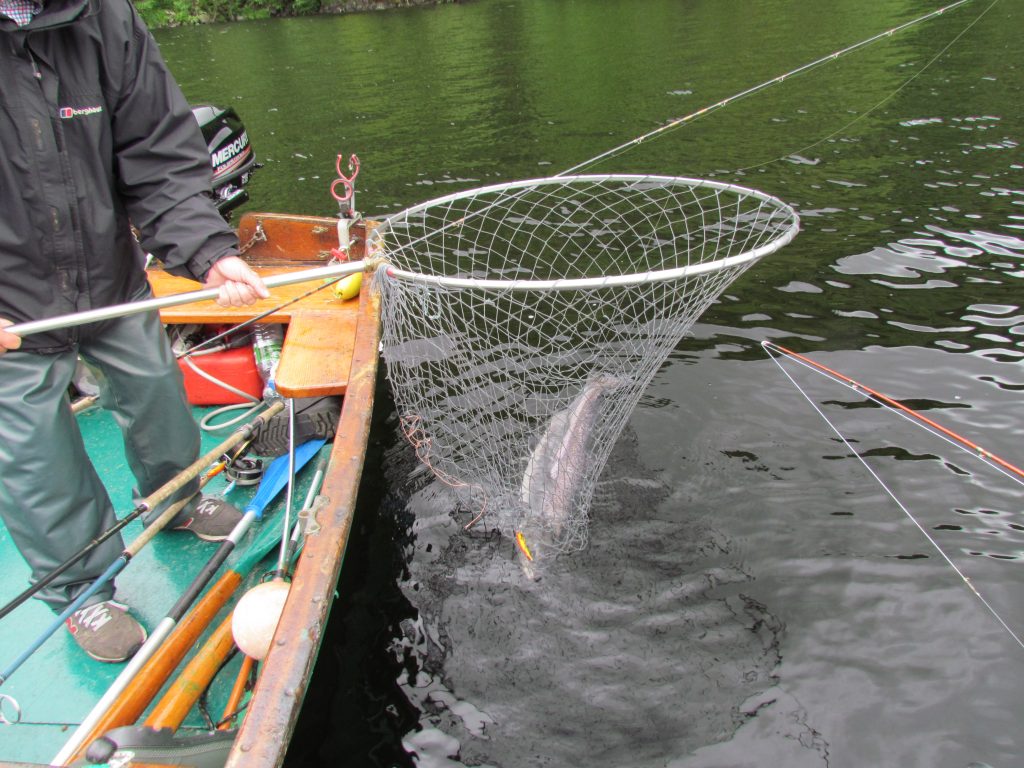 The 7th July saw Danny Docherty land a fine fish of 15lb, congratulations and well done Danny.
On the 9th July Loch angler A Coil landed a lovely Grilse of 4.1lb which was safely returned, congratulations and well done.
12th of July saw angler B.Quinn land a lovely Grilse of 12lb, congratulations.
On the 13th July D. Steele successfully hooked and landed a Grilse of 5lb, congratulations.
Also on the 13th July,  experienced Loch angler Rab Strachan successfully landed a nice wee Grilse of 4lbs, congratulations Rab.
A confirmed report of a 12lb Salmon being landed by Walter Gilchrist on 25th July off the Long Point was received. Well done and congratulations Walter.
On the 26th July Jim Raeburn got his season off the mark with a lovely Grilse of 5lbs once more near Ptarmigan, this fish was safely released. Congratulations and well done Jim.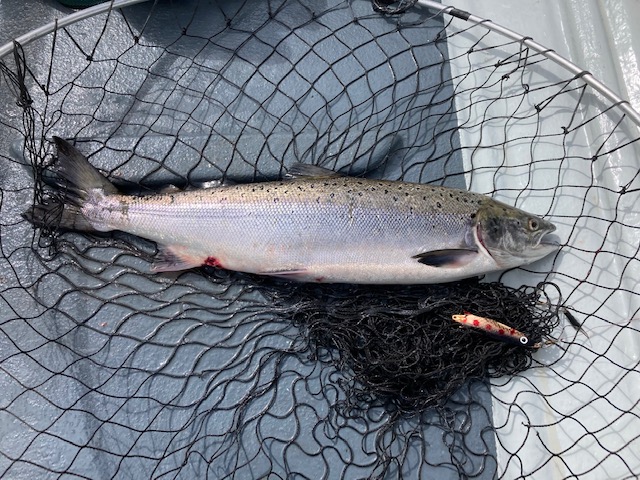 On 15th July Loch angler Alex Bowie landed a nice Grilse of 5.5lb at Rowchoish, this was made all the more special as it was the first fish for Alex in his newly rebuilt lovely boat. Congratulations on both achievements Alex.
On 22nd July Scott Sinclair reported further catches of good Sea Trout. "There are plenty of seatrout about on the loch. Had another 3 last week with the one below being the biggest, about 3 or 4lbs. All went back. This now takes me to well over 30 seatrout this season." Congratulations Scott.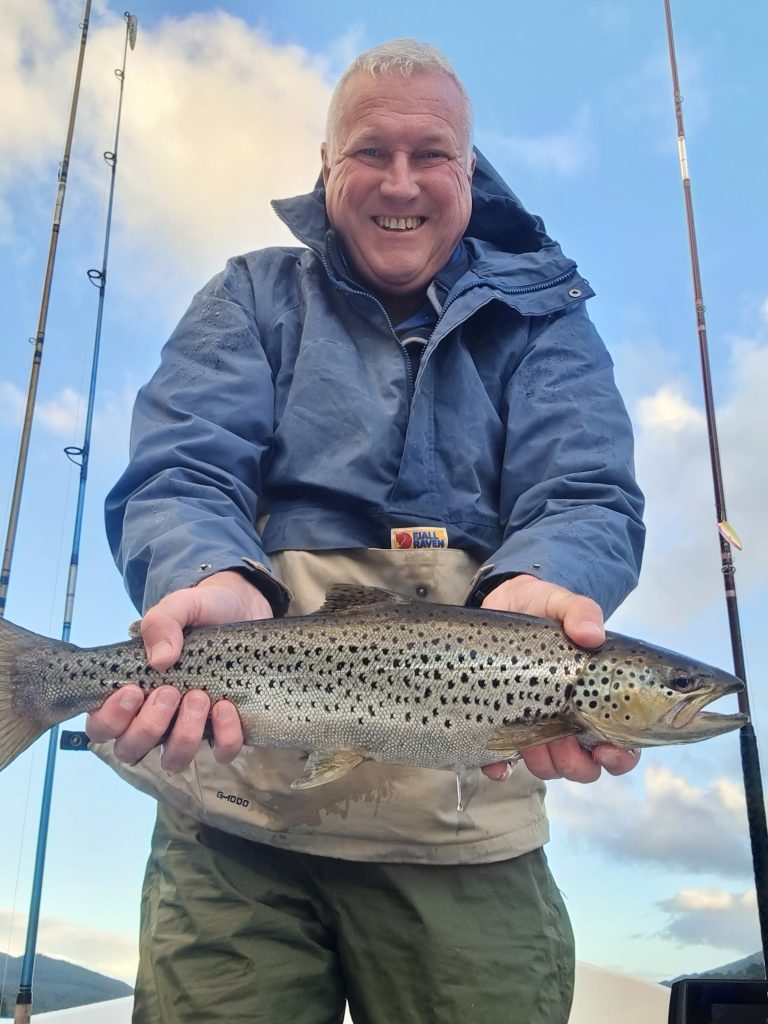 Also on the 22nd July Tam Dorrian landed a lovely wee Grilse of 4lb, congratulations and well done Tam.
Once more on 22nd July experienced Loch angler James Scanlon landed a nice wee Sea Trout of 2lb, well done and congratulations James
On 30th July Jim Currie continued to add to his tally by successfully landing a wee Grilse of 5lb, congratulations and well done Jim. Also on 30th July D. Steele continued his success by adding a nice Grilse of 5lb to his total for the season, congratulations.
24th August saw experienced Loch angler Albert Biddulph land a pretty Grilse of 4lb which was safely returned. Congratulations Albert and well done.
Coarse Fishing
On the 31st July John Whitelaw provided a report on his challenging but enjoyable day fly fishing for Pike. After a frustrating morning of follows from pike and no takes, my boat partner Alan McGregor tried a new fly he had tied and immediately connected with a good pike, which went deep into weed and a long battle commenced. The fish gave a great fight and went over 25lb. Safely returned to fight again. A pb for Alan, who lost another fish later on. A hard day but what a reward for effort. Thank you for taking the time to share details of your days fishing.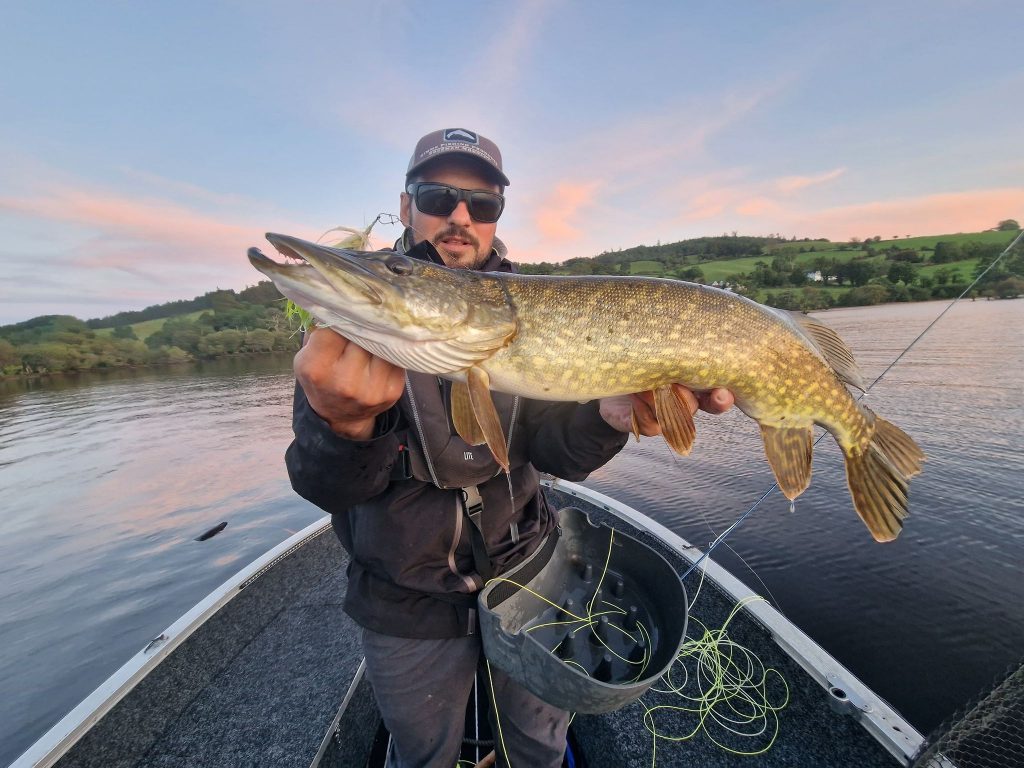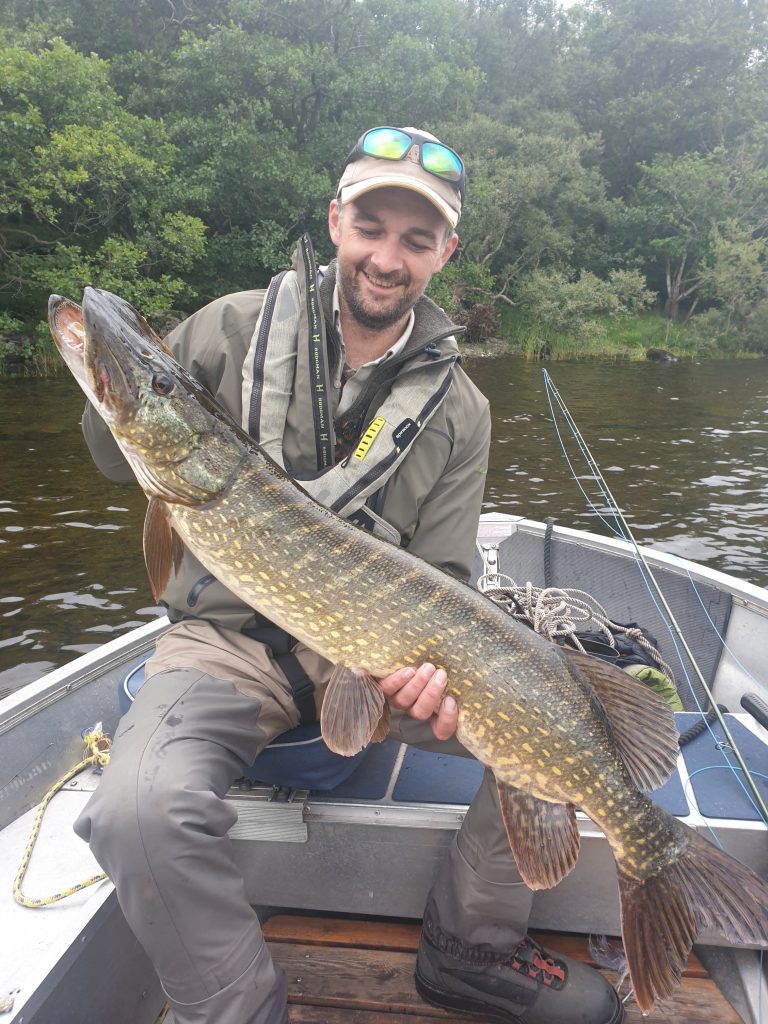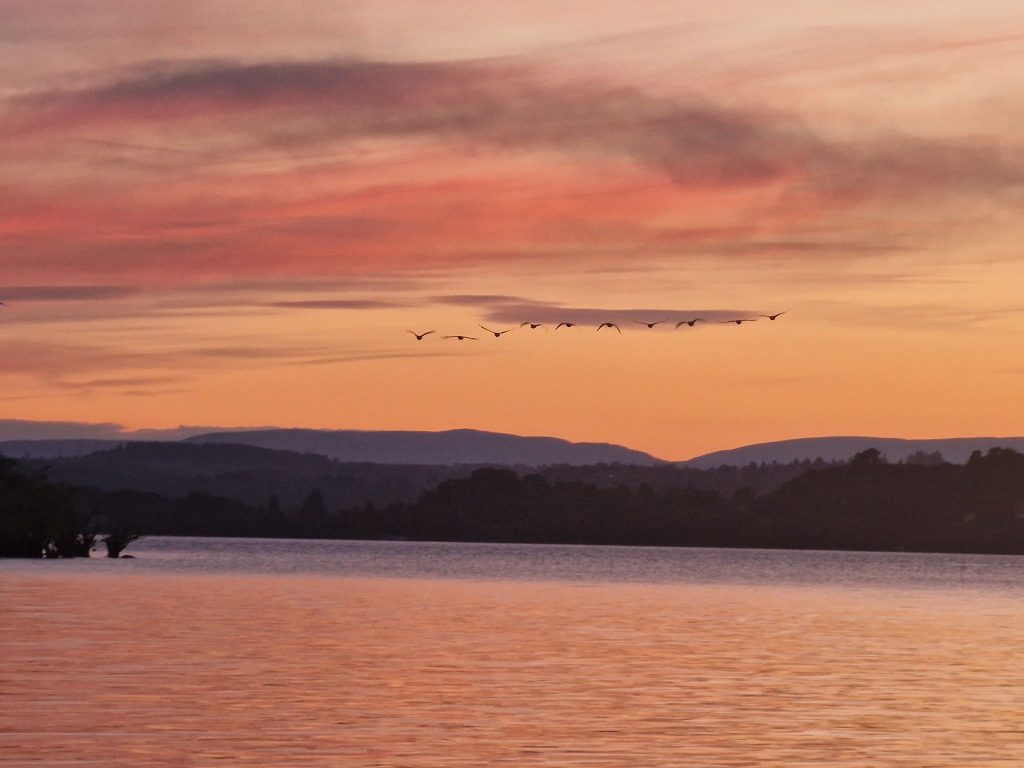 On 19th August this lucky angler landed a fine Pike of around 7lb – "Thought I would sneak in a morning session on Lomond 🎣 2 runs landed 1."" Congratulations and well done.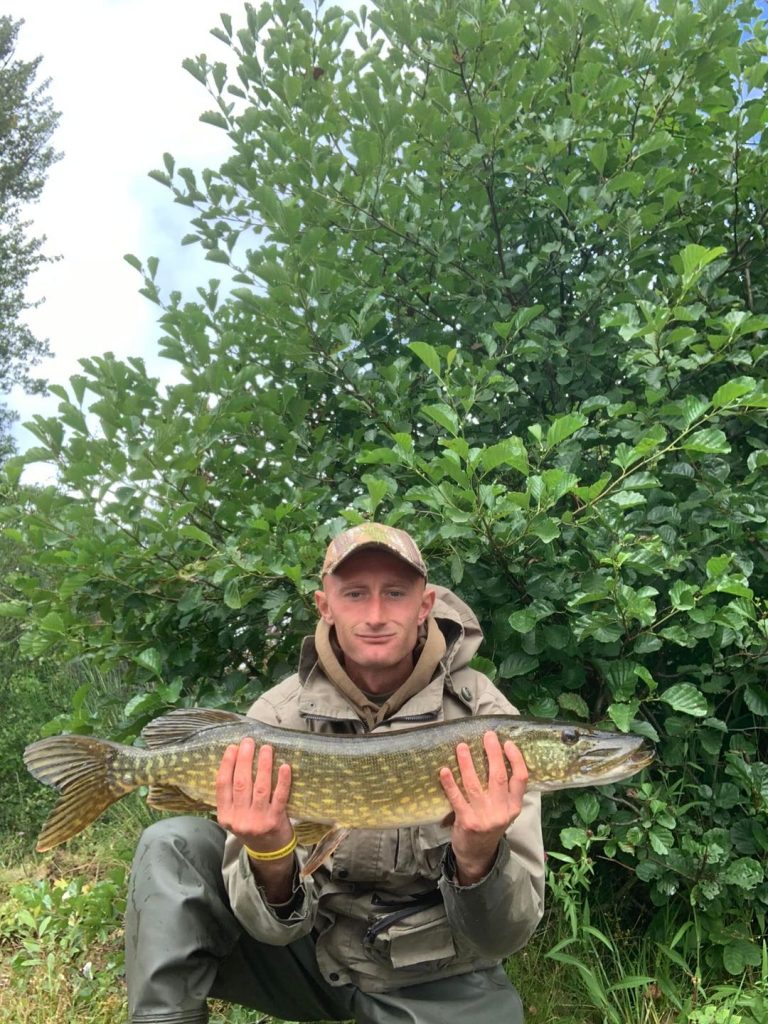 On 24th August coarse fisher Andrew McPeake had a surprising session landing a Roach 'hybrid' amongst others.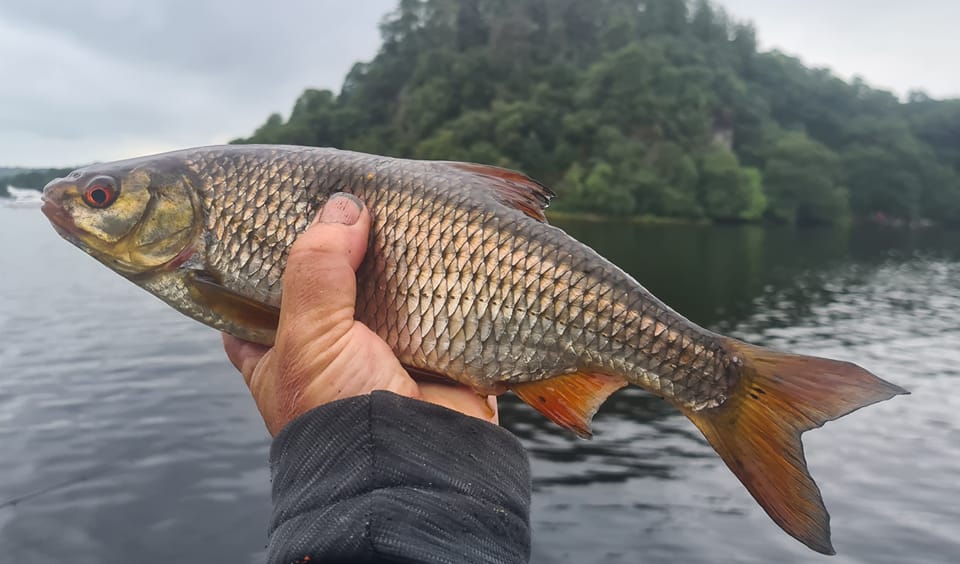 River Endrick
Experienced Endrick angler Chris Turner got the first reported salmon from the Endrick this season 0n 25th July with a lovely Grilse of around 5lb, congratulations and well done Chris!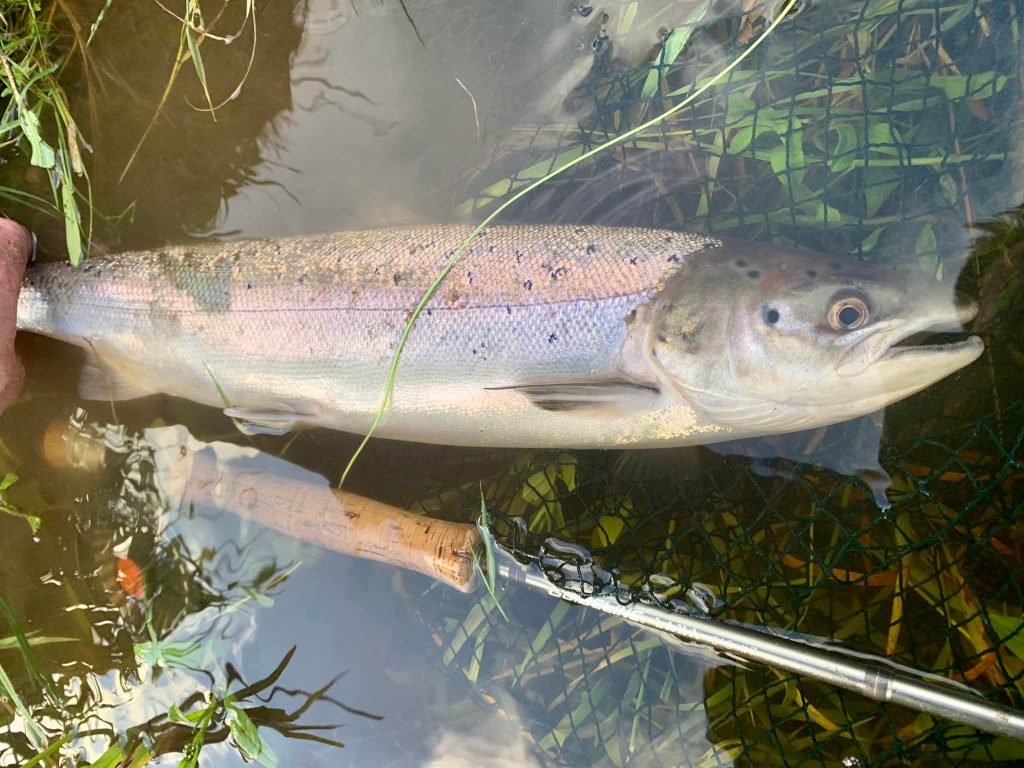 Louis Russell was reward on 17th August with a great Sea Trout of around 4.5lb at Drumtian,  congratulations Louis and well done.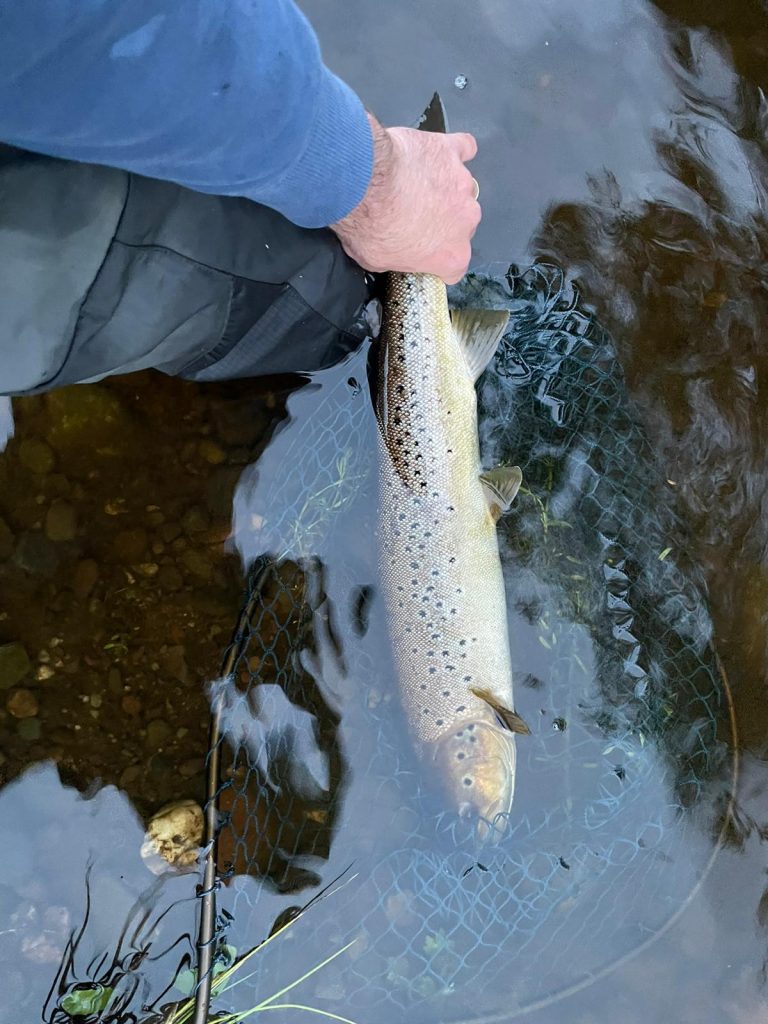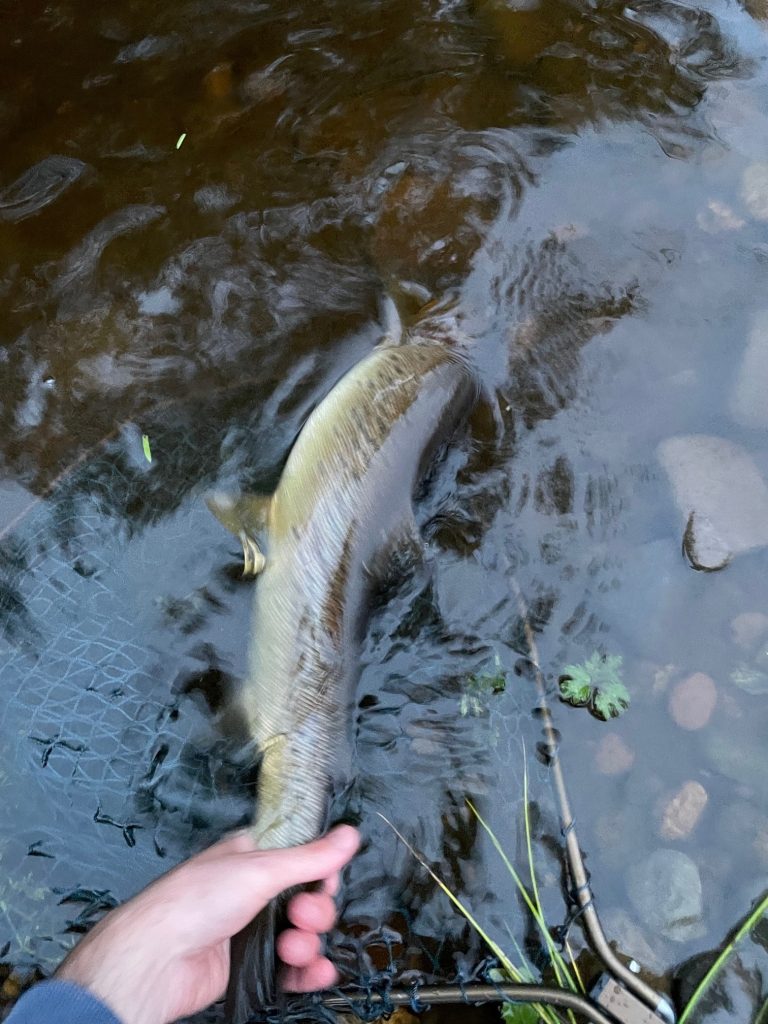 River Fruin
Thus far no reports received of any catches on The Fruin, hopefully the recent rainfall and spates will change this soon.
The Estuary
The Estuary continues to provide good sport with the numbers of fish being caught continuing with some good catches of Sea Trout of up to 8lb being 'unofficially' reported.
The images below, courtesy of Colin Ferguson, highlight some of the captivating and stunning scenes that are an added bonus to during an evening session on the estuary.
On 30th August Colin reported: "Was a pretty special evening in the Clyde Estuary yesterday. Mackerel, Seatrout and Mullet chasing whitebait and shrimps causing them to explode out of the water. Seals, Goosanders, Cormorants and Ospreys after the bigger fish like me."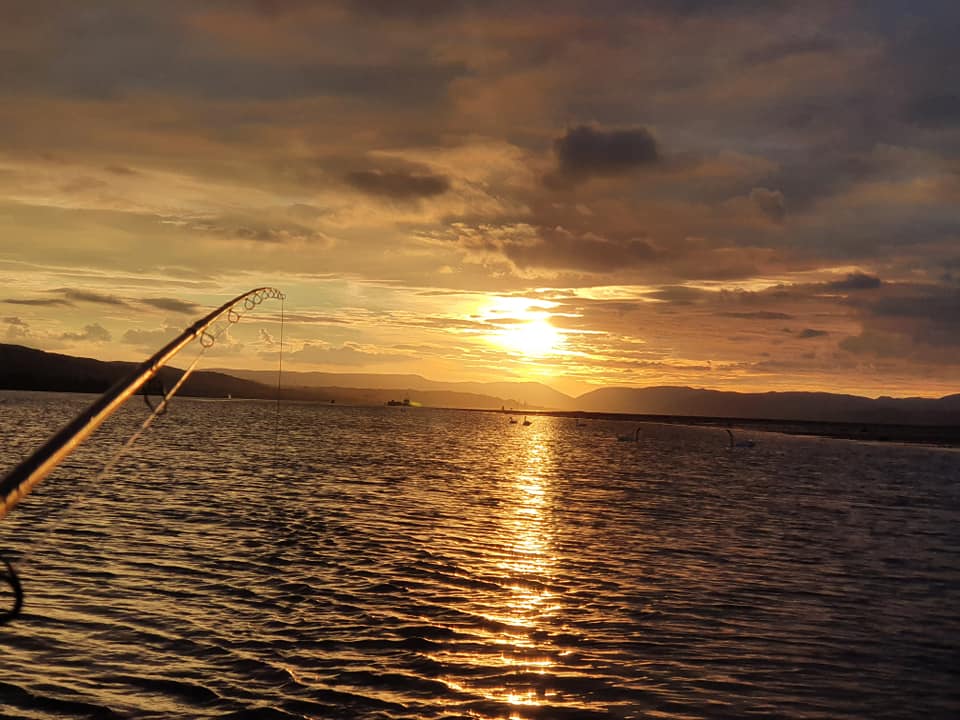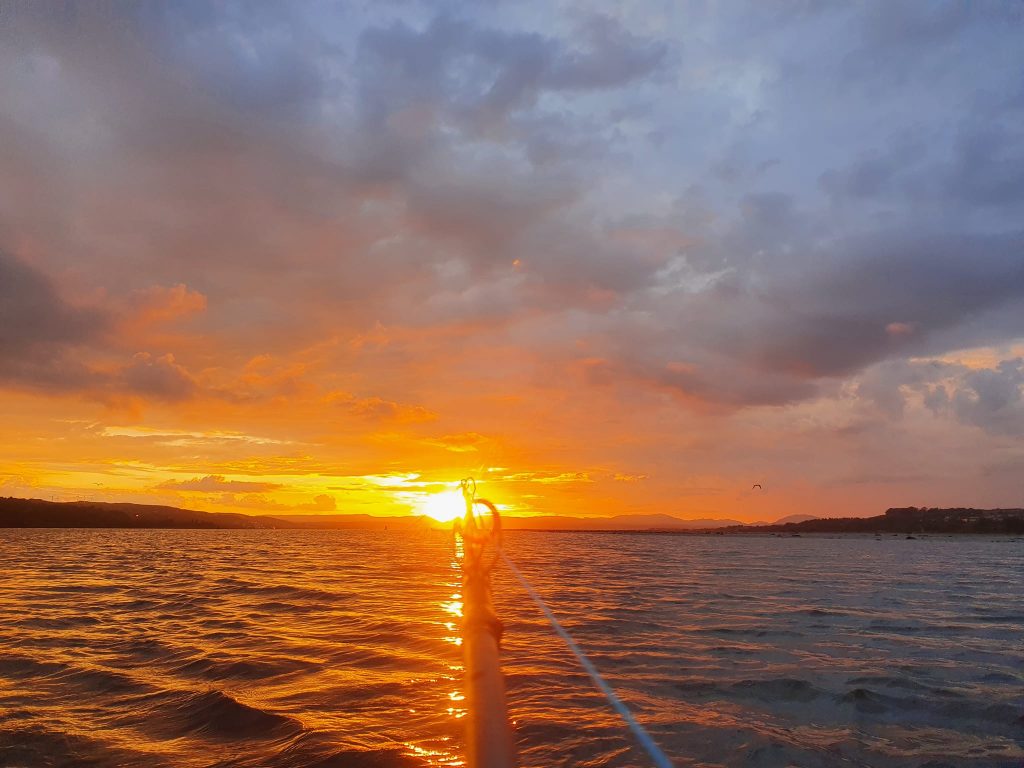 Footnote
As with systems across the country we have once again witnessed some difficult weather conditions during the Summer Season which like last season we have experienced very long dry periods and high air and concerningly water temperatures. Despite such conditions then we continue to see some good sport and good catches across most parts of our system perhaps due in part to the range of fishing and conditions available across the system which can to some extent continue provide choice to anglers when conditions are challenginging.
As we enter the back end of the season then with hopefully increasing rainfall and lower temperatures then it would be reasonable to expect to see healthy numbers of fish being landed and other parts of the system starting to fish.
Please remember to share your tales and catches with us so that we may in turn share your success and enjoyable moments with all of our members and anglers. You can share your reports by emailing details to reports@lochlomondangling.com
Many thanks
Colin Liddell