River Leven.
The monsoon conditions we have been experiencing lately have done nothing but good for the River Leven. Summer salmon are entering the river in numbers and our bailiffs report that over the last ten days more than 30 fish have been landed and at least a dozen lost.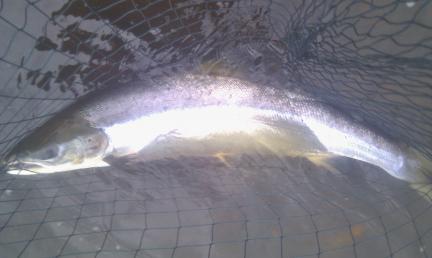 Day ticket angler Neill Sproull contacted us to report that on Saturday 23rd June he landed this 12lb sea liced salmon at the Glebe. The hen fish, which took a size 9 Ghillie fly, was photographed and released.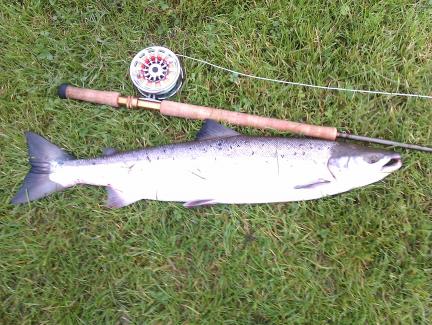 On Saturday 30th June, Derek Hughes landed a 9lb summer salmon at the Bonhill Pool. This fish, which had taken an Irish Red Shrimp, was also released. Day ticket angler Steven Banks also returned a 10lb salmon which he caught on the fly.
This is exactly the type of behaviour that the LLAIA has been promoting and we'd like to thank the gentlemen concerned for their contribution to the system's future. You can fish with us anytime!
Other successful anglers include Frank McGeachie who  landed four salmon in three days, the largest being 17.5lbs caught at the Chapel Hole. Frank, who generally fishes around the Stuckie Bridge and Double Pipes areas, has been using a 'cherry red' devon.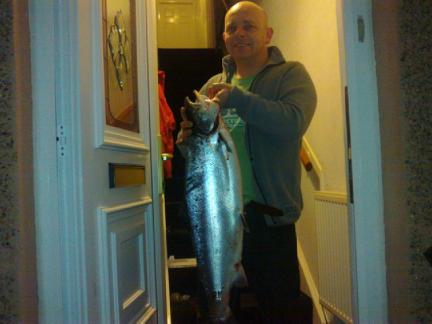 Chapel Hole seems to be a hot spot at the moment. Mark Gibson 10lbs, John Stevens (day ticket) 12lbs, Alun Pryce 10.5lbs, Brian Stewart 14lb(day ticket) and Derek McKenzie 16.5lbs (pictured above) have all reported landing fish there.
The rain is set to continue for a few days at least, so we can expect another good weekend ahead.
Loch Lomond.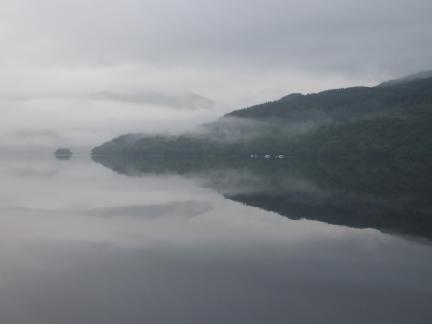 Unfortunately too much rain doesn't please everyone. As all loch boatmen know the Loch fishes best when the level is low and the fish are resting up. The recent rainfall has resulted in a fair rise and any fish entering the Loch will no doubt be heading towards the vicinity of the Endrick, Fruin or wherever their instincts take them. This is not good news for those who prefer to fish the 'tap end'….but one can still persevere……….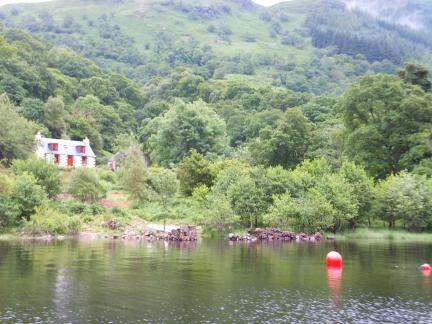 Balmaha angler Gerd Elsweiler, accompanied by a couple of Loch stalwarts, headed up to the Inversnaid area last week to lie out for a few nights. On Thursday 28th June Gerd was out trolling at Culness when he had his first run of the week………
'I was just passing the mooring buoys at Culness and had brought in my inside rod to clear the lure of debris it had picked up at the mouth of the burn. The next thing I knew the outside reel was screaming and it wasn't twigs and leaves!!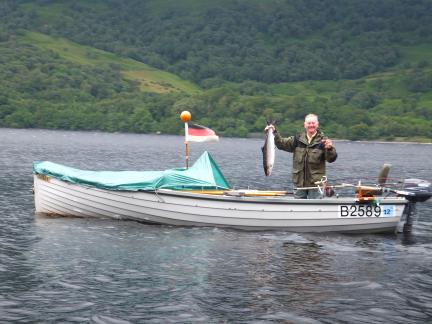 After a lengthy fight he netted a 12lb salmon which had taken a green and gold toby. The same morning another member of the party lost a fish at Eagle Beach. Some may think it too early to head up the way, but you just never know.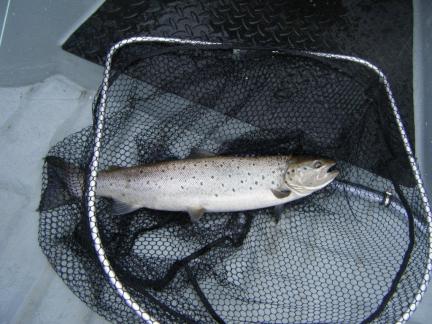 On Saturday 30th June, Jim Muir and Jim Paris ventured out for a day on the fly. It was one of those gusty days but unfortunately they didn't meet with success. However, they did come across fellow fly fisher who had. Iain Morrison was fishing off the sandy bay between the Long and Short Points of Inchmoan when a good sized fish was attracted to his claret bumble. The sea trout, which weighed about 5lbs, was netted, quickly photographed and returned.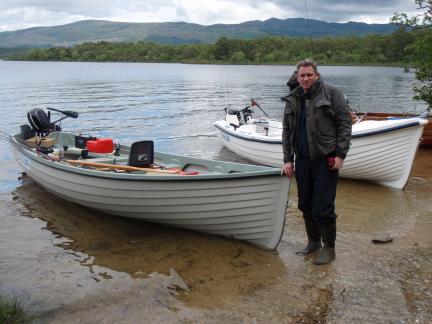 Jim Paris waits patiently…
On the same day, Denis McLaughlin had a sea trout of 3.25lbs at the Long Point and a Leven boat was seen with a fish of about 4lbs. There were three salmon reported into Voldac. Rab Strachan 9lbs, John Stevenson 12lbs and Scott Park 5lbs
River Endrick.
Our Endrick correspondent reports that salmon of 9lbs and 10lbs were caught last week and John Coppolla had a grilse on Wednesday. A few fish have been seen moving and it's hoped that it will continue to rain……. until at least September.
Contact Reports at: Web@lochlomondangling.com