River Leven.
Easter might be slightly later this year, but the first springer has arrived bang on time!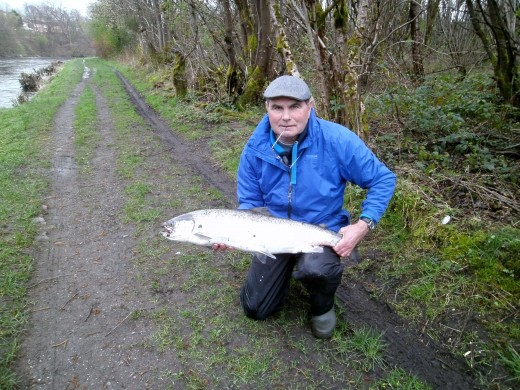 On Wednesday 9th April, Chic McLean landed the first confirmed salmon this season from the Lomond system at the Managers, a 20lb, sea liced bar of silver. Well done Chic!….surely the first of many.
Chic admits that due to the general excitement he forgot to tag the fish before photographing. However we can confirm that it was tagged shortly afterwards and the tag no. has been recorded. Since it was such a significant catch, and still on the riverbank, it wouldn't quite be the same without a photo for the record. We'd like to take this opportunity to remind all members that dispatched fish must be tagged as soon as possible and photos submitted for inclusion should clearly show the tag.
Since the beginning of the year the river has been running high, but with levels settling down and milder weather, there have been  more anglers appearing on the river than usual and this catch is good news all round. Great to have something to report at last. So get the dust off those rods, tackle bags sorted, waders patched and get out there!
Loch Lomond.
A few hopefuls venturing out on the Loch, but still very quiet with a few pike and some good sized kelts still about. The news of the first fish off the river will spur on a few more boatmen to join the hunt. The first holiday weekend in May usually produces a springer or two off the bottom end. The Endrick Bank, Boturich and Claddich shorelines well worthy of attention.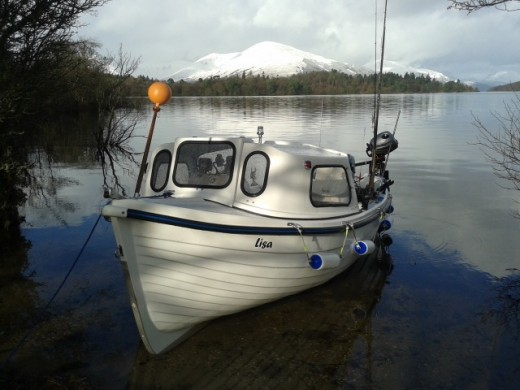 Opening day didn't produce anything for Iain Morison, but with picturesque conditions on the Loch, where better a place to be?
News Update.
A full news update has been posted on the Committee's Blog section of this website.
Contact Reports at : reports@lochlomondangling.com
JR