River Leven.
The news of Chic McLean's springer spread quickly and as one would expect there's been an increase in the band of hopeful anglers on the river. No further catches reported yet. Only a matter of time…..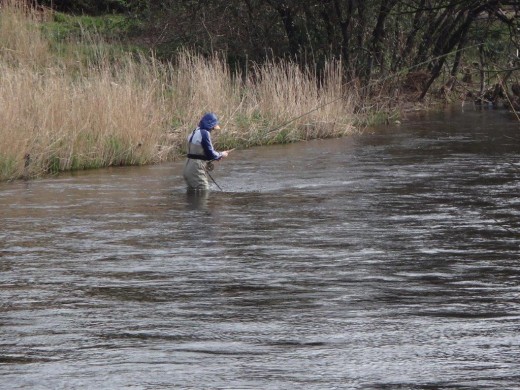 The Loch's still holding water so there will probably another week of good conditions on the Leven before the gates close, unless we have some significant rainfall soon.
Loch Lomond.
Word of the Leven springer also prompted more Loch boatmen to get out on the water. On Saturday 12th April Euan McGrandle set out from Balmaha for his first trip of the season. Despite howling conditions he headed down the Endrick Bank and on the first run connected with a good fish just above Net Bay.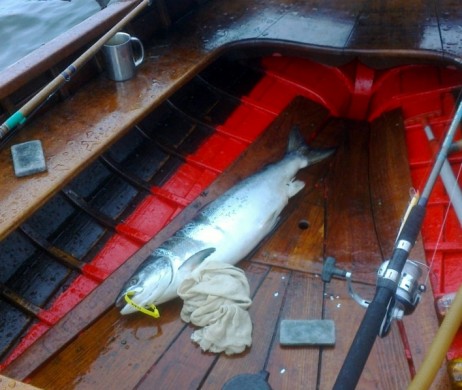 After a spirited fight Euan eventually netted the salmon, sea liced and weighing at 15lb. It was found to have sustained a recent injury at the back of it's head and flank, no doubt victim of a seal attack. It's been at least a couple of seasons since there's been an April springer caught on the Loch, so this is indeed great news.

Balmaha angler Scott Sinclair sent us this photo, but for him there wasn't a pot of gold at the rainbow's end…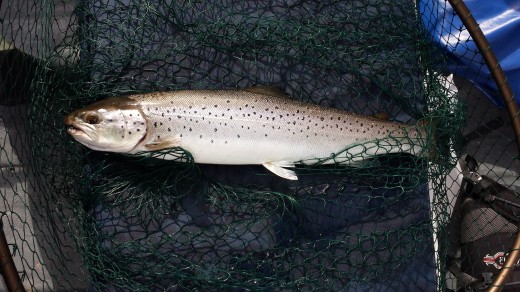 ….just this sparkling, fresh 5lb sea trout, which was duly returned. Always some fine specimens about at this time of year….
Contact Reports at : reports@lochlomondangling.com
JR