River Leven.
Even with summer low conditions there's been some good sport with the August grilse run. At one point it looked as though the Loch level might rise enough for the gates to drop, but beaten again…..
15th/16th August were good days out for Derek Hughes: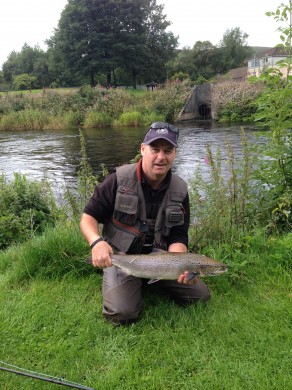 'Hi, thought I would give you a report on fishing Friday and Saturday 15 /16 august….on Friday I landed 2 grilse of 6 lb and 7 lb on an orange Allys Shrimp. Took one from the Glebe corner and one at Factory Wall.  Saw a lot of fish going through the system. On Saturday first light, I fished the Bonhill pool and hooked a fresh grilse around 6 lb which unfortunately spat the hook after about 5 mins. Seeing fresh fish moving through the pool I moved up to the factory wall and connected right away with another fish, which again threw the hook.  Looked like there were plenty of fish going through, possibly of the morning tide, anyway a very enjoyable two days fishing,…the 2 fish caught on Friday were released unharmed.'
Thanks for your report Derek.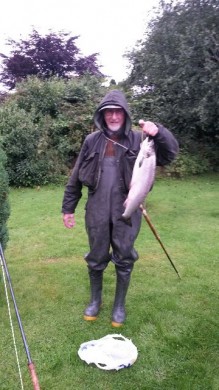 15th/16th August were also good for John Copolla.  Friday he landed a (7lb) grilse at the Glebe and returned the following morning early to follow up with a (6lb) fish (above) also at the Glebe.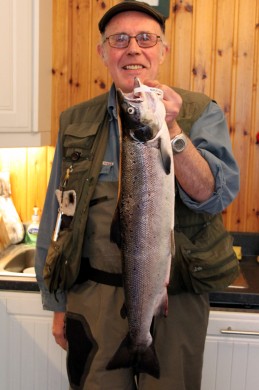 Catches continued on Monday 18th, with Ross Macleod landing this 11lb salmon at the Garden Stream on a Silver Stoats Tail.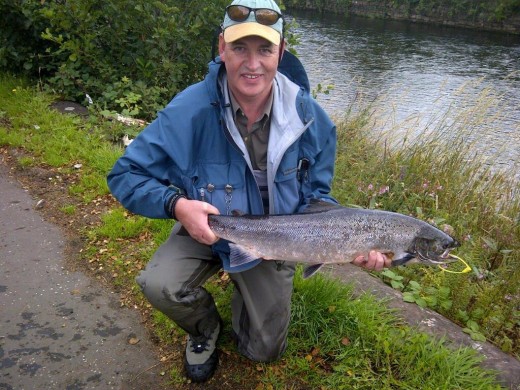 On 19th, Gareth Bourhill nets his first salmon of the season (11lb) tempted by a yellow shrimp at the marker above the Bonhill Pool.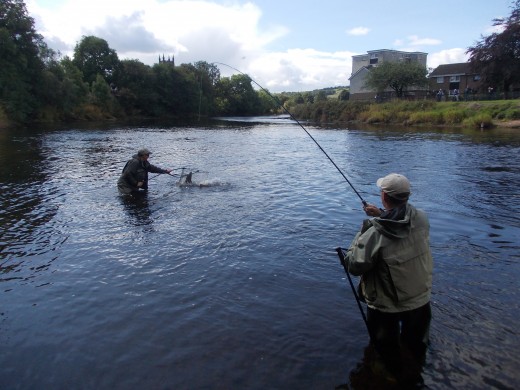 Saturday 23rd August. Our chairman netting a 16lb cock fish for Colin Smith at the Bonhill Pool.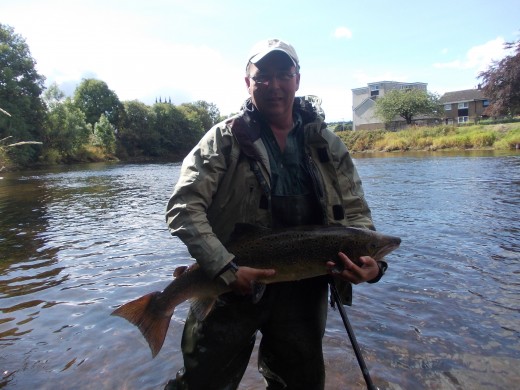 A very quick 'trophy photo'…..
…..and safely released back to the river.
Other reports: 14th August, Dick Dickson, grilse (7lb), sea trout (4lb) and (2lb) at Dalquern. 16th August, Peter Ingram, grilse (7lb) Factory Wall on a Snelda.
Loch Lomond.
The Loch continues to fish reasonably well with grilse and summer salmon about. The Endrick Bank is still weedy, but the Loch level has risen slightly and with the surface temperature now dropped to 14oc there should be more activity.
Good sea trout in the  3 – 6lb class coming to the fly around the islands. Reports and photos on Balmaha Anglers.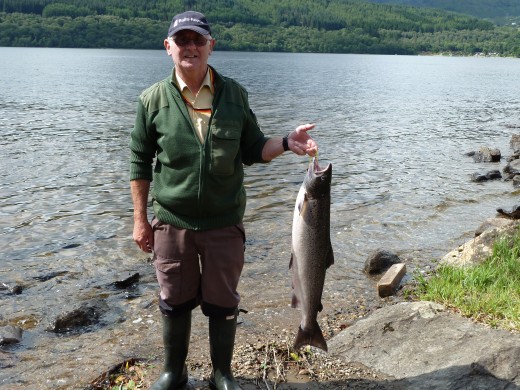 14th August, Gerd Elsweiler lands his second fish of the season, a fresh (14lb) summer salmon, taken at Mill o Ross Bay on a gold/green toby….. two more than last year…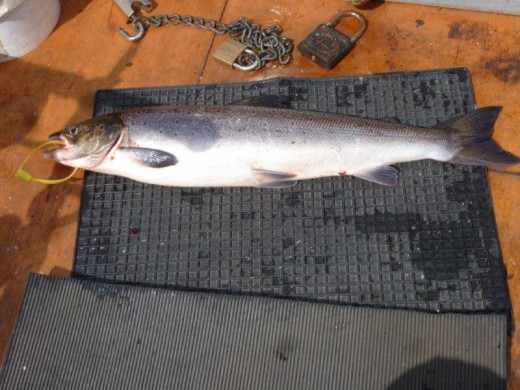 Peter Lyons, who had been following behind Gerd, crossed over to the road shore and boated a (5lb) fresh grilse.
The 'Tap End' of the Loch is know to hold some big sea trout, which never really get fished for. It's a long way for a day out, but there's good drifts at Rowchoish, Tarbert and beyond.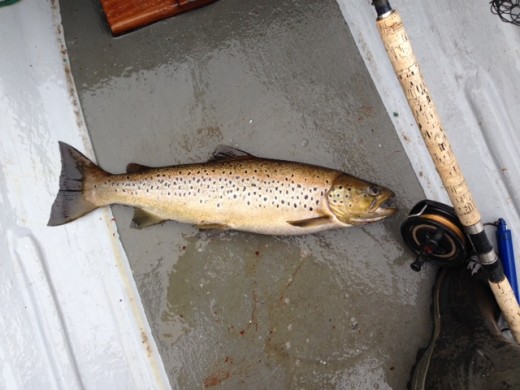 On 19th August, the author landed a nice (6.5lb) grilse at Rowchoish and continued up the Loch in search of more sport. Just on the approach to Doune, the outside rod buckled back with an accompanying screaming reel …..felt like a right good fish. Eventually this (6lb) sea trout was welcomed aboard. Slight 'sun tan' but not to be confused with a brownie.
He was quickly sent back to 'freshen up'. Would have been quite a scrap on a fly rod. …I'm sure there's more.
Rivers Endrick/Fruin.
Some spate conditions recently with fish showing in both rivers. Not much in the way of reports though. The bailiffs have been busy strimming the banks of the Endrick, so access should be much easier when the time comes…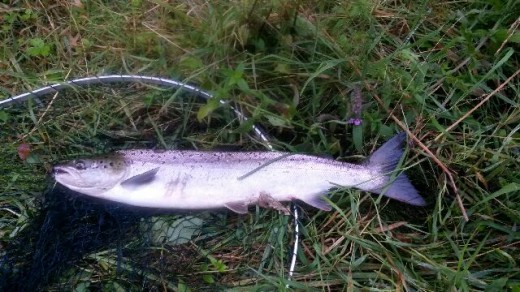 On the 21st, Malcolm MacCormick had a successful few hours on the Fruin, landing two grilse, (3lb) and (4.5lb)(above) and a (3lb) sea trout.
Members are reminded that this weekend there's a River Leven Clean Up. The compensation flow will be from Wednesday till Friday then the gates will close.
JR
Contact Reports at : reports@lochlomondangling.com