River Leven.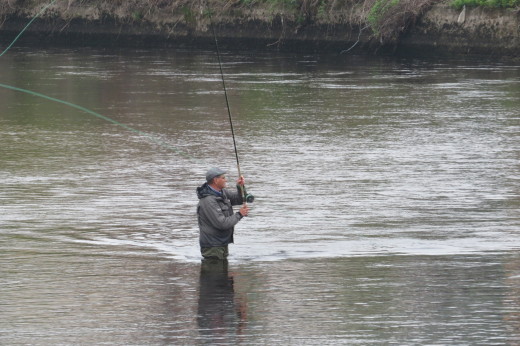 Very little rain over the past few week so the river has remained at summer low, with anglers depending on weekend compensation water. This must be the driest September for years and a disappointing end to the season. Still fish about though with reports of grilse and summer salmon landed and lost. Unfortunately a few of these reports are unconfirmed due to anglers forgetting to contact us…and we can only report what we know about…
Recent catches: Mick Prize (6lbs) Managers. Derek Hughes (8lbs) Bonhill Pool-rtnd. Stuart MacFarlane (6lbs) & (9lbs) Piles. Kirk Philips (6lbs) Ritchies Lade. Euan Brown jnr. (6lbs) Glebe. Scott Laird (6lbs) Glebe.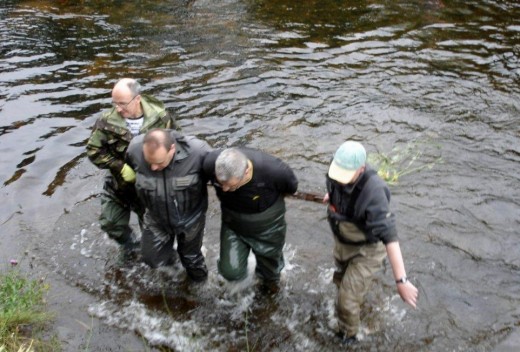 The LLAIA's production of Riverdance?….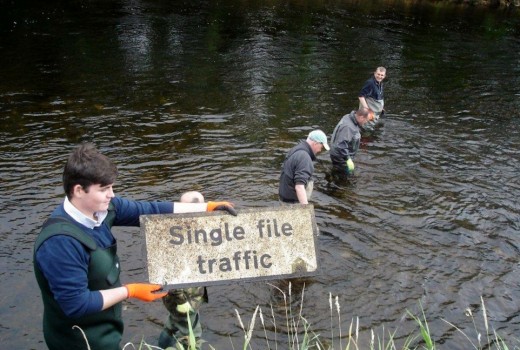 Nope! …scenes from the River Leven Clean Up at the end of August…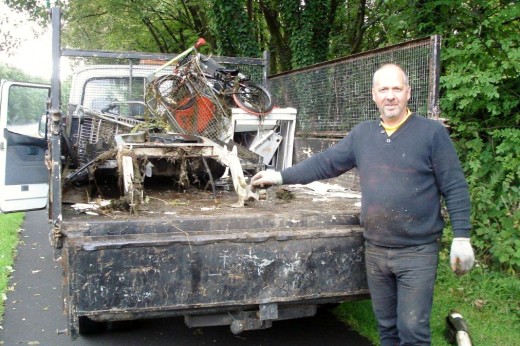 The usual shopping trolleys, bicycles…and a lot of junk! Thanks to all who took part.
Loch Lomond.
Surprisingly quiet out on the Loch with few boats out even at weekends. There are still plenty of fish lying about, waiting for the main tributaries to spate or drop back to the Leven to spawn.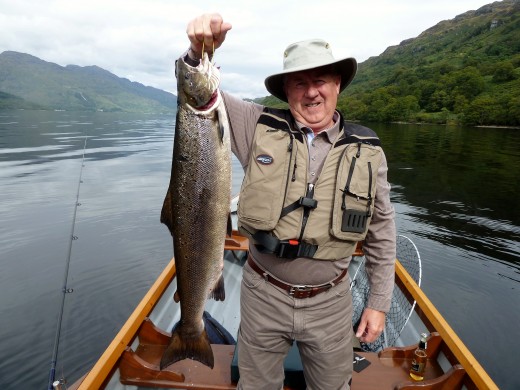 A lot of good fish have been seen moving north of Rowardennan, particularly between the German Jetty and Culness. On 9th September, the author landed this (13lb) summer salmon, between Rowchoish and Culness, assisted by friend Stevie Jackson. A sunny day and a flat calm. Three other good strikes were missed.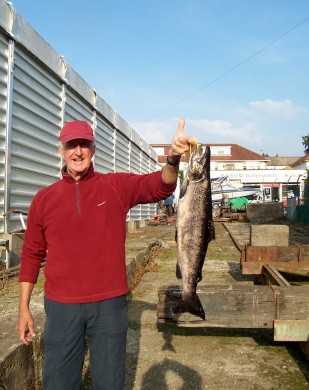 On 13th September, Jim McNiven landed a (7lb) grlise at the Blue Rocks on a copper and silver Toby.
Other Catches: 10th Sept: Ernie East (14lbs) 11th, Rab Strachan (7lb), 13th,  Euan McGrandle (10lbs) at Sallochy – rtnd.
Fly fishing had taken a slight lull due to the bright, calm conditions but I hear things are taking off again with some good sea trout around the usual drifts. More reports on the B.A.W.S website.
Found Landing Net: A landing net has been found on one of the islands. It's described as 'well constructed' and will be a sore loss to its owner. Contact us with a description etc and we'll gladly return it.
Loch Etiquette. Loch anglers are reminded of the 'Code of Conduct and Etiquette'  shown on your permit.
'On Loch Lomond boats must pass port to port. Trollers must give way to fly fishers at all times and by at least 100 yds'
We are aware that some anglers are not complying with these conditions, whether through ignorance or otherwise. Please ensure that you observe these simple rules to avoid the wrath of your fellows.
Rivers Endrick and Fruin.
As we all know, both waters depend on spate conditions and with no rain…no fish and no reports. It's almost certain that there will be salmon and sea trout lying off both rivers just waiting for the right conditions. Hope they're watching our webcams!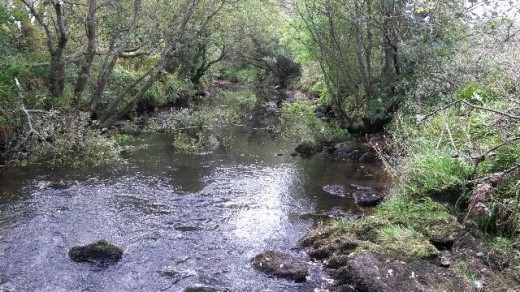 With a considerable amount of work having been been carried out on the Endrick, over the last couple of weekends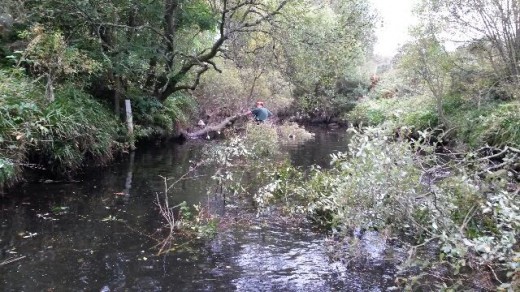 the focus has shifted to the Fruin. Fallen trees and other obstructions have been removed. It may be a small river but it takes a lot of hard work to keep it fish-able. Volunteers are always most welcome to help out with river clearance and bank maintenance.
Conservation Measures In Force On The Lomond System.
October Catch and Return.
All members and ticket holders are reminded of the conservation measures in force across the Lomond System. From 1st of October to 31st October   'all salmon and sea trout must be returned.'
A leaflet of guidance 'Catch and Release for Salmon – an Anglers Guide' has been forwarded by the Association of Salmon Fishery Boards. It contains some very useful advice and can be viewed on our 'Resources' page.
JR
We ask our members and ticket holders to keep us updated with your catches and experiences on the system by contacting the webmail reports section at – reports@lochlomondangling.com