River Leven.
The river level has remained fairly constant over the past fortnight but without significant rainfall the Loch level has dropped. The barrage was  raised partially on Thursday, still allowing good fishing conditions, but we can expect summer low conditions very soon.
However the best run for years has continued…..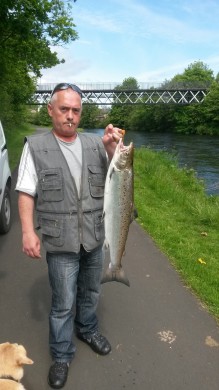 9th June, Stuart McMillan (12lbs) Stuckie Bridge on a flying-c.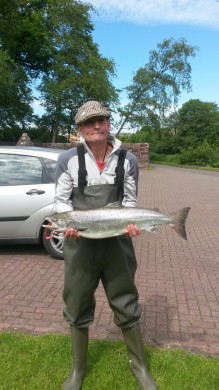 12th June, Steve Banks (10lbs)fly caught at the Glebe.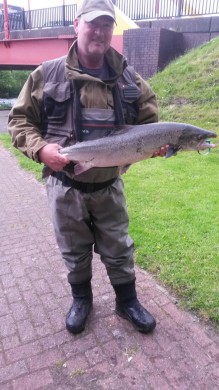 13th June, David Brownlie (14lb) Bonhill Bridge with his first salmon on the fly.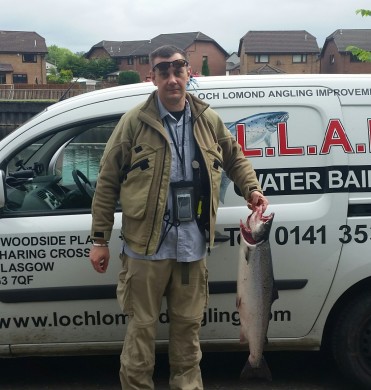 13th June, Stan McNicol (15.5lbs) Hole in the Wall on a Vision lure.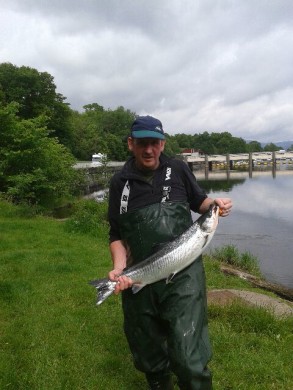 15th June, Harry Jackson (9.5lbs) Top Pool on a flying-c.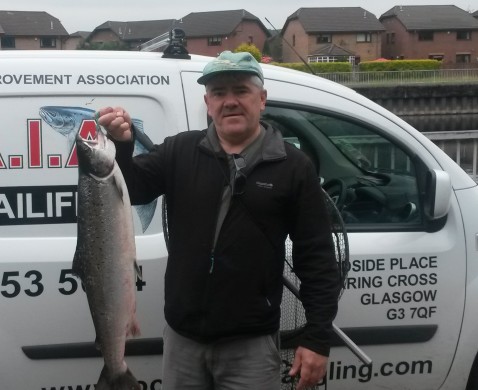 16th June, Allan Madden (11.5lb) Stuckie Bridge on a devon.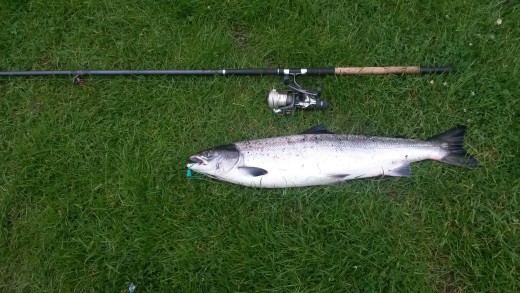 19th June, Andy McElwee (10.5lbs) Managers on the worm.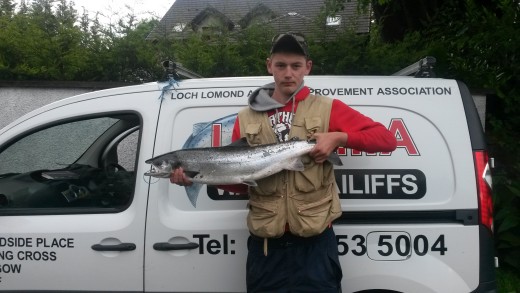 19th June, John Smith (12.5lbs) Chapel Hole on the worm.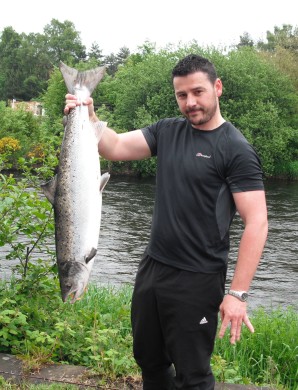 Alex Allan reports:
'landed my 2nd fish of the season this morning (16/6/15). A new PB at 17.5lbs on a Cherry Devon from the tail of The Top pool. First fish was around the 10lbs mark on a flying c at the Hole in the Wall. (3/6/15).'
Other catches include: 10th June, Jim McDonald (14lbs) at the Piles on a flying-c. -returned. 17th June, Jimmy Grainger (10lbs) Top Pool on a flying-c. Brian Sutherland (12lbs) Sandy Hole on the worm. 18th June, Peter Ingram (10lbs) Piles on the fly – returned. Stevie Banks (7lbs) Factory Wall on the fly – returned. 19th June, Chic McLean (9lbs) Ritchies Lade on the fly.
Lost Fly Box Found.
In our last report we mentioned that Ancell Swan had lost a fly box on the river. We are happy to report that this box was found by one of our members and handed to the bailiffs. Ancell will be a very happy chappie.
Loch Lomond.
Loch boatmen still having good sport with most fish being caught south of the Ross Isles. There are signs of fresh fish running fast up to the deeper colder water.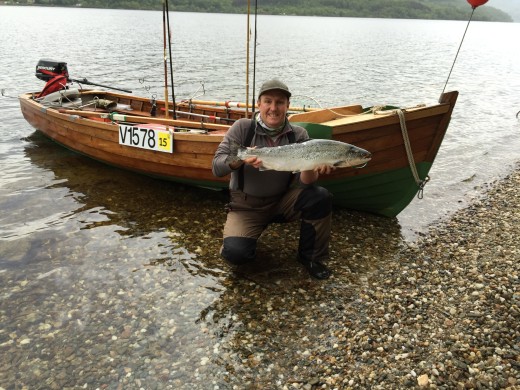 17th of June, John Bell decided to head up to the 'Tap End'  and brave the midges and clegs for a few days. That evening about 8.30pm he landed his first salmon of the season (13lbs) from the Loch above Ptarmigan.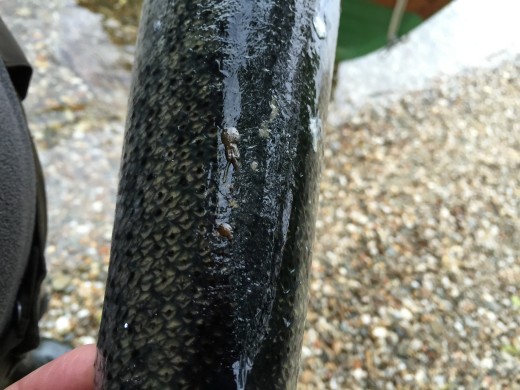 The fish was very fresh, as can be seen from the short and long tailed lice still attached.
Other reports: 10th June, Charlie Young (10lbs) – day ticket angler out of Balmaha. 12th June, Alan Brunstrom (10lbs). Russell Boyd (10lbs) returned. 17th June, Willie Casey (15lbs). Eric Donnachie (9lbs) Peter Lyons (10lbs). 18th June, Euan McGrandle ( 17lbs) Sallochy – returned.
Balmaha fly fishers are having good sport with sea trout in the 3-5lbs class, mainly on the usual drifts around the islands. On 17th June Davy Sunman landed and returned the biggest sea trout this season so far with a 10lb cracker at the Long Point of Inchmoan.
Farmed Salmon Escape.
On 2nd June approximately 16,00o salmon, all in the 10lb class,  escaped from the Marine Harvest fish farm at Carradale. Marine Harvest state that these fish are immature and will head out to sea…. apparently it took them two weeks to report this escape to the Scottish Government, so who knows where they are now.
It is possible that some of these fish may turn up in the Lomond system, though there have been so signs yet. Many members have been asking what to do with one should they catch it. These fish will no doubt show the classic 'farm fish' signs of ragged fins, flank damage and look generally 'different'.
The current committee guidance is as follows : Tag it as normal. Whether wild or farmed it's a salmon and must be tagged. Take scale samples, photographs and if possible retain/freeze the adipose fin. Photos and specimens should be forwarded to the bailiffs, committee members or Loch Lomond Fisheries Trust  members. If there is no doubt that the fish was indeed a 'farmer' another tag will be issued.
JR
Contact Reports at : reports@lochlomondangling.com