River Leven.
As we all know, July can be a frustrating month. Low water is usually the norm and with the spring and early summer runs having passed through, the arrival of grilse is awaited. However, this season the unseasonal weather has ensured good conditions on the river. On Friday the flow was reduced to weekend level but with recent heavy thunderstorms and more rain forecast, we should see the gates open again on Monday…..hopefully.
Still some good fish being landed throughout the length of the river and it seems that there are grilse are already in the system, several having been caught and numerous seen in the lower reaches. Let's hope that the summer run matches the spring run…
20th June, John Law (12lbs) from the Renton area on a flying-c.
Other catches include: 20th June, John Donnelly (6lbs) Sandy Hole on the fly – returned. Andy McElwee (6lbs) Sandy Hole on the worm – returned. 22nd of June, Alex Hartley (17lbs) the Two Lades on the worm. 25th June, Andy McPherson (12lbs) The Double Pipes on a flying-c. 27th June, Paul McNeil (4lbs) at the Piles on the fly – returned. Alex Hartley (14lbs) The Two Lades on the worm.   30th June, Jim McFarlane (8lbs) Top Pool on a flying-c. Jim McDonald (12lbs) Flowers on a flying-c, returned.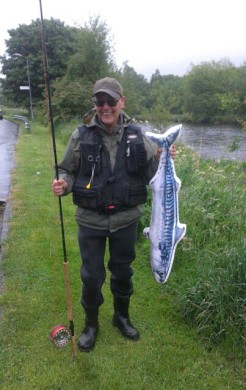 The month of July opened on a high for this unidentified angler. He hasn't touched a salmon this season but last week was seen after a lengthy fight landing what we expect to be a new British record mackerel from the Street Run on the fly….well done!!
Loch Lomond.
The Loch seems to have quietened down following the spell of activity. The main spring and early summer runs have dispersed and as we wait for news of grilse it seems that many loch boatmen are taking a break. During the week there were very few anglers out, with one regular commenting that in two days he only passed three boats.
Conditions out there have been very changeable, ranging from very warm and flat calm to monsoon with high winds. The midges are taking full advantage of the humidity making it uncomfortable to lie out overnight and clegs have made their annual appearance.
Very little happening beyond Rowardennan, which has been the case for several years. Perhaps the LLFT can provide some answers about the decline of the 'Tap End's' fish stocks.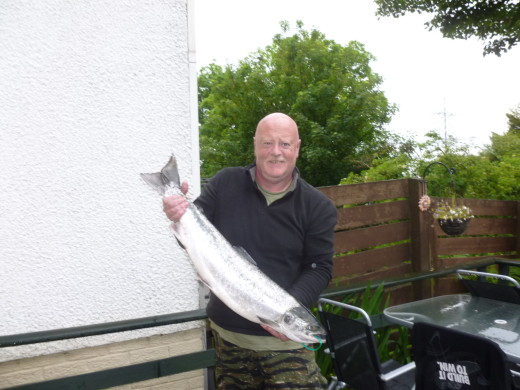 18th of June, Alan Stirling lands his first salmon (14.5lbs) off the Loch.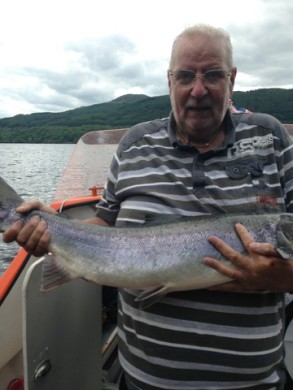 23rd June, First fish off the Loch for Stevie Blackwood and skipper and skipper Terry Cameron…
' Had made an early start and with no joy in the morning then decided after lunch to make for the top end of the loch.  On the banks at  Inversnaid  the inside rod went and Stevie was into a good fish. After playing it for ten minutes it was brought on board for a quick picture with skipper Terry Cameron and then it was released. About 16 – 18 pounds'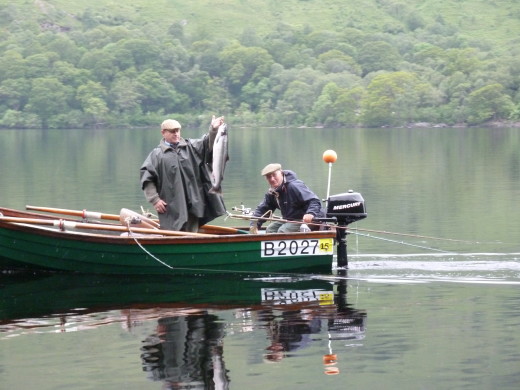 On the same date  Dick Dickson landed this nice salmon (13lbs) off Carraig Rock. His boat pal Jimmy, normally a pike angler who had never held a salmon before, was most impressed.
Other catches include: 23 June, Mark Lees (18lbs). 29 June, Hugh Russell (11lbs) off the Fruin Mouth. 2nd July, Stevie Blackwood, (12lbs) Sallochy- released.
Reminder to Members and Ticket Holders.
We would like to remind members and ticket holders that they should be in possession of their permits at all times when fishing on the Lomond system. This is their 'written pemission' to fish for migratory fish and must be produced on request to water bailiffs or police officers. Police Scotland Wildlife Crime officers are actively involved in operations on the system, so even though you think that the bailiffs may 'know you' these officers won't.
The bailiffs have been active on the Loch checking boats and permits. They are able to access the membership database while on patrol and identify boats and permit holders. Members should have declared their boat registration numbers on the membership annual renewal form and by now updated photographs. If you haven't already done so and in order to ensure minimal disruption to your day out on the Loch, please forward these details at your earliest opportunity:  bailiffing@lochlomondangling.com
JR
Contact Reports at: reports@lochlomondangling.com