River Leven.
The Loch level has now dropped back almost to summer average and unless there is significant rainfall it seems likely that the gates will close. This morning the marker at Bonhill was showing 3" above closing, slightly up on yesterday but it's now a case of 'watch this space'. July was the wettest month on record, how will August fair?
Some good runs of grilse coming into the river. Last Monday there were at least six landed in the upper reaches, with the majority returned and throughout the week fish in the 4 -7lb class were being landed daily. Fly, worm and lures all proving successful.
Recent catches include: 18 July, Colin Murray (10lbs) Glebe on the fly, released. 20th Jul, Jim McFarlane (5lbs) Stuckie Bridge on a flying – c, released. Ross Linden (6lbs) Blue Bridge on a flying – c, released.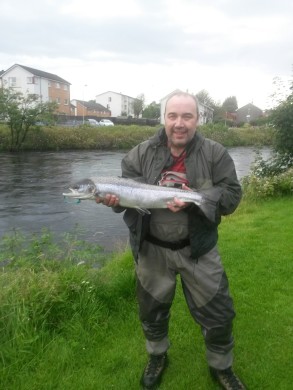 21st July, Ancell Swan (10lbs) – (above) Glebe on the fly.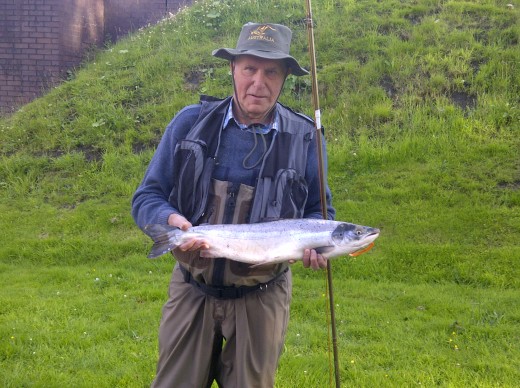 24th July, Andy Patrick (6lbs) – (above) Piles on the fly. John Sutherland (9lbs) Managers.  Andy McPherson (4lbs) Stuckie Bridge on a flying – c, released.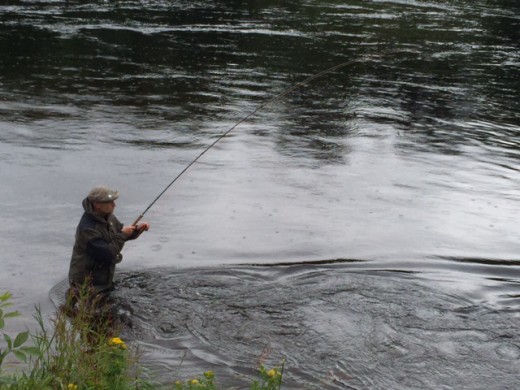 27th July, the bailiffs arrived at Bonhill Pool in time to capture Stevie Banks with a good healthy bend in his rod.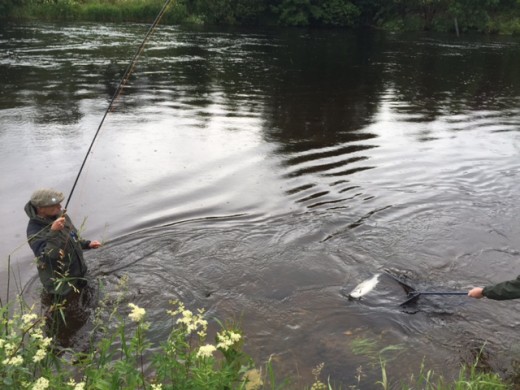 A really hard take continued into a spirited fight and this fresh (7lbs) grilse was carefully netted…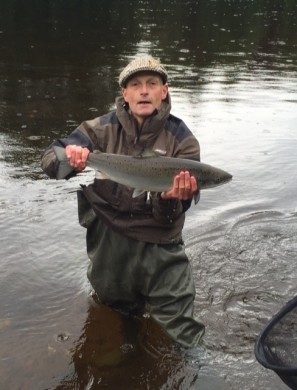 ….a quick trophy photo…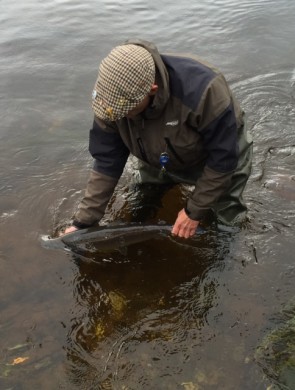 …and then released back to the river. Well done sir! Shortly afterwards Stevie lost a second fish.
Also on 27th July, Chic McLean  landed and returned three grilse on the fly. (9lbs) at Managers and (8lbs)&(6lbs) at the Street Run. John McDade (7.5lbs) Stuckie Bridge on the worm, returned.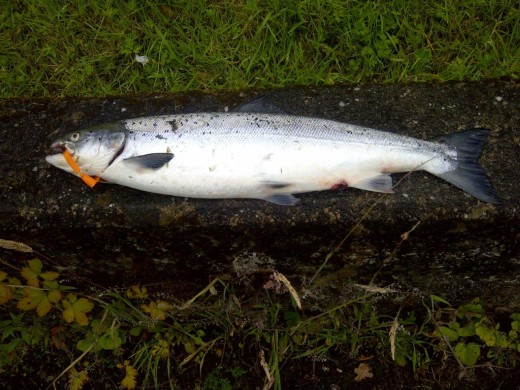 Harry Jackson (7lbs) – (above), Stuckie Bridge on a flying – c.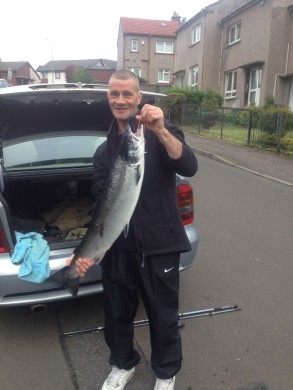 29th July, Charles McGinty – (above) had his first ever salmon (12lbs) at The Hole in the Wall. Mike Palmer (9lbs) Bonhill Bridge on the fly.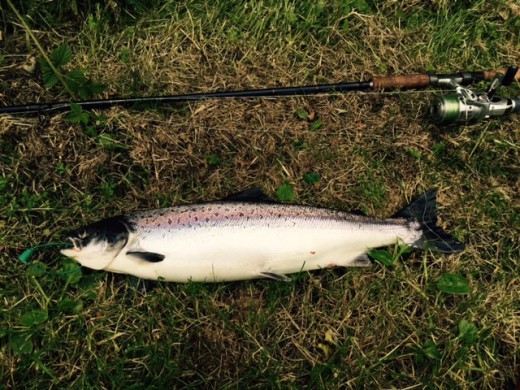 31st of July, Russell Brownlie had the last fish of the month (6lbs) at Chapel Hole on the worm.
Now moving into August and the run continues…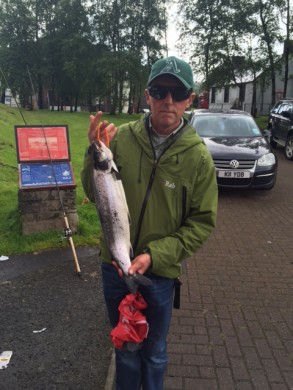 1st August, John McGinley (4lbs) Piles on a flying – c. Jim McDonald (5lbs) Chapel Hole and (7lbs) Piles on a flying – c, both returned.
Loch Lomond.
Falling levels on the Loch means a chance of more sport for the Loch boatmen. Catches have still centered round the southern basin and southeast shorelines. Only one report from the top end. Hopefully August will see a few more fish heading up the scenic 'Tap End' but with continuing spates there's no doubt that fish are getting a 'sniff' of where they're supposed to be heading and staying south.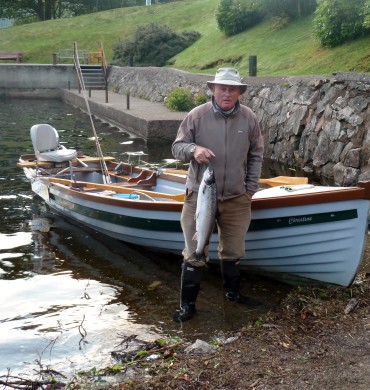 21st July, the author landed this fresh grilse (7.5lbs) up at Eagle Beach. Still lice marked and must have travelled up on a jet ski – alone! Another fish was lost at Cuilness that morning but a further four days of solid fishing produced nothing…
Also on 21st July: Euan McGrandle continued his successful season with a grilse (8lbs) on the fly at Darroch. Euan's had his best season for many years landing twelve salmon on the troll and fly.
Other catches include: 21st July, Danny Docherty (14lbs) & (7lbs) 22nd July, Manus Shannon (14lbs) Scott Laird (5.5lbs) 23th July, Scott Laird (7.5lbs).28th July, Earnie East (7lbs) Tam McBride (16lbs) 30th July, John Costello (7lbs).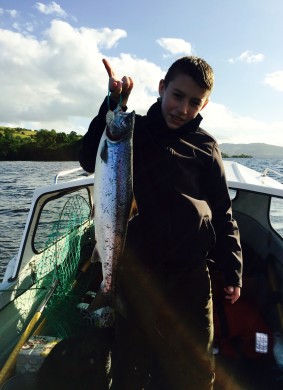 1st August, Robert Wilson sends this report:
'Hi, my son Cameron Wilson caught his first salmon off the system. 5lb grilse off Loch Lomond at the Long Point. It's Cameron's first year as a junior Association member and this will hopefully have him hooked and prove to be a big day for him and the Association. We need a strong junior membership for the longevity of our Association.'
Congratulations Cameron! We all remember our first salmon. Robert is quite right, junior members are the future of the LLAIA. Far too many old codgers and not enough youth coming through….
Rivers Endrick and Fruin.
Both spate rivers have been enjoying some good conditions over the past few weeks. Fresh salmon and some good sea trout showing in the bottom reaches of the Endrick with Chris Turner, Colin Ferguson,Chris Aldred and John Copolla all having success on the Endrick. Nothing reported from the Fruin yet, but early days yet.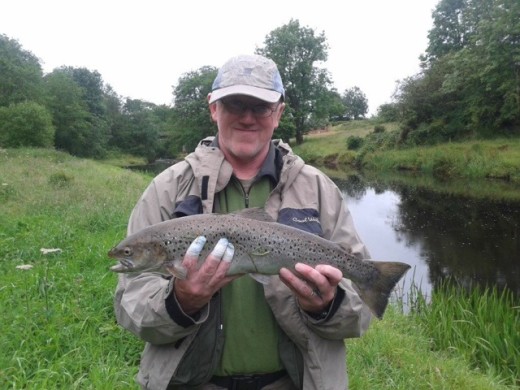 28th July, John McVey with a nice sea trout landed and returned on the Endrick. It fancied an Ally's Shrimp.
The River Endrick and River Fruin webcams are now both operational and can be viewed via the 'River Webcams' link on our homepage.
Clyde Estuary.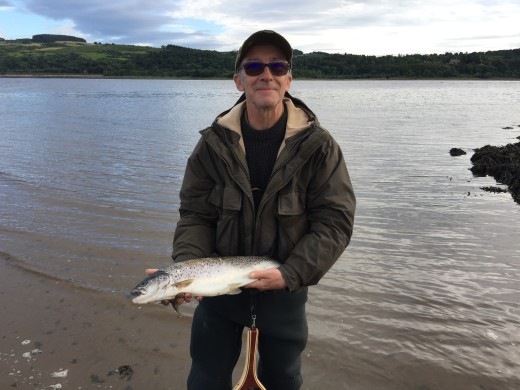 30th July, Gordon Mackenzie with a fine sea trout from the Estuary. Well worth a go, but make sure you have a permit. The LLAIA Water Bailiffs and Police Scotland Wildlife Crime officers have been very active in this area all season. Unfortunately some individuals will remember their day out…for all the wrong reasons…..
JR
Contact Reports at : reports@lochlomondangling.com