River Leven.
On Monday the gates closed and the river level fell to summer low. We've had a couple of warm, dry days this week, but this evening it's rain as usual…..might not be closed for long.
Still plenty of catches reported throughout the river.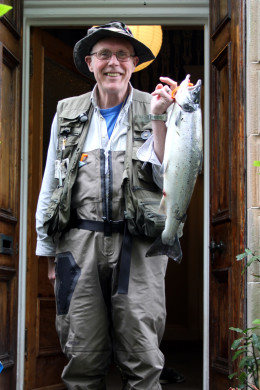 3rd August, David Murray (10lbs) Piles on the fly. 4th August, Paul Kelly (8lbs) Glebe Corner on the worm. 5th August, George McAlwee (6lbs)&(4lbs) both returned. Josh McKean (6lbs)Piles, young Josh's first salmon. Graham Dunsmore (4.75lbs) Piles on the fly. Ross Macleod (7.5lbs) McKinnons on the fly (pictured above). 11th August, Jim McFarlane (4lbs) Top Pool on the worm. 14th August (John Patrick (10.5lbs) Stuckie Bridge on the fly. 15th August (Jim Fleming (5lbs) Street Run on the fly – returned. 18th August, B. Livingston (5lbs) Double Pipes on the worm. D. McKinlay (5lbs) Stuckie Bridge – returned. Graham Dunsmore (4lbs) sea trout, Street run on the fly- returned.
Loch Lomond.
A few fish reported recently from the Loch but activity on the slow side. The 'Lucky Chuckie' was just about showing its back at last which means a good level for fishing. Still very little signs of fish up at  the 'Tap End.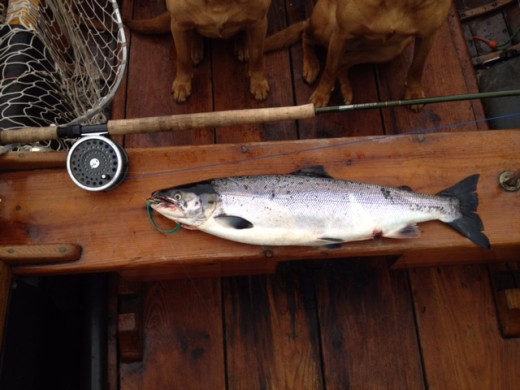 8th August, Bob Forshaw was out on the Endrick Bank fishing the fly and was rewarded for his efforts with this nice fat (5lbs) grilse. Good stuff Bob!
Other catches include: 6th August, John Connolly (16lbs). Scott Laird (10lbs). 7th August, John McClurg (5lbs). 8th August, Russell Boyd (8lbs). 14th August, Eric Donnachie (14lbs).
River Endrick. 
A few nice sea trout and grilse appearing in the Endrick. This river is very much dependent on spates and getting there at the right time.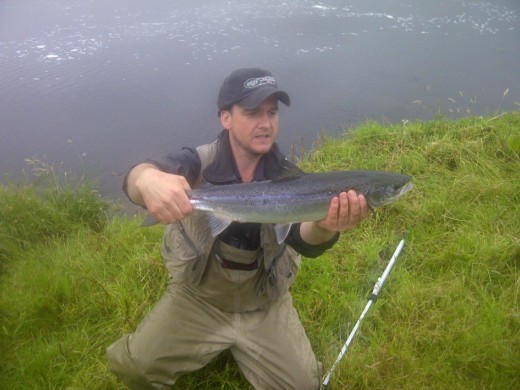 There's probably few anglers that know the Endrick better than Chris Turner. On 5th of August he got his timing right…..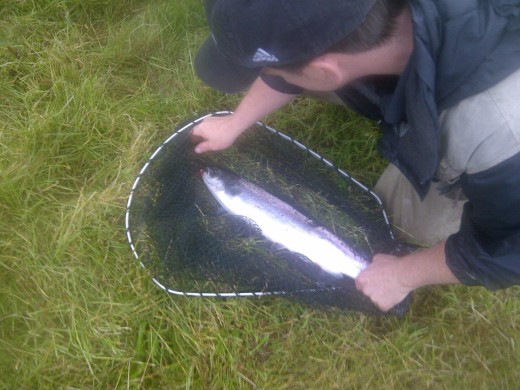 …landing and returning three fresh grilse in the 5lb-8lb class in succession.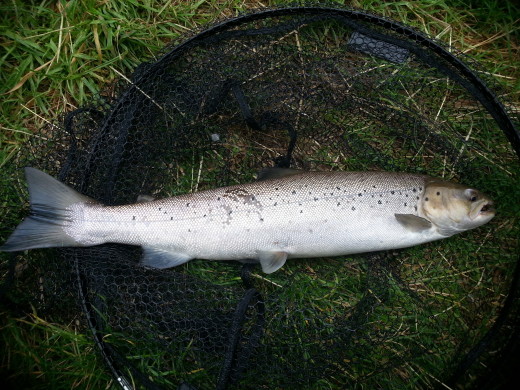 11th August, Iain Morison's latest catch from the Endrick.
Still no reports from the River Fruin.
For real time river levels have a look at our webcams.
Fish Mortality on Rivers Gryffe and Kelvin.
We have received a report from the River Clyde Fishery Trust of a large number of salmon in the Rivers Gryffe and Kelvin found dead or dying from an unidentified illness.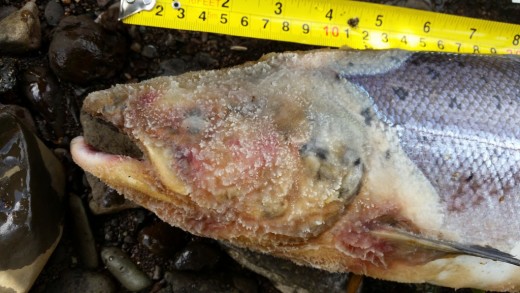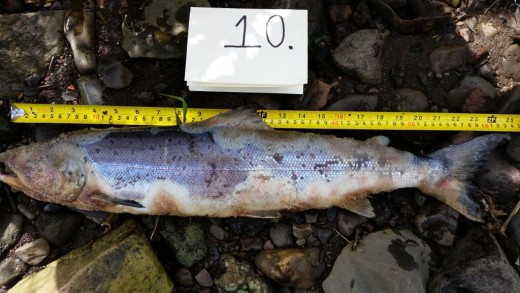 This condition has been described as looking as though 'deep fried in batter'. Whether this  'disease' is localised to these rivers is uncertain.  The results of scientific analysis are awaited.
To date we have had no reports from the Lomond system but we ask our members and ticket holders to be vigilant and report any incidences to the bailiffs or committee. Any fish found suffering from these symptoms must be treated with utmost caution.
Balmaha Angler Missing.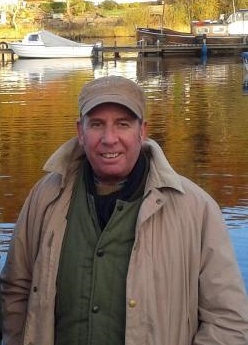 Balmaha regular Joe Brown was last seen on 7th August about 2230 leaving the Oak Tree Inn at Balmaha. The following day his boat was found by an angler, beached at Pilot Bay. Joe had camped regularly for years at Mill o' Ross Bay and it's believed that this was where he was headed. However, despite extensive searches he is still missing. Our thoughts are with Joe's family at this time.
JR
Contact Reports at : reports@lochlomondangling.com