River Leven.
With the river at an excellent height we wonder if the Easter Bunny will produce. Historically this weekend has seen a few 'first salmon of the season' off the Leven. Last year it was earlier with a  12lb springer caught on the 19th March at  Bonhill Pool  by Danny Docherty. The news of a salmon caught on the Loch already should certainly get our hopes up.
For the latest river conditions click on River Leven on our website homepage.
Loch Lomond.
Hopefully the clock is turning itself back……. as it's been a few years since a spring fish was reported off the Loch in March.
On 18th March, ferox hunter James Kinnear set out on his travels from Balamaha. Passing the Long Point at Portnellan one of his rods took off…….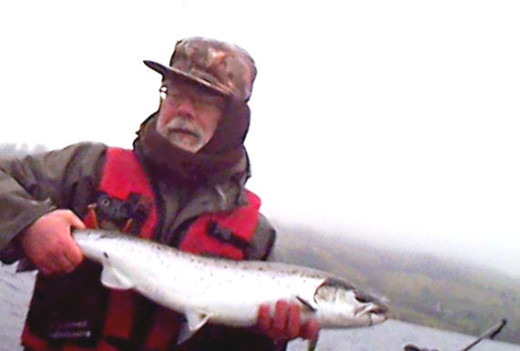 After a spirited fight James landed this fresh 8lb salmon, still showing long tailed lice near the vent. It was quickly video'd and returned. Well done James….a few more about perhaps?
Early season for Loch boatmen and not many craft in the water but I guess that things will soon change….
Please keep us updated with your catches…
Contact: reports@lochlomondangling.com
JR