River Leven.
With low temperatures and cold northerly winds the month of April has been  quiet. Still a few anglers out on the river though, some finding sport with sea trout in the lower reaches and others lucky enough to land a springer.
The barrage gates have remained open allowing a constant, fishable height. Scottish Water have agreed to maintain the flow until at least the end of May. This will help to encourage more spring fish into the system and anglers on to the banks….
Find out the latest river conditions by going to our homepage and clicking on River Leven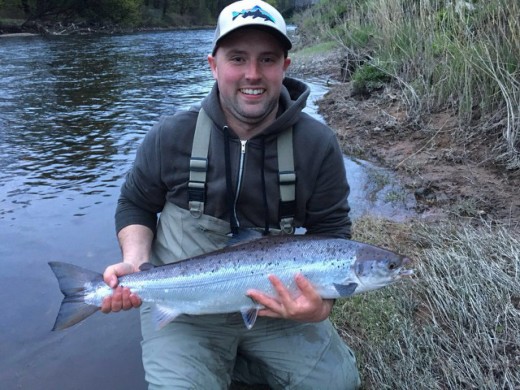 23 April, Chris Rocks landed his first salmon of the season at the Craft Stream, Chestnut Tree to be exact, on a black/yellow Monkey tube fly. A fine specimen indeed, which was quickly returned.
15 April, Chic McLean had his second springer (12lb) at Sandy Hole on a flying C
20 April, John McGrogan (18-20lb ) at the Top Pool on a flying C.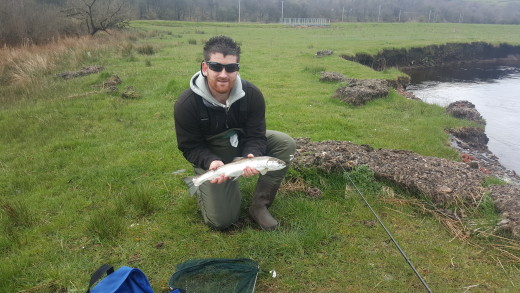 Good numbers of fresh sea trout reported in the lower reaches of the Leven and  Estuary.
13 April, Barry McGuigan had sport with this fine trout.
All members and ticket holders are reminded that worm fishing is permitted during the month of May using 'circle hooks' only.
Just in case anyone's in doubt or been living under a stone, the Lomond System has been designated as Category 3 by the Scottish Government for season 2016 viz: all salmon caught must be released….. See Committee's Blog for more information. This does not affect sea trout which may be retained from 1 May till 30 September, though we do encourage their safe return.
Loch Lomond.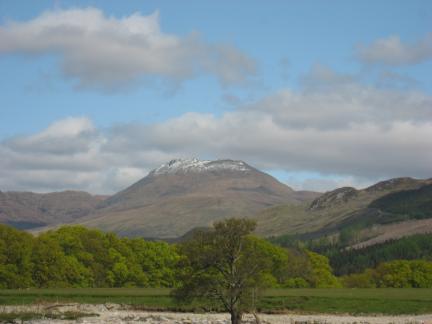 'Ne'er cast a clout till May be oot'…nothing could be truer out on Loch Lomond. With northerly winds bringing the chill factor to below zero it can be an inhospitable place.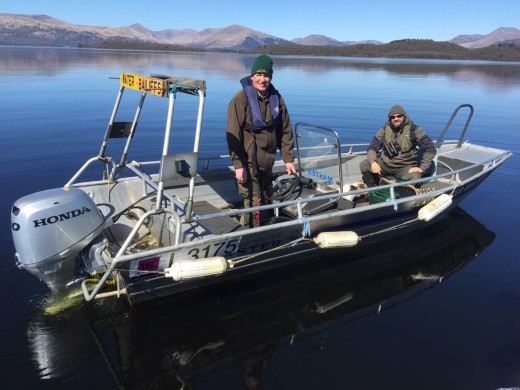 The bailiffs have been on the Loch regularly and report only a handful of diehard trollers and some seasonal pike anglers present.
We expect that from mid May fresh fish will appear in the Loch and give good sport in the southern basin, Boturich, Endrick Bank areas…. that's normally the case.
At this time of year some really big sea trout can be found in the Loch. Earlier in the month we had an unconfirmed report of a 10lb fish to a Balloch boat.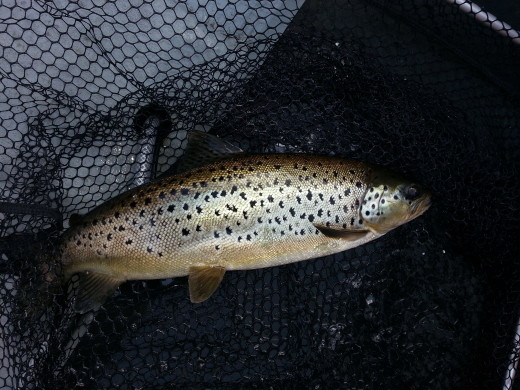 Iain Morison likes to get afloat early in the hope of one of these big troots. Not the biggest (2.5lbs) but fat and fresh.
Carron Valley Reservoir.
For those of you who enjoy the noble art,  Jimmy Coyne, proprietor at Carron Valley, once again extends a welcome to our members and offers a 10% discount on weekday boats. Every year some really big brownies come to the fly at Carron, which is also well stocked with rainbows. For more info visit: carronvalley.com
Contact Reports at: reports@lochlomondangling.com
JR