River Leven.
The heavy rain over the past 48 hours should make a difference to the Loch level and we're waiting to see if the gates will open again.
Reports of heavy summer salmon coming into the system.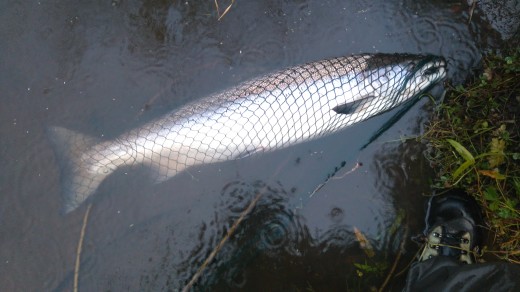 25th July,  from Peter Wormalds:
'Attached photo of the 17lbs salmon I caught on fly at Bonhill Bridge pool. After a 10 minute battle it was in my weigh net. Measured 35 inches from nose to fork in the tail and returned safely…. Great  sport'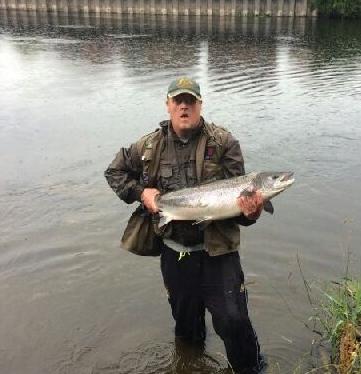 26th July, the bailiffs came across Andy McPherson playing this cracker at the Top Pool. Estimated at 20lbs it was quickly returned.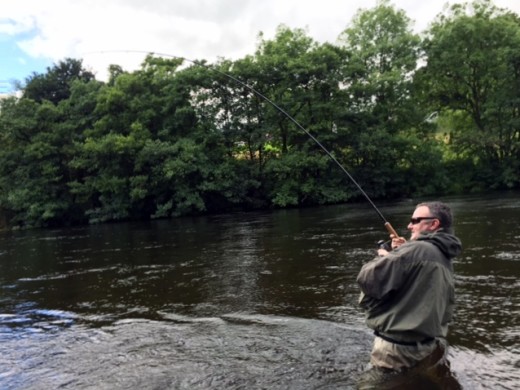 27th July, Davy Watt seen with a healthy bend in his rod at the Polaroid Bridge. Unfortunately the fish, reckoned to be in the 14-16lbs class, made good it's escape with Davy's lure and 100yds of line.
Other catches: 3rd August, William Millar (4lbs) at Mackinnons.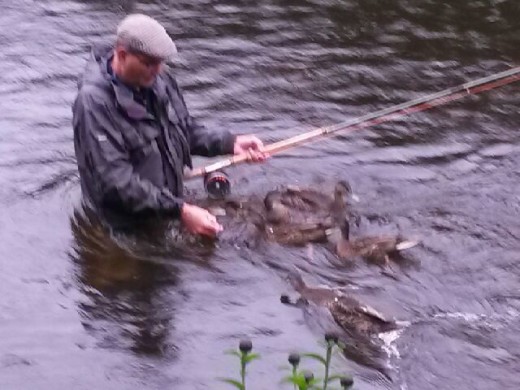 27th July,  Chic McLean  'The Duck Whisperer' getting a few hints from the local inhabitants.
Good numbers of sea trout in the river.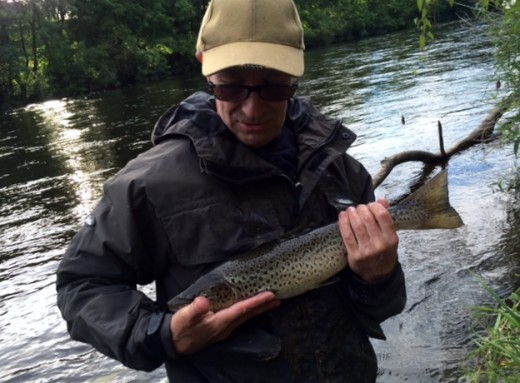 22nd July, Gordon Mackenzie with a nice 3lb trout.
Loch Lomond.
The Loch has picked up a bit again with several salmon on the troll, grilse beginning to show and sport with sea trout to 5lbs on the fly. The top end of the Loch has been quiet, however, a few fish now turning up beyond the Ross Isles.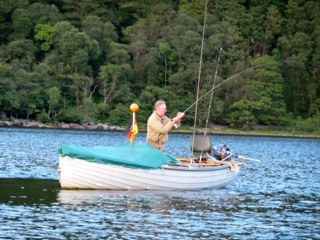 28th July, Gerd Elsweiler's latest overnight expedition was rewarded with a 15lb salmon just south of Inversnaid. It was still fresh and quickly released at the side of the boat.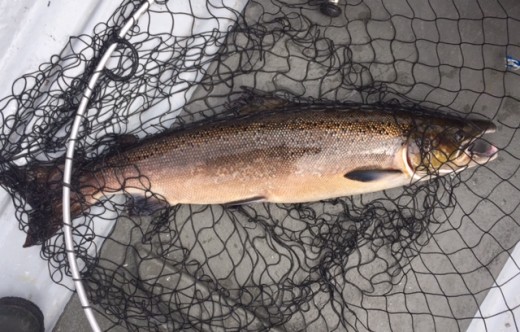 1st August, and some of our salmon are already changing colour. The author came across this chap (12lbs) at Culness…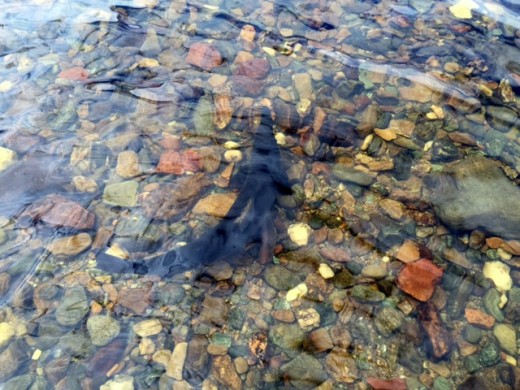 A quick visit to the shore to revive and off he goes….. always get a warm feeling when returning a fish. This time it was accompanied a cold, wet sensation as water seeped over the top of my wellies…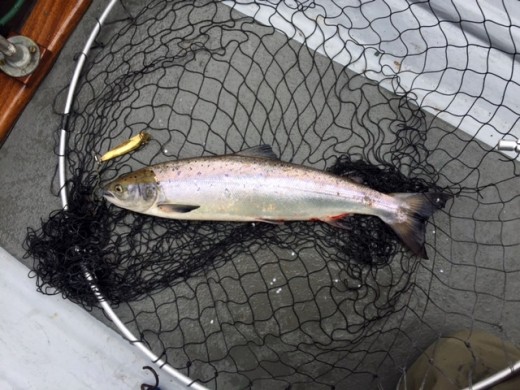 2nd August, on the way back down the Loch, in complete contrast to the previous day's catch, a fresh (4lb) grilse at Mill o' Ross.
Other catches: 30th July, Euan McGrandle (14lbs)Inchlonaig on the fly. John Bennett (12lbs) Tyler's Rock, Rowardennan area.
Now into August and fly fishing for sea trout moves up a gear. Good numbers around the islands with Loch regulars Matt and Alan Stewart enjoying sport with fish to 3lbs.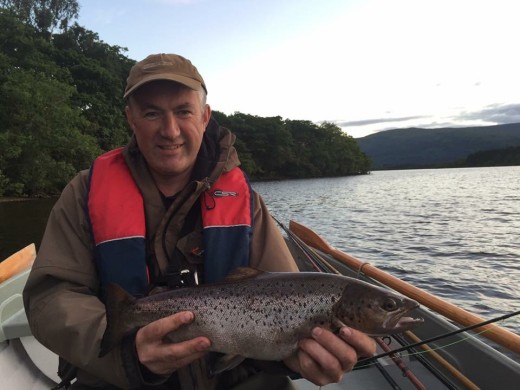 26th July, Colin Ferguson, out boat partnering John Bell, lands a nice sea trout (4lbs) on a muddler, off the north shore of Inchfad.
River Leven Clean Up.
A river clean up is scheduled to take place this weekend, 6th/7th August. Meeting at Bonhill Bridge Car Park 10am both days. all volunteers more than welcome.
Permits.
This season Police Scotland have increased their activity on the system and we remind members to carry their permits at all times. This is your written permission to fish and must be produced to police officers and water bailiffs if requested.
Email Notifications.
Would subscribers please note that we are experiencing technical problems with the web email system but hope to have it running again very soon.
JR
Contact Reports at: reports@lochlomondangling.com