River Leven.
Over the past fortnight a steady run of grilse and summer salmon has come into  the system. Seasonal monsoons have topped up the Loch level and with the barrage gates remaining open there's been a good steady flow.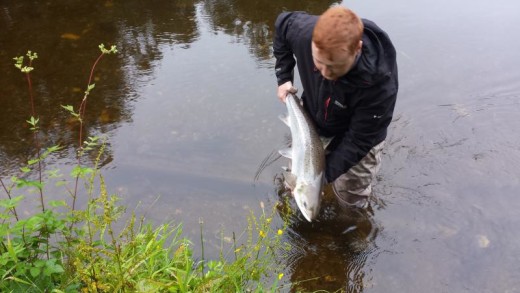 9th July, Leven regular Ross Linden does the 'double' at the Wash House'…… this fresh (14lbs) summer salmon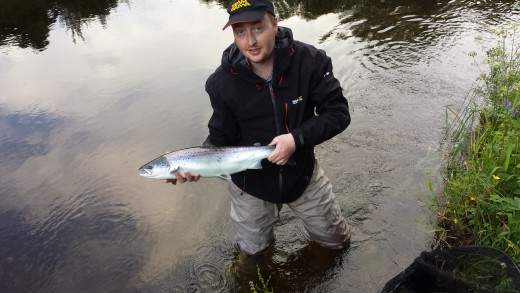 and later in the day, after having been attacked by a swarm of hornets, a (6lbs) bar of silver. Well done Ross!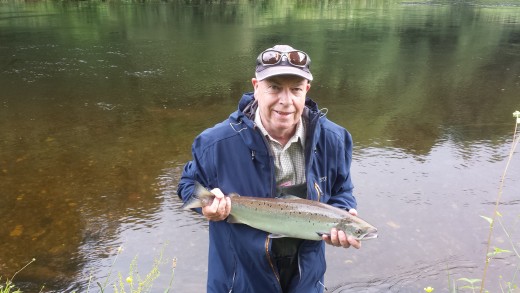 11th July, Alan McHutchison (6lbs) grilse at the Wash House…….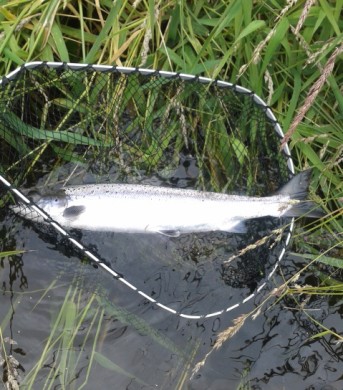 and on 18th July, Graham Dunsmore landed this sparkler (4.5lbs) at the Street Run on the fly.
Other catches include: 11th July, David Murray (5lbs) Bonhill Pool. Chic McLean (6lbs) Cordale Point. Jim McFarlane (12lbs) Stuckie Bridge. Robert Galbraith (5lbs) Street Run.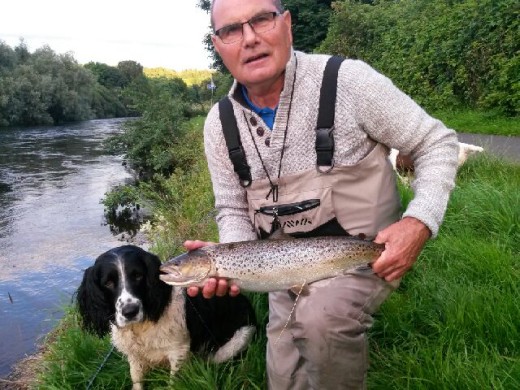 23rd July, Chic McLean with a nice sea tout (6lbs) on the fly. Some good sea trout in the system with the Leven and Estuary regularly producing fish around the 3lbs -5lbs mark.
Loch Lomond.
After the good run of fish earlier in the season the Loch has now quietened down with very little seen or landed. Grilse are running but with the current level and regular spates it's unlikely that they will venture far from the vicinties of their intended spawning rivers and streams. Some reports of fish turning around the islands and sport with sea trout to 6lbs on the fly.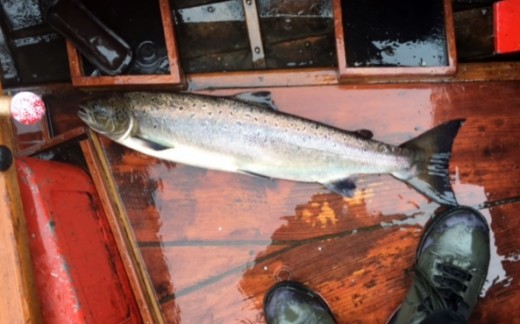 15th July, after heading up the 'Tap End' in search, Bob Forshaw connected with this (12lbs) fish at the Hen Isle, Rowardennan. Despite the concentrated efforts of several Loch regulars there are no reports from the northern end of the Loch.  Seems it might be easier to find Lord Lucan and Shergar……
Rivers Endrick/ Fruin. 
For those who aren't familiar with the Endrick and Fruin, both are back end spate rivers and with the arrival of grilse in the system, should start to fish well. However the emphasis is on 'Spate'….
Over the last few seasons we have sited webcams on both rivers to give members  a view of 'real time' conditions. We hope to have them up and running again very soon. Webcams can be viewed by clicking on the River Webcams tab on our home page.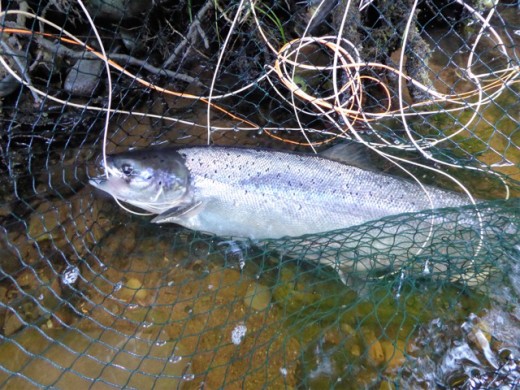 22nd July, our Chairman Malcolm MacCormick , who knows the Endrick better than most, landed this nice, fresh fish on a ……… what's that blanked out fly again Malky?
JR
Contact Reports at : reports@lochlomondangling.com