River Leven.
The past month has seen the run of grilse and summer salmon continue, not in great numbers, but with sporadic bursts including salmon to 12lbs. The gates are open and the river in very good condition.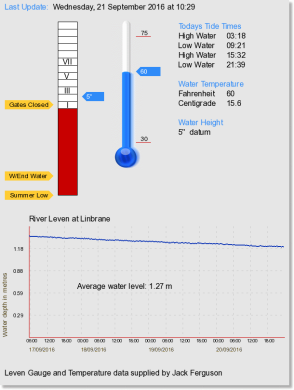 Daily updates on  the River Leven can be accessed from our homepage. Thanks again to Jack Ferguson.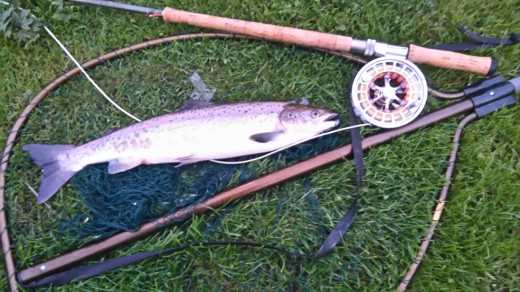 15 August, Leven regular Peter Wormald, (4lbs) bar of silver on the fly at the Bonhill pool.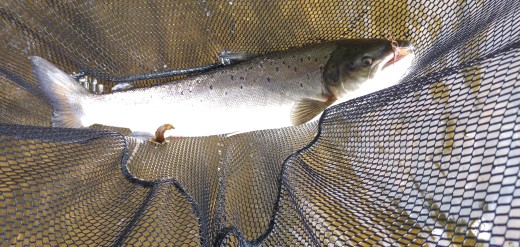 27 August, Stewart Dunsmore, a fresh (3lbs) grilse on the fly, Usk Grub, at the Street Run.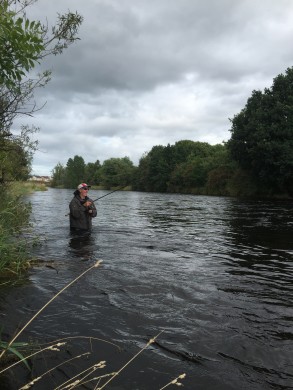 10 September, Jim Muir seen playing a (8lbs) salmon at the bottom of the Street Run.
Other catches include: 6 September, Scott Laird (5lbs) Glebe, worm. 7 September, Peter Davidson (12lbs) Bonhill pool on an Ally's Shrimp. 14 September, Kirk Philips (6lbs) Boat Hole, worm. 17 September, Ewan Brown ( 5lbs) Top Pool, Vision lure.
Still good numbers of sea trout about in the 2lb-5lb class.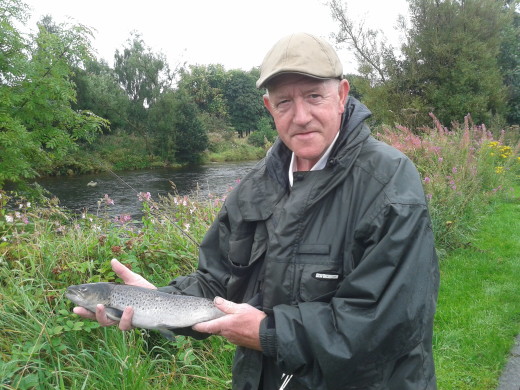 20 August, Alan Hogan looks pleased with this (2lbs) trout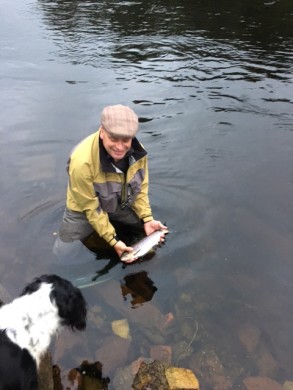 29 August, Angus Souttar's furry friend inspects his catch…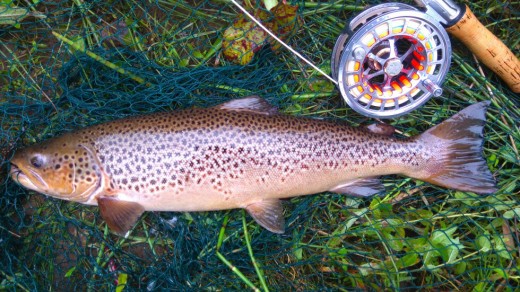 10th August, Peter Wormald landed this cracker of a brownie (5lbs) at the Blue Bridge on the fly.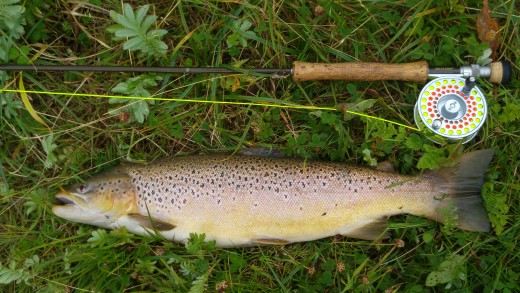 25 August, Stewart Dunsmore continues his successful season with a sea trout (5lbs 10oz) on the Estuary.
Rivers Endrick and Fruin.
We always expect the Endrick and Fruin to come into their own at the back end and this year is no exception. Very much spate dependent, but if timed right you can have a day out you'll never forget…….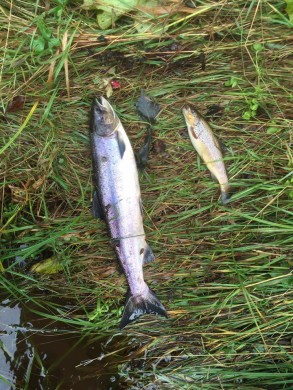 10 September, Jamie Strachan reports….
'What a day that was…on the river about 8.30am this morning and on my third cast, fish on but off again. Went up the river a bit and hooked another, a grilse (5lbs) and a trout at the same time, both landed and returned. Moved to another spot and saw fish but nothing taking.'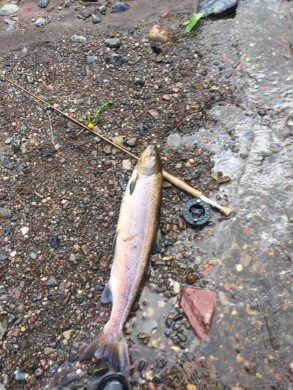 'Moved back down to where I had been earlier and fished down without a touch. Had a cast in a slower bit and suddenly…bang…fish on! Landed after a mighty struggle on the 9 footer. It weighed about 12lbs.'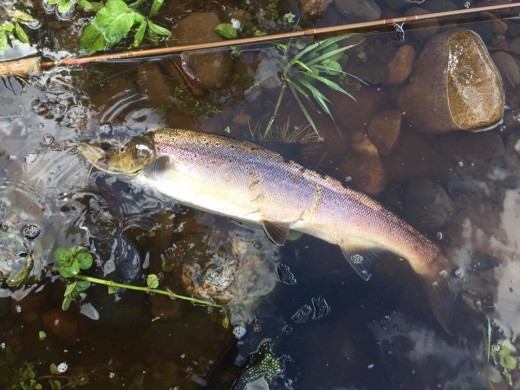 'Went further down from there and got another fish about 6-7lbs. best days fishing I have ever had…..'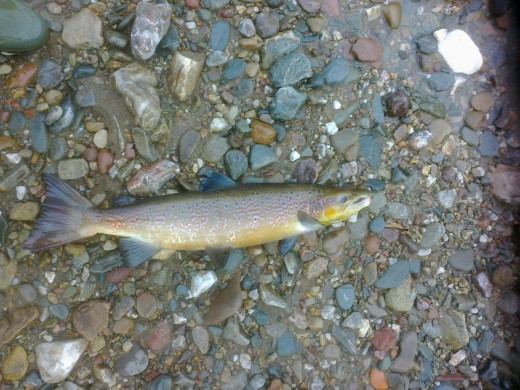 Meanwhile Euan McGrandle was also having a great day, landing this gentleman (10lbs) and a grilse (4lbs)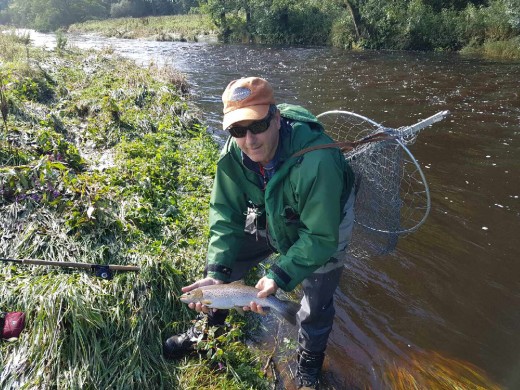 Russell Boyd was out too, seen with a sea trout about the 2lbs mark.
Other catches include: 2 September: Allan Gordon (6lbs)  13 September, Euan McGrandle (6lbs)
To some the Fruin may seem a hard river to fish, but in the right conditions, like the Endrick, it will produce…..
9th September, Peter Wormald decided to have a day away from the Leven and seeing that conditions were about right, headed up to the Fruin. A wise decision… landing a 6lbs grilse on Cascade..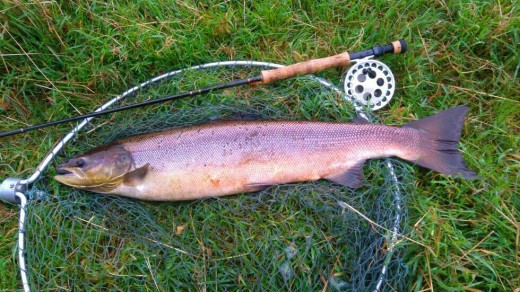 and an 11lbs salmon on an Ally's Shrimp. Not bad for a small spate river….
LLAIA stretches on the Rivers Endrick and Fruin may be fished by anglers holding full memberships. However, this season it was decided to open up the River Endrick fishings and a limited numner of rods are available through FishPal. For more info open: FishPal – River Endrick.
Loch Lomond.
Fairly quiet on the Loch with no recent reports of salmon or grilse landed.
September and October are normally good months for sea trout on the fly around the islands and with the number trout reported on the system this season we can expect some good fishing.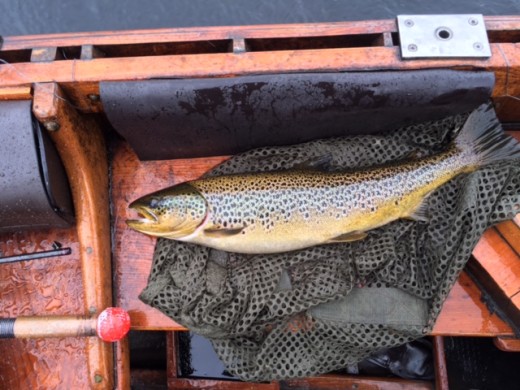 20 August, Bob Forshaw set out for a day on the drift. He successfully landed three sea trout in the 2lbs class before tempting this big brownie (5lbs 8oz) off Inchmurrin on a Kate McLaren muddler.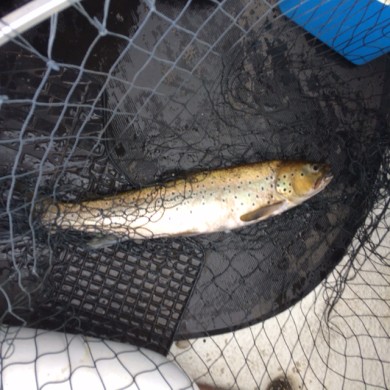 27 August, Gerd Elsweiler shows the quality of Tap End fish with this fresh 3lb trout caught at Culness.
The Loch's northern shores include  some good drifts, particularly around Rowchoish, Tarbet, Doune and Arlui, which aren't fished so often nowadays. A long journey for a day on the fly you may think….but combined with trolling up, or better still an overnighter under the stars with a few drams. …you just never know….
JR
Contact Reports at: reports@lochlomondangling.com