River Leven
Summer has definitely arrived and thankfully with it the rain….  Last week saw a few fish caught and this week kicked off with one of the best days for a long time. On Monday at least 12 and perhaps as many as 17 salmon were landed. As usual the information about 'who caught what and where' is a bit sketchy…but most catches were made at the top of the river from the Bonhill Pool upwards.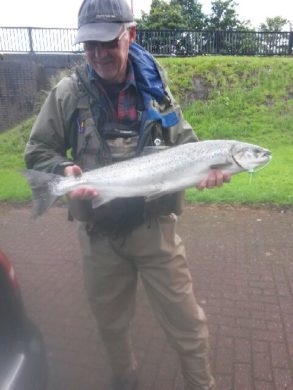 12 June, Peter Wormald (10lbs) Bonhill Pool on a Cascade.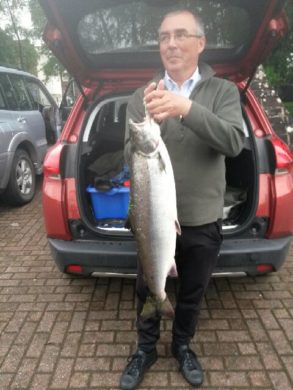 13 June, Colin Smith (14lbs) Bonhill Pool on a conehead.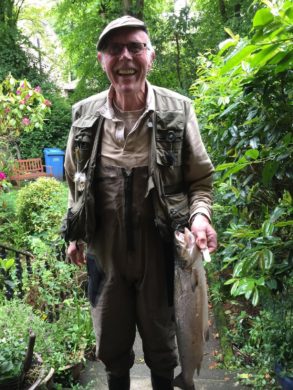 13 June, Ross Macleod (8lbs) McKinnons on the fly.
Other catches: 12 June, Jim McFarlane (14lbs) Top Pool, flying-c.  Alec McElwee (13lbs) Top Pool, worm. Alec McElwee 15lbs) Stuckie Bridge, worm – returned. Tam McBride (16lbs) Top Pool, worm. Duncan O'Neill  (11lbs) Chapel Hole, worm. 13 June, Stephen Gilfeather (11lbs) Top Pool, worm – returned. 14 June, Chic McLean (14lbs) Ritchies Lade on the fly – returned.
Also good to hear that fresh run sea trout are about. On 7 June,  Dick Dickson landed 5 sea liced trout all weighing between 1.5 lbs- 2.5lbs. 10 June, Craig Carr reports landing a fresh 3lbs sea trout at the Craft Stream.
Loch Lomond
Loch anglers continue to enjoy good sport. The main run seems to have moved off the Endrick Bank with catches made at Sallochy, Caraig Rock and around the islands. A few anglers have ventured up the top end of the Loch but  no catches reported north of Pilot Bank. Over the past few years the runs have tended to stay in the southern basin with very few fish found in the upper reaches. Some anglers have now changed over to tobies on a faster troll while others are having success on rapalas at a slower pace.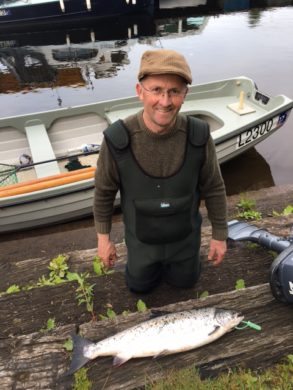 9 June, Frank Caldwell with his second salmon (12lbs) of the season.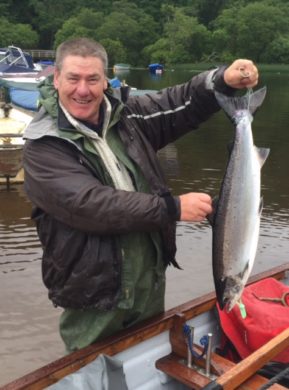 13 June, Alex Bowie with his second fish (11lbs) of the season caught at Caraig Rock.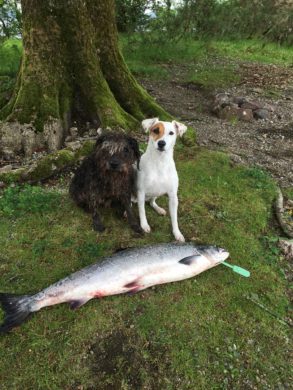 14 June, Donald Brown's furry companions guard his first salmon (11lbs) off the Loch this year, taken off Little Ireland.
Other catches: 1 June, Frank Caldwell (13lbs) at Sallochy. 5 June, Russell Boyd (12lbs). 6 June, Alex Bowie (9lbs). 7 June, Donald Brown (6lbs) sea trout. 10 June, Scott Sinclair (5lbs)  – returned. Alan Dorrian (14lbs). Billy Marsland (10lbs). 14 June, Billy Quinn (12lbs).
River Leven Clean Up Weekend.
Please note that due to high water the River Leven 'clean up' scheduled for this weekend 17/18 June has been postponed. It was hoped that the gates would close to allow a clean of the river bed. However,  Scottish Water reported today that the Loch level is still too high and unlikely to drop sufficiently over the next couple of days to allow closure of the barrage. When is the best time to hold a river clean up? Ideally at the start of the season but West Dumbartonshire Council have previously objected due to potential disturbance of ground nesting birds. Over the past five years clean up months have varied. April, May, June, August and September have all featured but we have to consider a period with a dry spell/low rainfall and timely notice for volunteers. We thought we had that…. back to the drawing board and hopefully soon…..
JR
Email Reports at : reports@lochlomondangling.com