Submitted by
admin
on Fri, 09/08/2017 – 17:03
River Leven
The season's rolling in fast but  there's plenty of water and some good fish about…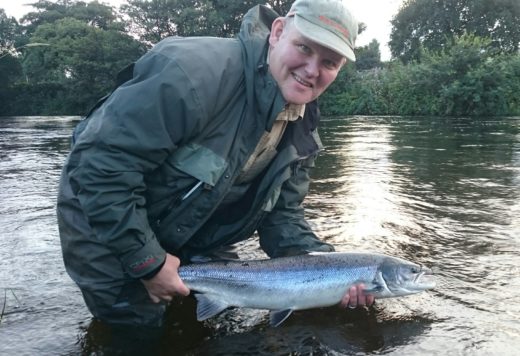 28 August, Neill Sproull lands and returns a (15lbs) salmon at the Glebe caught on the fly.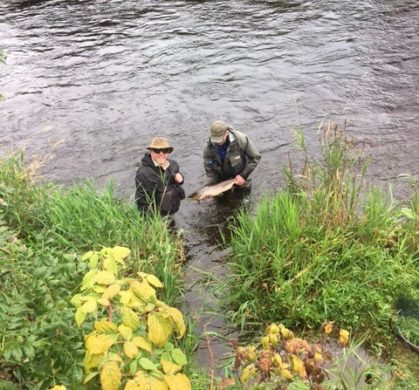 8 September, another nice hen fish (11lbs) being returned to the river.  Caught by Stephen Blackwood (L) at the Bonhill Pool  on a Willie Gunn tube.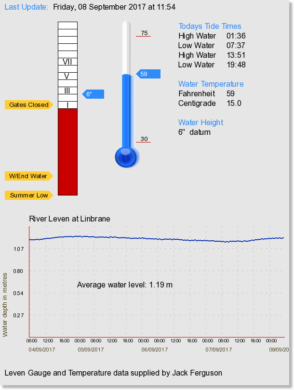 River Leven Clean Up Weekend
With water levels still high and more heavy rain forecast it's beginning to look like it'll be nearer the end of the month before we can think about tackling a clean up. As soon as there's a window in the weather we'll post new dates, but it might be fairly short notice.
River Leven Rep.
A vacancy on the committee for a River Leven representative still exists following the resignation of Stuart MacCallum. Anyone interested in this position who has a passionate interest in the system, a good knowledge of the River Leven and could make a difference, please contact the secretary.
River Endrick
Recent spate conditions have seen a good run of salmon and fresh grilse on the Endrick.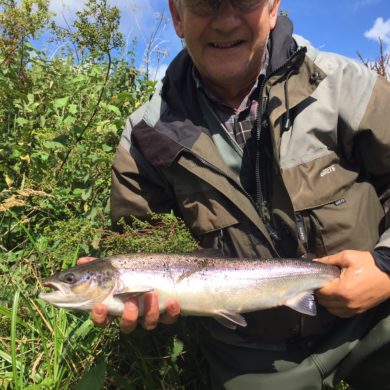 26 August, Eric McDonald reports…….'A wee grilse caught today from above Drumtian. Caught on a size 10 shrimp fly. Fish safely returned'……Thanks Eric.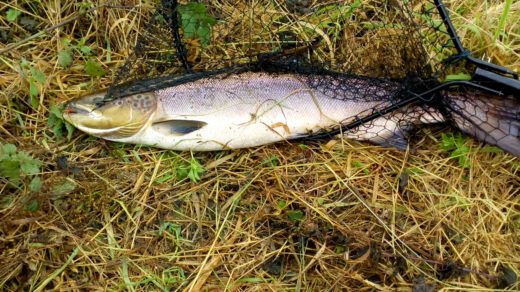 5 September, Donald Cameron reports…….'My first season fishing the Endrick and first salmon caught at Drumtian on an Ally's Shrimp double. I was on my own so a  hurried photo and returned it quickly.  I don't know exact weight but measuring my landing net it was about 30″ (10lbs). Never felt so happy.'…….Well done Donald, always heartening to hear about our members first fish.
Loch Lomond
The Loch Lomond Fly Fishing Competition was held on Saturday 2 September. It was won by Jim Bonellie (Best Basket and Heaviest Sea Trout and his boat partner Denis McLaughlin (Runner Up Best Basket) – A full report has been posted on this blog. A provisional date for next year's event has been set as Saturday 29 September 2018.
Angus MacRitchie landed this fine sea trout on the fly recently off Inchlonaig. Not a lot of anglers out, but those persevering are finding sea trout on the island drifts and grilse on the troll.
Other catches: 31 August, James McGrandle (5lbs) grilse at the Geggles.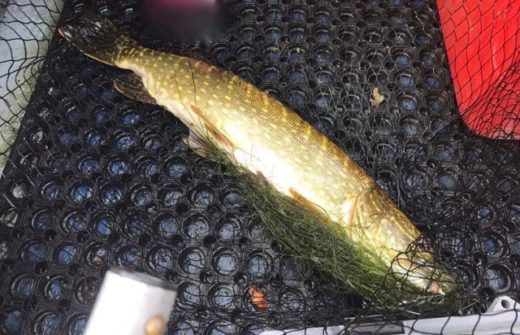 26 August, Amanda Jenkinson reports………'Caught my first pike ever on the troll south of Ross Priory. It might not have been a monster (8lb) but it was a hard fighting fish. Safely returned after a quick photo.'…… Good effort!
JR
Email report at: reports@lochlomondangling.com
Content retrieved from: https://new.lochlomondangling.com/blogs/fishing-reports/lomond-system-news-08092017.