Submitted by
admin
on Thu, 08/24/2017 – 14:36
River Leven
The barrage gates have been open constantly for three weeks with good numbers of fish going through. Yesterday the gauge at Bohill was showing 13" above closing height and with the Loch still high we can expect good conditions for a while yet.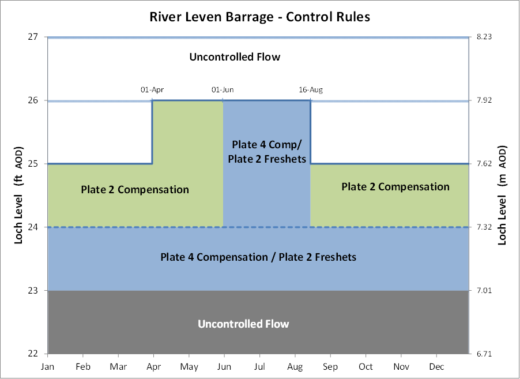 On 16th August Scottish Water's barrage operating plan changed. In effect it means that instead of closing when the Loch level reaches 26 feet the gates will remain open until it drops to 25 feet. This will make a positive difference to the back end flow.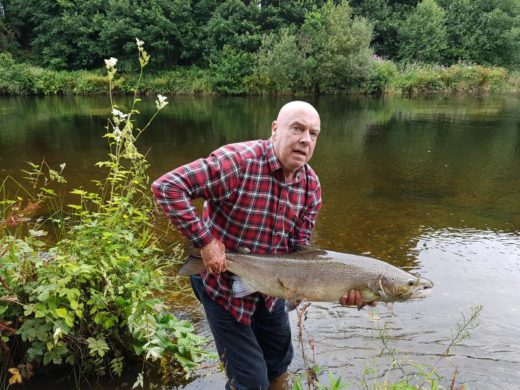 10 August, Alan McHutchison lands and returns his personal best salmon estimated (18-20lbs) caught in the Renton area of the river on a flying-c. Well done Alan!
Other catches: 15 August, Ross Grainger (13lbs) Chapel Hole on a toby…great catch by a junior angler! Andy McPherson (5lbs) Stuckie Bridge, worm-rtnd. Alec McKeen (9.5lbs) 18 August, Kirk Philips (9lbs) McKinnons. 19 August, Davie Robertson (15lbs) Glebe on a tube fly.
Not much in the catch reports but we only mention those received from the bailiffs or hear about from our anglers. Many thanks to those who do contribute.
Loch Lomond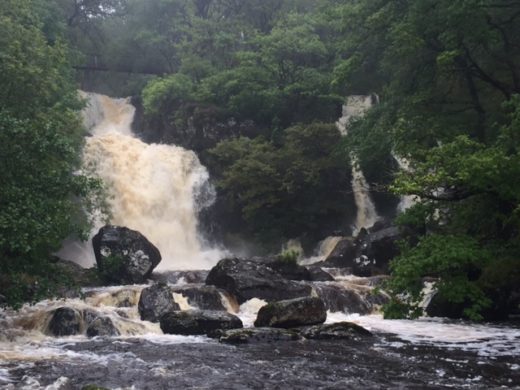 The falls at Inversnaid say it all….a lot of rain has fallen in the last week. Yesterday the level was sitting at 26′. 9.6" inches on the SEPA site…. a bit on the high side.
Last Week I spent four days out on the Loch up the top end and having lost a grilse at Culness the previous week was full of hope. Unfortunately most of the time was spent sheltering and when I did manage out caught nothing. However I was delighted to see several fresh looking salmon give acrobatic displays. On Tuesday at Rowchoish and on Friday at the German jetty, Rowchoish and Hen Isle….didn't see another boat all week though. Back out again on Monday with fish showing at Hen Isle and Rowchoish. It was reassuring to know there's fish about as I can go a whole season and see nothing apart from whatever attaches itself to my line. On Monday I  passed one boat, at Inversnaid. So where's everyone hiding? Maybe down the bottom end…
Catches: 16 August, Russell Boyd (12lbs) at Tylers Rock, – rtnd
River Leven Clean Up Weekend
It has been announced on our Committee's Blog page that the Leven clean up rescheduled for this weekend has been postponed due to high water. Disappointing and frustrating but without the gates closed we can't clean rubbish and snags from the riverbed. The situation will be monitored and new dates in September announced…we hope!
As an alternative, it's suggested  we have a look at the Endrick and expend some energy there. Might not suit everyone but you'll be more than welcome to join us on Saturday (26th) 10am at Ballochruin Bridge…otherwise enjoy your fishing.
LLAIA Silverware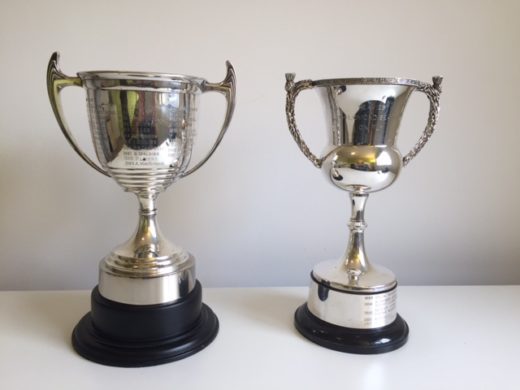 The Association 'Trophy Room' is no longer empty. These two cups, which had been hidden away and neglected for many years, have been restored and are ready to be competed for.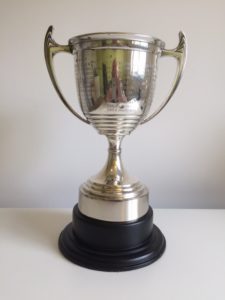 Te 'LLAIA Best Basket Cup' was introduced in 1966 when it was won by J. Glen. It was fished for annually on the Loch until 2001  (Matt Stewart). The cup will be awarded to the member with the heaviest bag at our Annual Fly Fishing Competition on Loch Lomond, this year's event taking place on Saturday 2 September.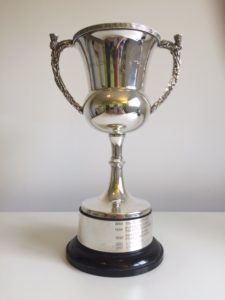 The 'Bill McEwan Memorial Trophy for the Heaviest Loch Lomond Sea Trout on the Fly was introduced in 1993 when it was won by Colin McCrory. It was fished for annually over each season until 2002 (Allan J Stewart – 7lbs) Some of the weights are also engraved and it's interesting to note that in 2001 Matt Stewart won it with a fish of 15lbs….both cups won by Matt that year.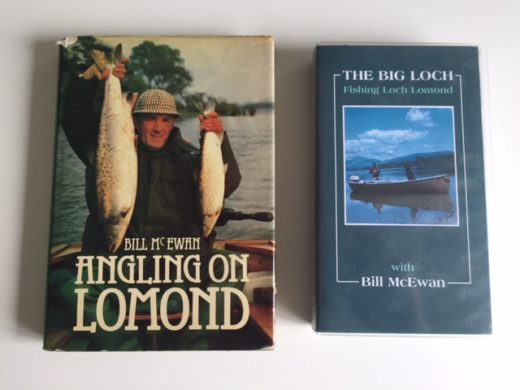 Bill McEwan fished the Loch for over thirty years and was the author of 'Angling on Lomond' a very valuable source of information, particularly for Loch novices. Later a video was produced featuring Bill, and some of the old footage is quite nostalgic. 'Angling on Lomond' went out of print years ago but can still be found on ebay and second hand bookshops and sites. The VHS video is no longer available but copies on DVD were doing the rounds.
Loch Lomond Fly Fishing Competition 2017 – 2 September.
Event planning is now in the final stages. There has been a great response from members and we look forward to seeing you all on the day.
Competition entry fee is £5. Guests of members are very welcome and must have a day ticket.
Prizes have been donated by Angling Active (competition's main sponsor), Glasgow Angling Centre, Gareth Bourhill Consultancy and Chris Turner.
Registration will take place between 0800 and 0900 at Balmaha Boatyard, (a limited number of hire boats are available but best to book in advance) and Vale of Leven District Angling Club.
This competition is strictly catch and release. Tape measures will be supplied and photographs required, so take your phone/camera….
Weigh-in and presentation of prizes will be at 1700 on the Spit of Inchmurrin. There will be a 'hog roast' and fund raising raffle. All proceeds from this event will be donated to the Loch Lomond Rescue Boat.
For further information contact Colin McCrory at Balmaha, Tam McBride at Voldac or email web@lochlomondangling.com
JR
Email Reports at : reports@lochlomondangling.com
Content retrieved from: https://new.lochlomondangling.com/blogs/fishing-reports/lomond-system-news-24082017.