River Leven
The final month of the season. The incessant rain throughout October has pushed the Loch level up, kept the gates open meaning plenty water in the Leven. Not ideal for our intended Leven 'clean up' weekend but allowing a mixed bag of sport with salmon, grilse and sea trout, some fresher than others and what you'd expect at this time of year.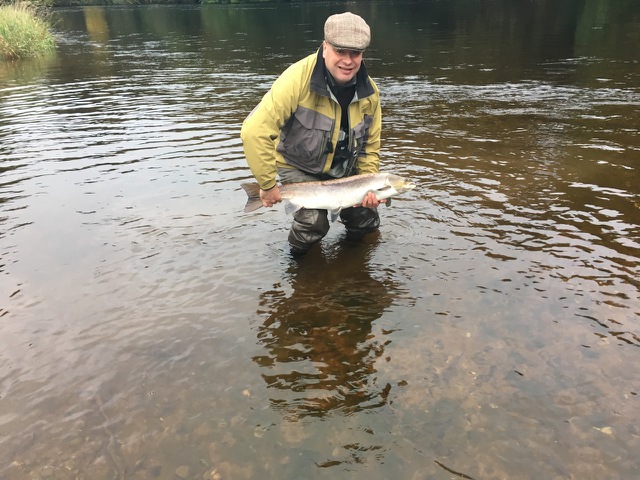 7 October: Angus Soutter has some good back end sport. Starting off at The Apple Tree with a salmon (17lbs) on the fly – returned. Followed by a grilse (5lbs) at the Piles on the fly – returned……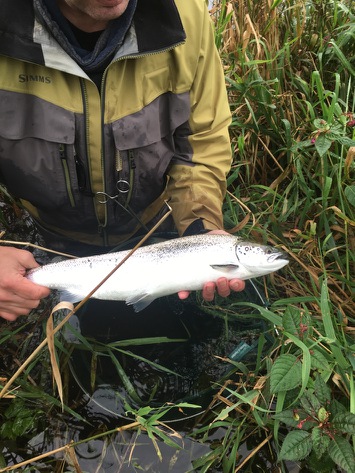 …..then this fresh sea trout (4lbs) at the top of the Street Run, also on the fly – returned.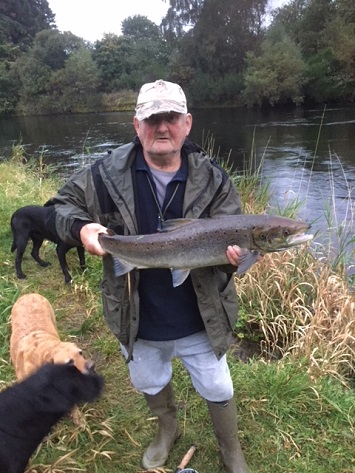 10 October: Hugh Russell (11lbs) at Managers on the fly – returned.
Other Catches: 3 October: Kirk Philips (15lbs) Dalquhurn Point, worm, – returned. 5 October: Chic McLean (14lbs) The Apple Tree on the fly – returned. 7 October: Alan Hogan (11lbs) Top Pool, returned.
River Endrick
After a slow start the Endrick appears to be fishing well with some good specimens landed.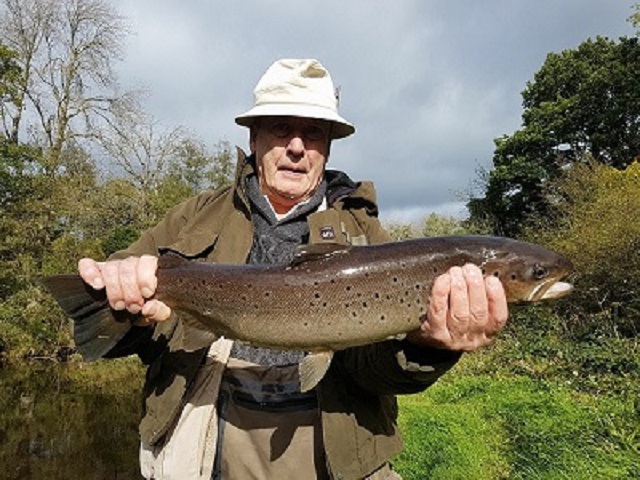 5 October: Regular Endrick fisher Alan McKee manages the double with this sea trout (7lbs) and a salmon of (10lbs) the same day – both returned..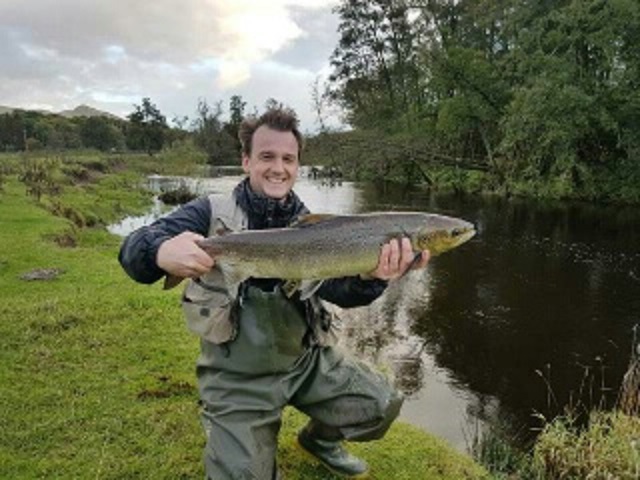 6 October: Another of our Endrick regulars Chris Turner (9lbs) salmon on a pink/orange shrimp fly.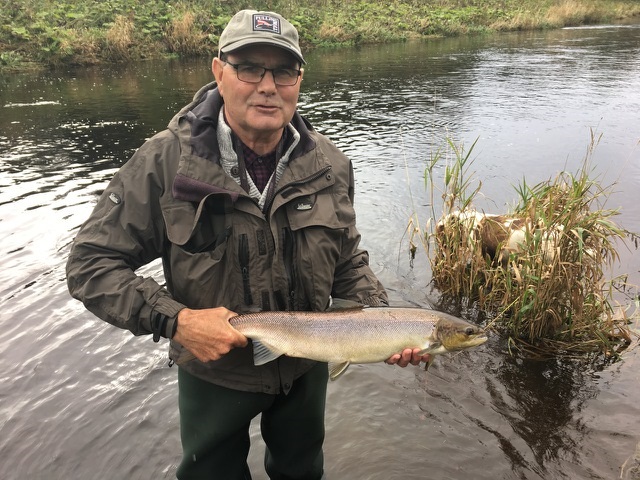 7 October: Finding the Leven a bit high for the fly, Chic McLean took himself off to the Endrick where he was rewarded with a nice (6lbs)  grilse which was duly returned.
River Fruin
21 October: The Fruin might not be the easiest of our waters to fish but it can be well worth the effort, as Lee Taylor reports..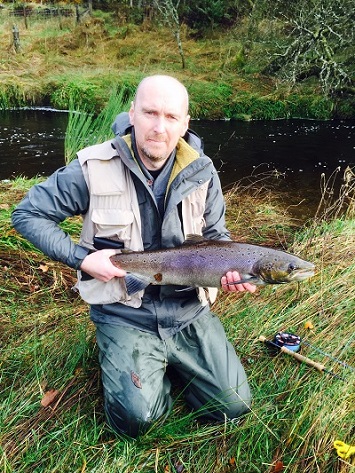 Caught my first ever Salmon today on the Fruin. Lovely hen fish took a size 8 Red Francis.
Estimated weight 6 and half pounds. Fish returned safely. Still buzzing.

At the weekend one of our members reported a potential pollution incident on the Fruin with sudden runs of heavily coloured water. We contacted Luss Estates who had already investigated the source. Tree felling further up the river was causing heavier than usual run off. Operations have ceased awaiting advice from SEPA.
Catch Returns
We are pleased to say that some catch returns have already been received at our office and remind members and ticket holders of the importance of having these forwarded to us as quickly as possible after 31 October. Either complete using the online facility or post to: L.L.A.I.A., 4 Woodside Place, Glasgow G3 7QF.
End of Season
And so the curtain closes on season 2017. Memorable for some and not so for others, but that's fishing! We'd like to thank all of our members and ticket holders who sent in reports and photos over the year. Not only does this let us know what's happening on the system but it provides inspiration for others to get out there. Of course you will have noticed that changes to our website are taking place and these will be completed very soon.
We'd also like to take this opportunity to thank those of you who took the time to submit your personal objections to Marine Scotland regarding the proposed Category 3 assessment for season 2018. The committee have submitted an objection on behalf of the Association and await a meeting with Marine Scotland staff to discuss. Jackie Baillie MSP is also on our case. We don't expect to hear the final decision until mid November at the earliest but as soon as there's any news we'll post on the Committee's Blog.
In the meantime have a good winter… not long till next season!
JR
Email Reports at : reports@lochlomondangling.com