Submitted by
admin
on Wed, 10/11/2017 – 20:33
River Leven
Good water conditions throughout September and fresh fish still running. Not exactly heavy angling pressure but those who are making the effort are being rewarded with some really good sport……….
13 September, Dick Dickson sent this report…
'I had a momentous event on the Leven today landing a 25 lb salmon on the fly after a one and a half hour struggle – 12 ft rod, 8 lb b.s. line and a big water.
I hooked it at the bottom Back Stream of the Dalquhron loop and it took me down to the last 5 yards of 100 yard backing on its first run – I had to chase after it to avoid losing the fly line and backing of my salmon reel – incredible it was.
I shouted for help throughout the struggle but no angler or dog walker about the Dalq. loop this morning between 11.15 and 12.45! And no camera (drowned a month ago).
I played the fish to a complete standstill and got a very precise measure with my tape as it lay comatose on its side in the shallows – 38.5 inches. A massive male fish bronzed but not yet red with a large kype – all clearly imprinted on my mental picture now. Despite the long struggle it swam slowly away after 3 or 4 worrying minutes of holding it in the current. I then lay down for 10 minutes! What a day.
Must have been some specimen when it first came in. What a massive girth. My wee home made black body cascade did the trick.'
Good stuff Dick…there's rumours on the river it was 40lbs plus!!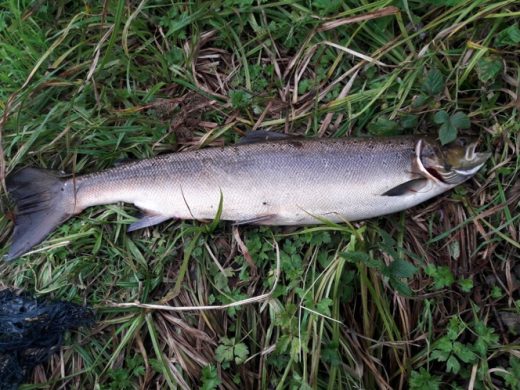 23 September, Jake McGarrigle (12lbs) McKinnons on a size 10 Kinermony Killer – returned.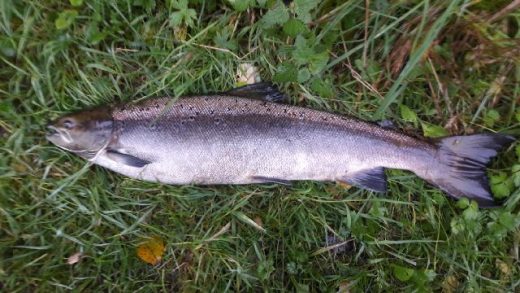 25 September, Chic McLean (15lbs) Managers on a conehead fly – returned.

Other reports: 9 September, John Milligan (14lbs) Apple Tree, worm. 11 September, Chic McLean (18lbs) Bucks on a Black Francis – returned. 15 September, Stephen Blackwood (10lbs) Glebe on a gold bodied Willie Gunn tube – returned. 26 September, Kirk Philips (6lbs) Dalqurn Lade.
River Endrick
A shortage of reports from the Endrick but good spate conditions this month and plenty fish seen moving.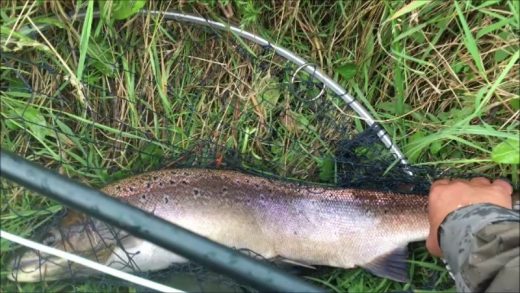 11 September, Eric McDonald reports…….
'A coloured fish about 7lbs. Caught today below bridge at Ballochruin Farm. Returned to fight another day!'
Presentation to Loch Lomond Rescue Boat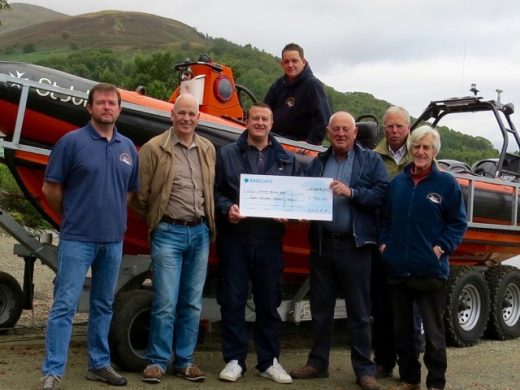 23 September:  a total of £700 was raised at the LLAIA Fly Fishing Competition on 2 September. The LLAIA Chairman presented a cheque to the Loch Lomond Rescue Boat committe and crew which was very much appreciated.
Catch Returns
Everyone must be well aware by now that catch returns form the basis for determining the Conservation Status of our system. Last year, even with the threat of reverting back to Cat 3, the number of returns sent in was abysmal. The LLAIA have a statutory obligation to forward these returns to Marine Scotland by 31 December each year. We were able to negotiate an extension with MS granted an extension till 31 January purely due to our administration change which bought us some time. This year's returns will be used to determine the category for Season 2019 and must be with us as soon as possible after the season closes.
The committee have looked at various way of maximising the return but found that there is no 'magic formula.' It was suggested at this year's AGM that a financial penalty should be introduced for non submission. However, we think this is something that should only be introduced when everything else fails.
To help address the problem we have appointed a 'returns officer' who will collate, update our database highlighting defaulters and 'chase them up'. The next step being considered is only to renew permits when a return has been submitted. Don't find yourself on the 'hit list'. Even 'Nil Returns must be submitted. We realise that some of our coarse anglers also hold the 'big ticket' and ask for your cooperation in this matter.
In order to allow us time to prepare and transmit the final report to Marine Scotland we request all forms are returned by 30 November to our office at 4 Woodside Crescent, Glasgow, G3 7QF or by submitting electronically through the 'Catch Register' facility on our website.
Conservation – October
Anglers are reminded that in line with the LLAIA Conservation plan all salmon caught during October should be returned to the water.
River Leven Clean Up
With the amount of rainfall we are currently experiencing it's very unlikely that Scottish Water will be able to close the barrage to allow for a clean up any time in the near future. We'll keep the situation under revue and update if possible.
JR
Email Reports at: reports@lochlomondangling.com
Content retrieved from: https://new.lochlomondangling.com/blogs/fishing-reports/lomond-system-news-30092017.