The first ever pike fly fishing event to be held by on Loch Lomond went ahead on Sunday 17th June 2018 with boat and bank pike fly enthusiasts heading out from Balmaha and Balloch. The competition was of course fished on a catch and release basis, photos, measurements accepted as proof of catch.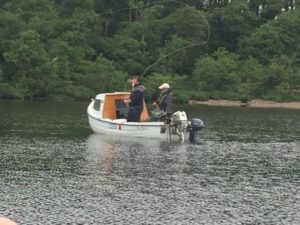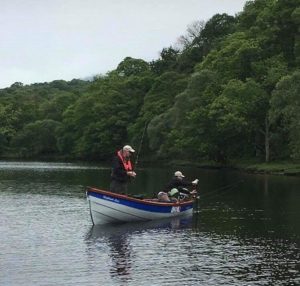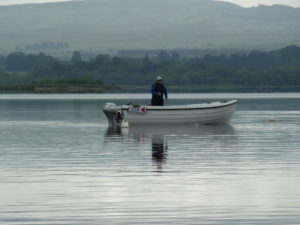 Conditions on the Loch were good, overcast with a steady breeze developing. Some anglers found it hard work to attract Esox, putting it down to the sudden drop in water temperature following the recent hot spell. Bank anglers reported activity on the weed beds but the Loch's current low water level made fishing difficult.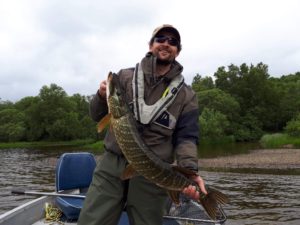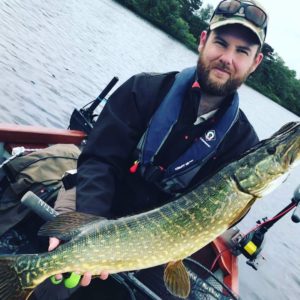 'Weigh in' was held at Balmaha and the winners of the three prize categories decided…….
Heaviest Fish:  Alan MacGregor (above left). Pike 15lb 4oz (boat)
  2. Heaviest Overall Basket:  David McInally. Pike 9lb 4oz and 7lb 2oz (16lb 6oz)(boat)
3. Runner Up Heaviest Fish:  Stewart Kelly (above right). Pike 11lb 9oz (boat)
Alan was presented with a Vision' Big Daddy' Pike Fly Rod. David (had to leave early due to commitments) wins a Greys GTS800 Fly Reel and Stuart was presented with a Fulling Mill Xtreme Fly Box and Clydesdale Fly Set.
A great day out and the LLAIA would like to thank all who took part, Paul Devlin at Glasgow Angling Centre for his support and Vision Fly Fishing  Greys Fishing and Fulling Mill for kindly supplying prizes for the event.
JR
Contact Reports at: reports@lochlomondangling.com