River Leven
Heavy rain earlier in the week but not really enough to make a great difference to the level of the Loch hopefully enough to encourage any fish salmon waiting in the Estuary to run. The gates are now at weekend height allowing decent fishing conditions. Still plenty of sea trout around on the lower reaches.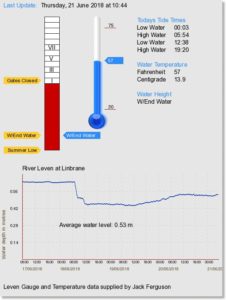 No recent catch reports from the river but that doesn't mean to say that there's nothing being caught. We very much rely on our anglers to update us on what's happening, so keep in touch.
Loch Lomond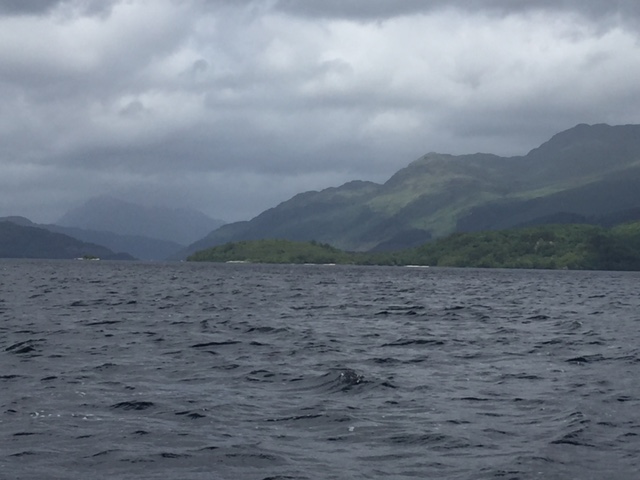 After the warm sunny weather recently, Monday saw the Loch a changed place…blowing a hoolie from the south west. Four boats headed out from Balmaha but two were back in by lunchtime and a third not far off.
Seems not many boats have been venturing out due to the hot spell and the Endrick Bank and usual early haunts have been quiet. No anglers out…no catch reports.
15 June:  Lenny Grant had been out a few times and blanked but his perseverance brought him success at the Stables with a fresh 11lb salmon on a gold/black rapala. This is the first report to us by a Balmaha boat though we believe a fish of 15lb was caught at the Yacht Club on 13 June by an unidentified Bay angler.
21 June: Dick Dickson reports…..
'Out on the Loch yesterday in perfect conditions, big NWW wave, cloudy and burns in spate. Very surprised when a sparkling grilse of 6lb+ took the gold rapala – safely returned after difficulty – no pictures – fishing solo and white top waves at time. Another screamer at Carraig Rock but on and off this time on a blue and silver rapala. A big pike at Darroch. An eventful and enjoyable day out.
Thanks for that Dick.
Had an unconfirmed report of a 15lb fish landed up off Tarbet last week, so the colder water up the 'Tap End' may hold the key……. The author was up there last week, but only sea trout coming to the troll, biggest 6lbs at Rowchoish on a Toby.
More warm, sunny weather forecast for next week…the factor 30 will be out again….
JR
Contact Reports at: reports@lochlomondangling.com