River Leven
The warmest summer since 1976 and driest six month period since 1984. The statistics may be correct but certainly don't do anything for fishing conditions. Some of you might be lucky enough to remember how the system fished in 1976…… At the time of writing  there are heavy localised showers doing the rounds but hardly enough to produce a trickle from our dried up burns… However, the weather is becoming more unsettled and hopefully normal service will be resumed soon.
Leven sea trout anglers are happy enough with low water and we hear of good sport during the late evening into the small hours.
Paul McNeill landed this sparkler of around the 4lbs mark which gave him a tremendous fight. Must be a great feeling striking into a quality trout like this in the dark.
Business as usual on the Estuary. Quality sea trout coming to the fly, spinner and bait.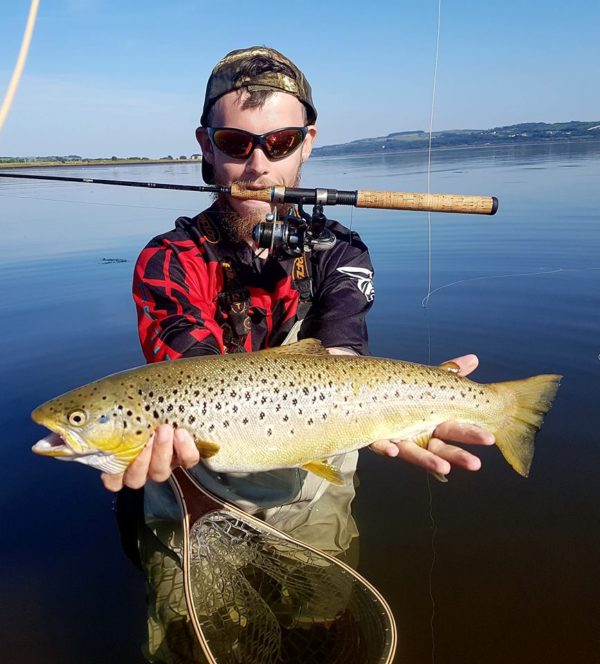 29 June, regular angler William Ewart landing and releasing his latest 'slab' of a trout. Well done what a cracker! Down there getting nice and plump before returning to the Loch….
Loch Lomond
With surface temperatures in excess of 20C fish are well down and anglers using fish finders are picking up images sitting at 15 – 20 feet down. A small band of regular diehards venturing out for a sail and some success reported. Voldac member John Connolly already has two salmon and a grilse under his belt but that's perseverance for you. Frank Caldwell reports landing a 16lb sea trout at the end of June while trolling the Boturich shoreline in the evening.
In the recent warm, bright conditions an early morning or evening session is more likely to be productive. Why not spend a couple of nights under canvas and cover both. No midges to worry about…..yet,  but north of Rowchoish the clegs have been brutal!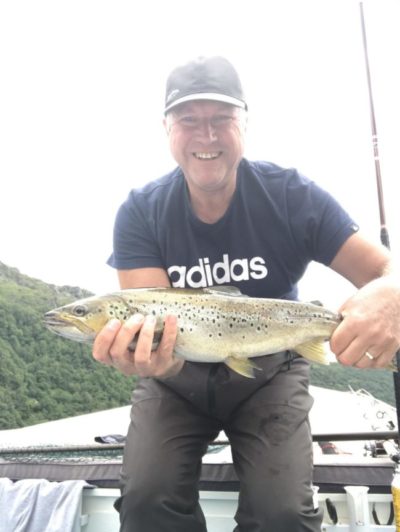 17 July: Scott Sinclair took advantage of the good weather to lie out up at the 'Tap end' for a couple of nights. Unfortunately no salmon this trip but a nice sea trout (3lbs) made a welcome appearance and was quickly returned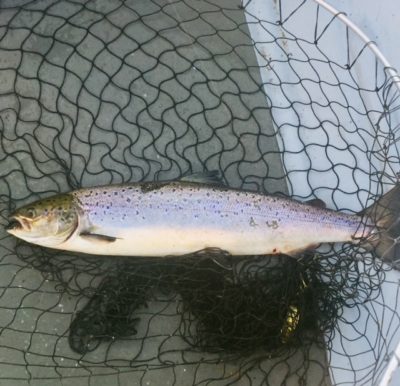 The author also headed up for some quality time and connected with this fresh grilse off Inversnaid. About 4lbs in weight and still with a single louse attached at the vent. A strong wee fish which didn't take much reviving and shows how fast fish can travel when seeking cooler water.
Loch Lomond Fly Fishing Competition 2018
The Loch fly fishing competition will be held on Saturday 29th September. Last season's event was a gerat success with over 40 anglers taking part and the fine sum of £700 raised and donated to the Loch Lomond Rescue Boat. This year's event will be run on similar lines and we ask for as much support as possible. Further information will be published shortly.
Bill McEwan Memorial Trophy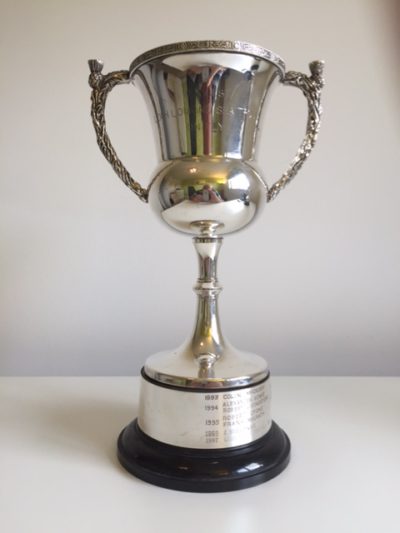 It was announced at this year's AGM that the ' Bill McEwan Memorial Trophy' for the the heaviest 'fly caught' Loch Lomond sea trout had been restored and would once again be fished for annually. The cup was introduced in 1993 when it was won by Colin McCrory. It was fished for each season until 2002 (Allan J Stewart – 7lbs) Some of the weights are also engraved and it's interesting to note that in 2001 Matt Stewart won it with a fish of 15lbs. Authenticated entries including photos, measurements and witnessed if possible should be forwarded to the secretary and the winner announced at the end of season.
JR
Contact Reports at : reports@lochlomondangling.com