River Leven
The curtain closes on another Lomond system season. Not a particularly memorable one for some and unfortunately much the same across Scotland. However, we've heard that over the year some regulars catches of salmon have numbered into double figures, but the catch returns will show what the true picture looks like……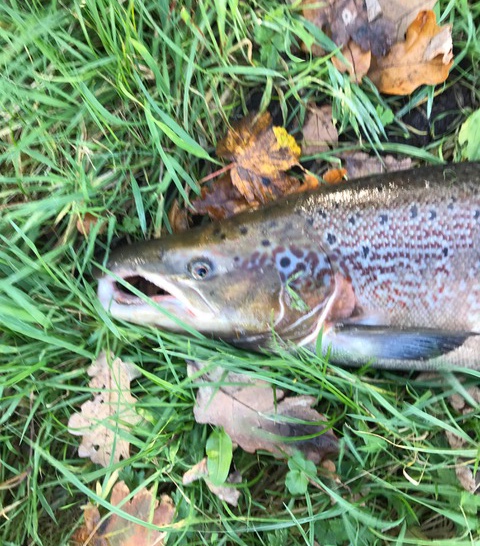 The colours captured in this photo say it all…autumn and the back end. This gentleman (12lbs) was landed on 27 October by Paul Kolatowicz at the top pool. He was quickly returned to the water. Good numbers of returning cock and hen fish about, which is encouraging, in various states of dress from tartan to silver.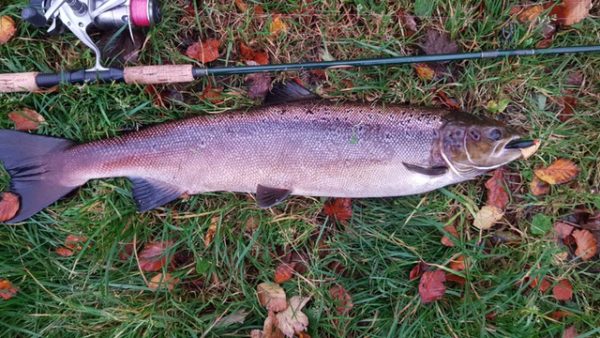 Other reported catches: 2 October: John Blackburn (9lbs) Linnbrane Hole. 3 October: Daniel Murray (14lbs) Bonhill Pool. Alun Pryce (6lbs) Linnbrane Hole.  4 October: Danny Connolly (8lbs)  Cake House. 11 October: Robert Galbraith (10lbs) Bonhill Pool. 13 October (12lbs) Finlay McLaren (12lbs)  Piles. 22 October: John Donnelly (22lbs) Double Pipes. 24 October: 24 October: Robert Galbraith (14lbs) Factory Wall (hen fish pictured above). 24 October: Paul Kelly (7lbs) Linnbrane and (10lbs) Double Pipes. 25 October: Paul Kelly (10lbs) Linnbrane. 27 October: Alan Brown (8lbs)  Piles. Derek Hughes (5lbs)  Glebe. 30 October: Lindsay Nelson (10lbs) Craft Stream. John Clifford (12lbs) Chapel Hole. Jim McFarlane (5lbs) Chapel Hole. 31 October: Chic McLean (9lbs) Street Run. Duncan Campbell (5lbs) Top Pool. Alex McElwee (12lbs) Top Pool.
Loch Lomond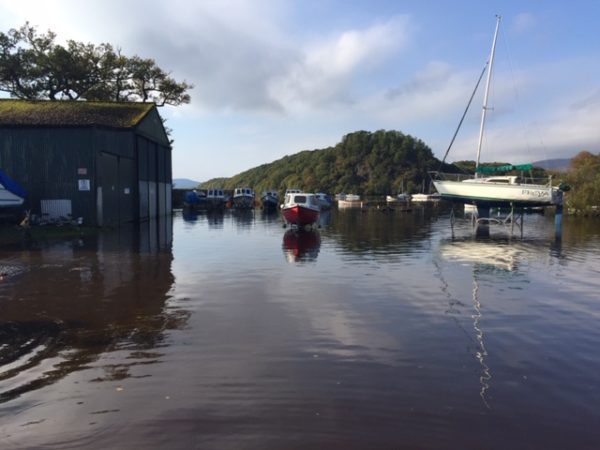 Mid October and Balmaha under water……  The back end is never the best time on the Loch. By now our salmon are heading for the redds on the Endrick, Fruin or dropping back into the Leven. Strong winds earlier in the month curtailed boat activity but a few anglers managed to venture out to cast a fly at the sea trout……
At the end of September Richie Millar landed this ferox/sea trout………..?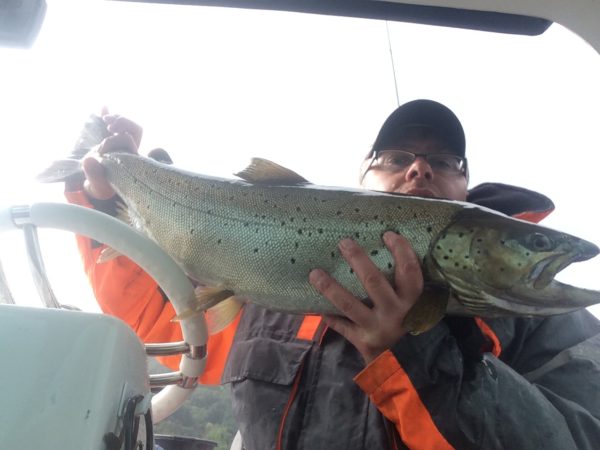 '…….Could start that old debate again…..This brute of a troot weighed 13lb 6oz. Caught in around 200ft of water on a lure using a downrigger.  Safely released.'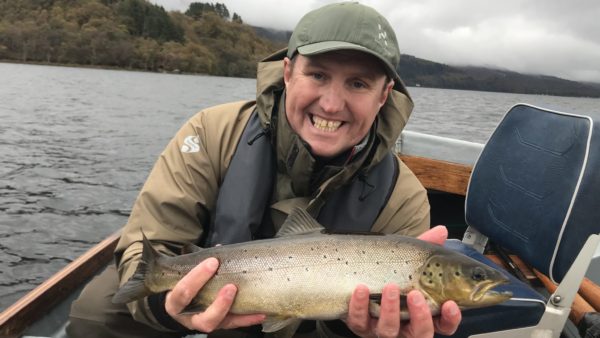 Balmaha angler John Bell was delighted when this trout of about 3.5lbs came to the fly. His day out is captured on video and can be viewed on YouTube
Bill McEwan Trophy
The Bill McEwan trophy will be awarded for the heaviest fly caught sea trout on Loch Lomond during the season. Please forwarded authenticated entries to the Secretary.
Catch Returns
Everyone will be aware that the Salmon Conservation Category on the Lomond System has been upgraded from Cat 3 this year to Cat 2 Conservation status for season 2019 meaning that, subject to LLAIA conservation bye laws, anglers will once again have the choice of whether to take a salmon or not.
The LLAIA have a statutory obligation to forward a return of all migratory fish caught on the system to Marine Scotland by 31 December each year.  At present MS's methodology is based purely on returns submitted over a rolling 5 year period.  Last season, with a bit of hard work, the LLAIA's overall return to MS included the figures submitted by 85% of the membership. If this high return rate had been the norm in the past it's unlikely that we would ever have been graded a Cat 3.
This year's returns will be used in determining the conservation category for season 2020, so it's important that every angler returns their figures to us including 'Nil Catches'. We realise that some coarse anglers hold full memberships but require a return from all members.
Forms have already been issued with permits but additional copies will be available at O' Brien's store at Bonhill Bridge and VOLDAC. These must be returned to us by 30 November to allow for the preparation and transmission of the final report to Marine Scotland. They should be posted to our office at:
L.L.A.I.A.
4 Woodside Place
Charing Cross
Glasgow
G3 7QF
There are also collection boxes located within O' Brien's and on the railings adjacent to VOLDAC.
Under Section 5(b) of the LLAIA constitution members who do not submit before 30 November may be charged an administration fee on top of the annual membership. We don't wish to invoke the imposition of fines on members and instead it was agreed at this year's AGM that returns should be submitted before a renewal is granted.
Online Catch Register
Our electronic register proved very popular but had a few flaws and was taken offline. A new system is currently under construction and is almost ready. This register will be available to all permit holders including weekly and day tickets. The link should be on our website homepage in the next few days and we'll post an update as soon as it goes live.
Annual General Meting
Members will be notified of the AGM date to be held at Partick Burgh Hall during February 2019.
We'd like to thank our anglers who kept in touch during the season sending reports and photos and look forward to hearing from you again next year.
Have a good winter….
++ Update ++ Online Catch Register now live and can be found on our homepage link.
JR
Contact Reports at: reports@lochlomondangling.com