Protecting and preserving both our environment and reputation is every angler's responsibility.
Below is a picture of bags of litter collected by our bailiffs at a well known pike fishing area just south of Luss and although some litter was already bagged by anglers, they never took it away with them!! The  rest of the litter was gathered together and bagged by our bailiffs. This attitude and action by some so called anglers will undoubtedly give the Association and our responsible members and coarse anglers a bad name, whilst doing untold damage to the environment, flora and fauna.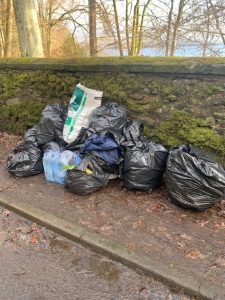 Whilst it is recognised that most members and other anglers act responsibly we would like to remind our members of their obligations to protect our beautiful but fragile environment and reputation.