Atlantic salmon – skin damage/red rash
We wish to make all our members and anglers aware of information issued by Fishery Management Scotland and communication from the Loch Lomond Fisheries Trust (LLFT).
The L.L.A.I.A had highlighted the same occurrence on Scottish Salmon rivers last season and issued some guidance if a fish showing signs of such damage was caught, but we were never made aware of any fish with this type of damage/rash on fish caught on L.L.A.I.A Waters in 2019.
Since fishing has restarted in 2020 after the COVID-19 lockdown in Scotland a few rivers have started reporting fish with this issue again. Since the results of samples taken last year from fish were inconclusive the Fish Health Inspectorate is currently updating its guidance and we will issue that when its been released.
The LLFT have applied for and received a sampling kit from Marine Scotland Science that will be readily available at the LLFT office for their biologist to access so samples can be correctly and hygienically taken from the fish.
Can we kindly ask all members and anglers that should they capture a fish showing the symptoms or similar to those indicated in the pictures below that they immediately contact the L.L.A.I.A office 0141 0141 353 5004, alert a water bailiff and also contact the LLFT on Tel: Tel: 0141 956 4454  or Mob: 07985 319 899
Typical signs of Skin Damage / Red Rash  – images courtesy of Reuben Sweeting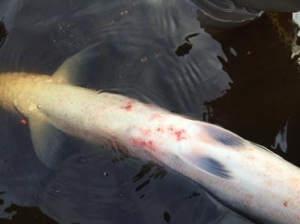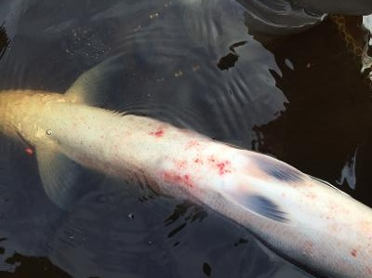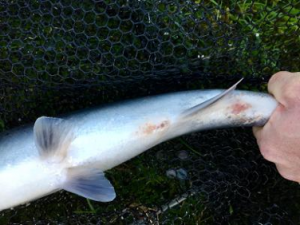 Anglers if they do encounter such fish should also record the following information:
please include the following:
Date observed/caught;
Photos;
Size and weight estimate;
One sea winter or multi sea winter;
Location caught/observed (OS grid ref if known);
Clinical signs of disease;
Water temperature;
Any other observations.