I am pleased to say that the recent runs of fish and successes for anglers has continued this week with the River Leven, Endrick and the Loch all producing some exceptional catches in many cases. The quality of some of the salmon and sea trout that have been landed is truly outstanding. Good runs of Grilse have continued and have been seen both moving through the system and also landed.
I am sure that there would have also been some excellent successes from our coarse anglers on the system this week too given both the numbers of anglers fishing and the quality and size of Pike reported by loch boat anglers trolling. It would be great to hear more news from our coarse anglers on the system concerning their tales and catches.
River Leven
This last week has seen the river continuing to produce some great sport and some magnificent examples for anglers fishing both on the fly and spinner. Runs of Grilse appear to have become more common during the last week with grilse being seen running straight through in reasonable numbers. Just to prove the point local angler Samuel Burgoyne intercepted this lovely wee 4-5lb (est) Grilse on Monday 6th July at "the stream". Well done Samuel you're going to need more space for the growing number of 'notches' on your rod with the run you are on.
On 7th July Stewart Dunsmore landed a fine 10lb 20oz  fish at "The Piles' on a wee Green Highlander and using his new switch outfit, well done Stewart.
The 8th of July saw local Leven angler Davie Robertson also land a lovely Grilse (6lb) at "The Glebe".
On the same day another Leven regular Willie Gray landed a 'stonking' fish of 18lb at "The Glebe" once more well done Willie and can only imagine the fight that ensued when you hooked into this beauty.
On Friday 10th July Euan Kennedy experienced catching his very first salmon – a cracking grilse of 7lbs. Well done Euan and no doubt the first of many to come!  You can share Euan's experience of hooking his first fish via the short video clip below. There is was clearly no shortage of very experienced advice and coaching on hand, there did seem to be a shortage of a net initially however leading to some 'heart stopping moments'. All did end well however and well done Euan.
As mentioned the numbers of Grilse in the system has increased steadily and local very experienced angler Steven Gilfeather reported hooking 4 fish on the river during the last week, successfully landing 2 beautiful Grilse (4-6lb), both safely released. Well done Stevcn!
River Leven water conditions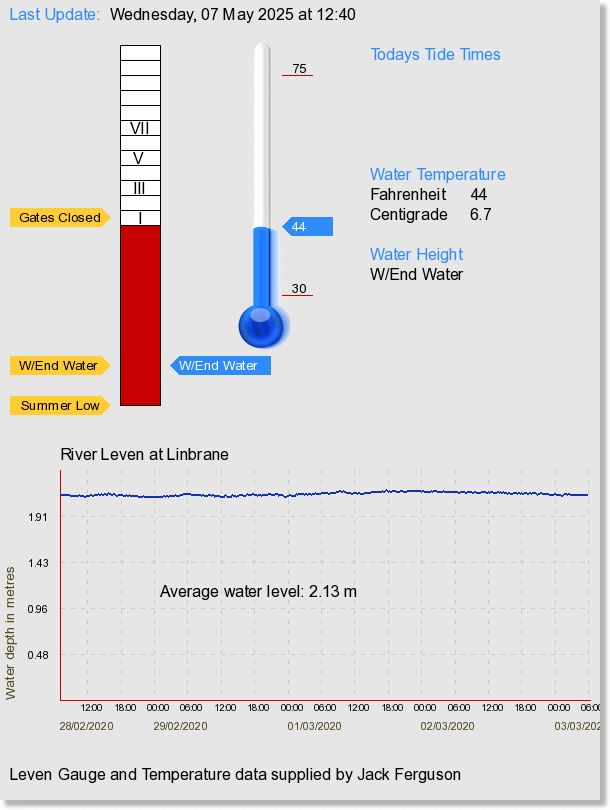 Additionally the current water gauge level for the River Leven at Linbrane can be obtained from SEPA by following this link https://www2.sepa.org.uk/WaterLevels/default.aspx?sd=t&lc=133107
Local information concerning tide tables can be found here http://www.ukho.gov.uk/EasyTide/easytide/ShowPrediction.aspx?PortID=0404&PredictionLength=7
Loch Lomond
The loch this week has witnessed mixed conditions and catches with weather ranging from hot sunny flat calm to showers, westerly winds with days of a big wave indicating great conditions. Loch angler Chris Ellis landed this cracking Sea Trout (6.5lbs) at the "Tap End" on Thursday 9th July. A quick photograph and safely returned, well done Chris!  Chris also reported some very large catches of Pike (14lb,15lb & 24.5lb) whilst trolling the week before between Rowerdennan and "Eagle Bay".
Meanwhile congratulations to Stephen Kennedy who landed this good fish of 11lb from the Loch on Saturday 11th July, well done Stephen – your smile says it all and we look forward to further reports of your successes.
River Endrick
Experienced Endrick angler Max Calesso got of the mark this season with a beautiful 5.5lb Grilse on Monday 6th July, congratulations Max and one of many for you hopefully.
Endrick fl;y fisher Chris Turner was rewarded this week with this stunningly beautiful silver Sea Trout of 2.25lb, well done Chris! This reinforces the reputation of the the Endrick being a quality Sea Trout water.
The River Fruin
As many will know the Fruin has a very specific fishing 'window' in relation to conditions and height. Despite there being several of these fishing 'windows' that have occurred during the past week or so there are no confirmed catches to report.
The Estuary
Whilst once more we have received no detailed reports of catches, recent news indicates that the Estuary continues to provide some good rewards for those chasing sea trout based upon feedback from several anglers. The usual productive areas at Levengrove, below the castle and Cardross proving successful provided that you time the tide correctly. As always please take all safety precautions when fishing the estuary, if in doubt ask for advice or information.
Footnote
We wish everyone the best of luck in their fishing exploits and respectfully remind all anglers to observe best practice at all times in carefully netting, unhooking and releasing your prize fish and always to stay safe whilst on the banks or on the water. The image below helps to illustrate 'best practice' in handling and release of all fish.
Respect your Environment (Park)
Without wishing to end on a negative note we are sadly continuing to see evidence and reports of utter disrespect for our beautiful Lomond system in the form of gross littering and damage by 'so called' anglers and others.
Below are yet more images of the wanton disrespect and illegal littering of our beautiful precious environment, in this case Arden sandpits yet again. This does nothing to promote angling or anglers from the public's perception.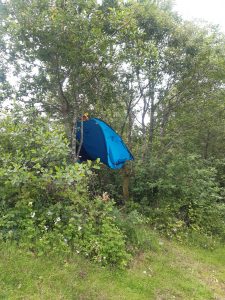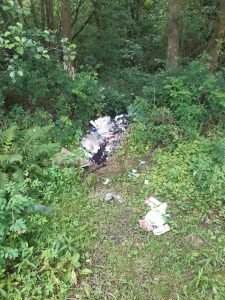 These are no anglers that we would recognise as such nor wish to be associated with and consequently we would urge all members and all anglers to proactively 'report' any incidents or suspicious behaviour to Police Scotland or to the Loch Lomond and Trossachs National Park Authority. To report any incidents or concerns then the LLTNPA can be contacted by telephone on 01389 722030 and further information can be found at their website https://www.lochlomond-trossachs.org/
A short video showing how to enjoy your outings within the National Park responsibly can be found below:
The underlying message that the vast majority of anglers and others understand is "TAKE ONLY MEMORIES AND LEAVE NOTHING BEHIND"