Latest news and information from across the system
SEPA Water level information service
Please note that following recent cyber security incidents SEPA river Level sites are not currently unable to report water level data that the LLAIA receive to update our website.
Meantime we are grateful to Jack Ferguson for his effort in providing his River Leven level updates.
Latest official status from SEPA can be found by following this link: https://regulatoryapproach.sepa.org.uk/cyber-attack-service-status/
Catch Reports
The River Leven has seen some increased activity in recent weeks with the Bonhill Pool and Top Pool being particularly popular.
At this point in the season reported catches of game fish are unsurprisingly low. However on his first outing on the Loch of 2021 on Saturday 27th February Donald Brown christened
his new boat with this stunning Brown (Loch) Trout of 14lb caught on the troll. Donald also reported netting three other trout including two Sea Trout of 4lb, well done and congratulations Donald.
Some Important Reminders to all Anglers
 All fish should be treated with care and respect and in particular all kelts of wild fish must be returned unharmed and as considerate as possible, ideally without removing from the water.
Anglers are reminded that driving of vehicles is not allowed on the towpath and may result in prosecution by Police Scotland
Moving downstream between casts
During recent weeks the Top Pool and the bottom end of barrage area is getting busy, with some basically rooted to the spot all day and constant casting etc etc.
It has come to the attention of the L.L.A.I.A that a number of anglers are congregating in the one spot and not following the rules on the permit of moving downstream between casts especially when others anglers are present and wishing to fish down via the same pool/area.
Anglers must not monopolise the one spot and water bailiffs will be monitoring the situation. For clarification and a reminder, all anglers and permit holders must follow the rules written on their permit and these clearly state the following, " RIVER LEVEN STRICTLY NO FISHING OF ANY KIND FROM THE LEFT HAND SIDE OF BARRAGE DOWN TO THE HALDANE BURN AND NO FISHING WITHIN 100  YARDS OF THE BARRAGE ON THE RIGHT HAND SIDE. PERMIT WILL BE INSTANTLY REMOVED IF SEEN
INFRINGING THIS RULE."
Concerning the requirement for all anglers to move between casts then please note " Anglers should not monopolise any particular spot, but should move downstream at least two feet between casts".
In addition "Anglers should on no account, commence to fish immediately below another angler, but must give at least 30 yards between themselves and the next angler commencing to fish".
Litter and respect for the Environment
We wish to remind all members and anglers that park at the Bonhill Bridge car park area to collect and put all their rubbish in the nearest litter bin which is across the road from O'Briens, or take their rubbish home with them. Yesterday at the end of the day the car park and behind the low wall at the rear of the car park area was littered with rubbish, paper bags, empty juice cans and empty coffee/tea cups etc.
People leaving rubbish behind for others to deal with will only cause negative remarks from those that live in nearby housing but also others that use the towpath as a walk and will give all anglers a bad name.
Its simple if you have any rubbish, bag it and bin it, or take it home. Leaving it behind is not a responsible behaviour.
Thank you to all anglers for their adherence and cooperation in relation to these points
REMINDER: Actions required by anglers should they capture a 'Farmed Salmon'
As a reminder you are requested to take the following important actions should you believe that you have landed a farmed fish:
Official Advice
Inform immediately the LLAIA or LLFT (since we don't have a District Salmon Fishery Board (DSFB).

Photo to be taken and scale samples, we need to know where and when caught, method and approx. weight.

Fish to be immediately humanely dispatched and not returned to the water. Please note that farmed fish escapees have been declared as 'not fit for human consumption' by Fisheries Management Scotland.

Online form at FMS to be completed and Fish Health Inspectorate informed ( If anglers give us the info we will do those steps for them). The FMS reporting form and further information can be found using this link http://fms.scot/reminder-on-farmed-salmon-catches/

Fish is not to be kept or eaten!! ( Official advice for any farmed fish by FMS)

This only applies to farmed fish, anybody dispatching a wild fish, must only do so within rules of the L.L.A.I.A, they may be subject to prosecution under fishery law with regards retaining of wild fish.

Scales should be stored in paper packaging (e.g. wrapped in kitchen roll or in a paper envelope). It is important that scales are not stored in plastic nor dried on a direct heat source.

The L.L.A.I.A will provide scale envelopes and we will distribute these to bailiffs, VOLDAC . So as soon as a farm fish is caught please get immediately in touch with ourselves or the LLFT and we can arrange collection of the scale samples plus a photograph where at all possible.
The above advice and steps relate to the capture of any farmed fish not just those relating to the MOWI Carradale North incident.
Identification of a farmed salmon
Below is a link to a video from the "Ayrshire Rivers Trust" illustrating how to identify a farmed versus wild fish and also how and where to take required scale sample should you believe that you have captured a farmed fish.
Video : https://youtu.be/WwKwPv1yGBM
The diagram below shows the area that any scale samples must be taken from: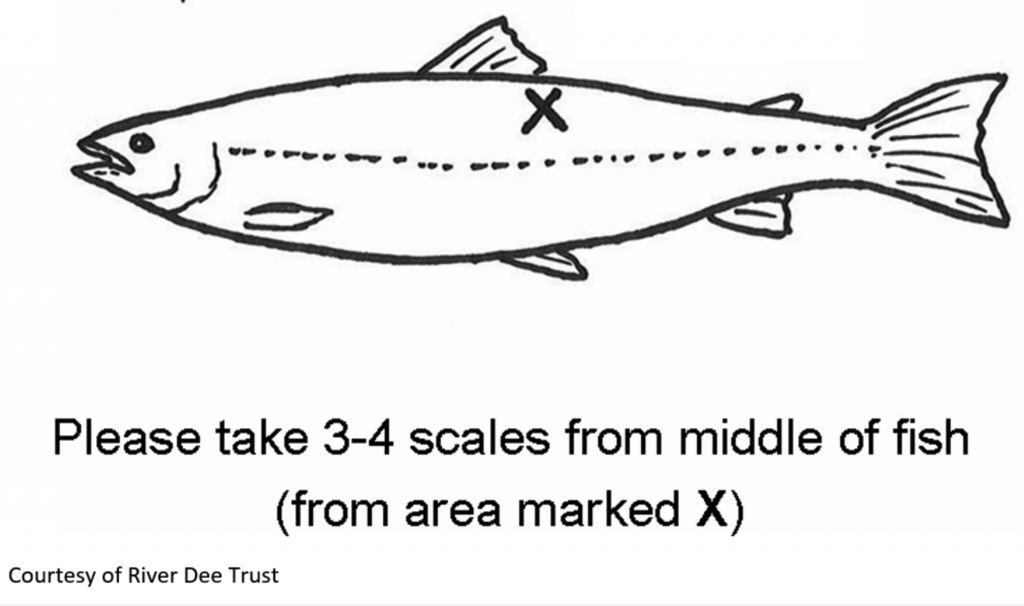 To further aid the identification of farmed fish then below is a link to an illustrated leaflet from Fisheries Management Scotland (FMS).
http://fms.scot/wp-content/uploads/2020/09/200908-Aqua-Guidance-for-Anglers.pdf
We would like to thank all anglers for their support and cooperation in this matter.