The last week or so of May and throughout June has seen a marked increase in both the number of fish being landed and the number of rods out on the River Leven. The first of hopefully more runs of Grilse have begun with several Grilse already being landed on the River and the Loch. Catches on the River Leven have included some really beautiful quality fish in the mid to upper teens and beyond with some really deep, full bodied bars of silver falling to the fly, spinner and worm. Based upon confirmed reports then the rods on the mid to upper River Leven appear to be faring better than those on the lower River Leven. Possible reasons for this may include river levels during the past month or so where fish are opting to run through the shallower lower river to reach the deeper sections of the mid to upper river. Alternatively rod pressure is simply greater on the mid to upper parts of the river.
The Rivers Endrick and Fruin being largely spate rivers are therefore very water level dependent, hopefully during the next few weeks we will get some substantial rainfall to allow these rivers to fish.
Loch Lomond has continued to produce some good Sea Trout right through the month of June with anglers reporting quality Sea Trout in the 1.5lb-4.0lb range with the odd bigger fish up to 8lb also being reported. Fresh 'liced' Salmon are also being landed showing just how quickly many of these Salmon move up into the Loch.
Whilst the number of boats venturing out on the Loch has continued to steadily increase unfortunately the number of confirmed catch reports has not tracked this increase. This is despite increasing unofficial reports of fish coming off the Loch being circulated by anglers, evidence of this can be seen below where based upon confirmed reports then one "confirmed" Salmon has come off the Loch during June.
The accuracy and value of these report summaries is directly related to the number of catches being reported by our members and anglers. Without this information then we cannot inform, share or recognise what's happening around our system to new and existing members, anglers or would be visitors. We would therefore once again encourage all members and anglers to inform us of your success, catches and tales so that we can accurately share what is happening around the system. You can share your catch details with either one of our Bailiffs or via email at reports@lochlomondangling.com 
We would remind all of our members and anglers who opt to retain a fish of the need to apply one of your Tags to the fish at the very earliest opportunity in order to avoid subsequent issues concerning breach of rules.
River Leven
During the later part of May and through June the number of fish being landed from the river has steadily increased with some really quality fresh fish in the upper teens being landed. During the last week or so runs of Grilse have also shown up which is always heartening to see.
If you were to wager on the next reported salmon catch then Chic MacLean would be an obvious choice. On the 23rd May Chic successfully landed this beautiful fish of around 15lb on the worm on the lower Leven, congratulations Chic.
The 27th May saw Andrew Wilson land his first ever Salmon, a nice fish of 9lb caught at the "Double Pipes" on a Flying C, congratulations Andrew and hopefully one of many for you.
Also on the 27th May and again on a Flying C Leven angler David Muller landed a good fish of 12lb just below the "Stuckie Bridge", congratulations David.
Seasoned angler Alan Hogan, with over 40 years of experience fishin the Leven landed a lovely 16lb fish and personal best  on the 28th May at "Ritchie's Lade" on the worm. The fish was safely returned to fight another day, well done Alan.
Also on the 28th May Eddie Fraser landed a fine Salmon of 14lb just downstream at the "Double Pipes" once more and once again the Flying C proving successful, congratulations and well done Eddie, the smile says everything.
The start of June saw David Watt land a fine bar of silver of 11lbs on the worm just below the "Double Pipes", congratulations and well done David.
Also on the 3rd June angler Nathan Monroe landed an 11lb fish on the fly, well done and congratulations Nathan.
On the 13th June David Watt continued his success by landing a stunning fish of 15lb, once more on the worm and this time just above the increasingly popular "Double Pipes". Congratulations David.
After a lull in reported catches during mid June, on the 24th June we received unconfirmed reports of a 19lb fish being successfully landed. Unfortunately further details were not provided.
Monday 25th June saw experienced Leven angler Gavin Lees getting in amongst the Grilse action hooking four Grilse and landing three, congratulations Gavin and great to see the Grilse starting to make an appearance.
On Friday 29th June Gavin Lees continued his success by successfully hooking and landing a pristine fish of 13lb on the fly at the "Bonhill Pool". Congratulations and well deserved Gavin.
Clearly on a roll on the following day (30th June) Gavin Lees continued to be rewarded for his dedication and persistence by successfully landing and safely releasing an absolutely superb fish of over 20lbs, once more at the "Bonhill Pool". Congratulations and well done Gavin, a truly deserved reward for your skill and persistence and for those earlier fish that came off! Thank you also for demonstrating the quality of fish that the Leven can produce.
River Leven Water Conditions
River Leven
The River Leven must surely be central Scotland's premier Salmon and Sea Trout fishery. All methods except prawn or shrimp and float fishing are allowed on the river.
Fly fishing is probably the most popular, due to the fact that the fish are traditionally free risers to the fly. From the 11th of February 'till the 31st of October the Leven provides Salmon and Sea Trout, though it is usually the last week in March that provides the first decent run of spring Salmon. The Leven gets a good run of larger early Sea Trout throughout April and particularly in May.
To be in the right place at the right time when fish take a rest as they pass through, is the key to success! The same applies to Salmon, the Leven is a fairly short river at six miles long. Part of the reason for its success, is that every fish has to go through the Leven in order to get to the Loch and the spawning rivers.
Throughout the Summer and Autumn the whole river provides excellent fishing. Night fishing for Sea Trout is popular from late June, with good catches recorded by anglers every year.
The lower reaches of the Leven are tidal and many anglers like to be on this stretch of the river from one hour after high tide during darkness, to cover fresh fish moving in and out with the tide.
The one thing that is unique to the Lomond system, is that the Leven and Loch Lomond continue to fish well during a drought year when most other fisheries are suffering. After prolonged dry weather, most rivers have weeded up so badly that it is difficult to prevent your fly from collecting weed. The river Leven does not have this problem. Even in a drought year, your fly will swing round unhindered other than by the attentions of the Salmon and Sea Trout!
Additionally the current water gauge level for the River Leven at Linbrane can be obtained from SEPA by following this link https://www2.sepa.org.uk/WaterLevels/default.aspx?sd=t&lc=133107
Local information concerning tide tables can be found here http://www.ukho.gov.uk/EasyTide/easytide/ShowPrediction.aspx?PortID=0404&PredictionLength=7
Loch Lomond
Whilst there have been fish landed there has been a noticeable absence of confirmed Loch catches. Good catches of quality Sea Trout have continued to be reported with fish up to 7-8lb class being taken during recent weeks.
Scott Sinclair has continued to enjoy good sport in continuing to land several more good Sea Trout including two fish of around 1.5lb on the 22nd May and some larger Sea Trout later in the last few weeks.
Seasoned angler Hamish McCaig reported landing a 10.5lb Salmon off "Lonaig" on 16th June which upon later examination is perhaps an extremely large trout or Ferrox but nevertheless a magnificent fish! Congratulations and well done to Hamish.
On the 24th June then Scott Sinclair was once more in amongst the Sea Trout where he landed two more Sea Trout of 1.5b and 4lb which were safely returned, congratulations and good to see that the Sea Trout continue to stay around.
Well known Loch angler Dick Dickinson reported landing a superb sea liced 15lb Salmon on 29th June just off "Ptarmigan", congratulations and well done Dick (image to follow).
The following day (30th June) Gerd Elseweiler got his season off to a great start with a fresh run beautiful fish of 10lb near "Rowchoish", this fish was tagged and retained. Congratulations Gerd and one of many we hope.
Also on the 30th June Scott Sinclair continued with his luck in landing Sea Trout with another fish of 3lb which was once more safely released, well done Scott.
On the 2nd July Loch Angler Stewart Miller landed a fabulous Sea Trout of 8lb which was again safely released, well done and congratulations Stewart.
River Endrick
No reported catches as yet, expected that catch reports to follow required spate conditions when they come.
River Fruin
No reported catches as yet, expected that catch reports to follow required spate conditions when they come.
The Estuary
The Estuary continues to be a popular venue where it continues to provide some very good sport in terms of both the numbers and quality of Sea Trout around.
Sometimes it's not purely about the fishing but about being at one with yourself amidst the beautiful surroundings. (image courtesy of John Bell)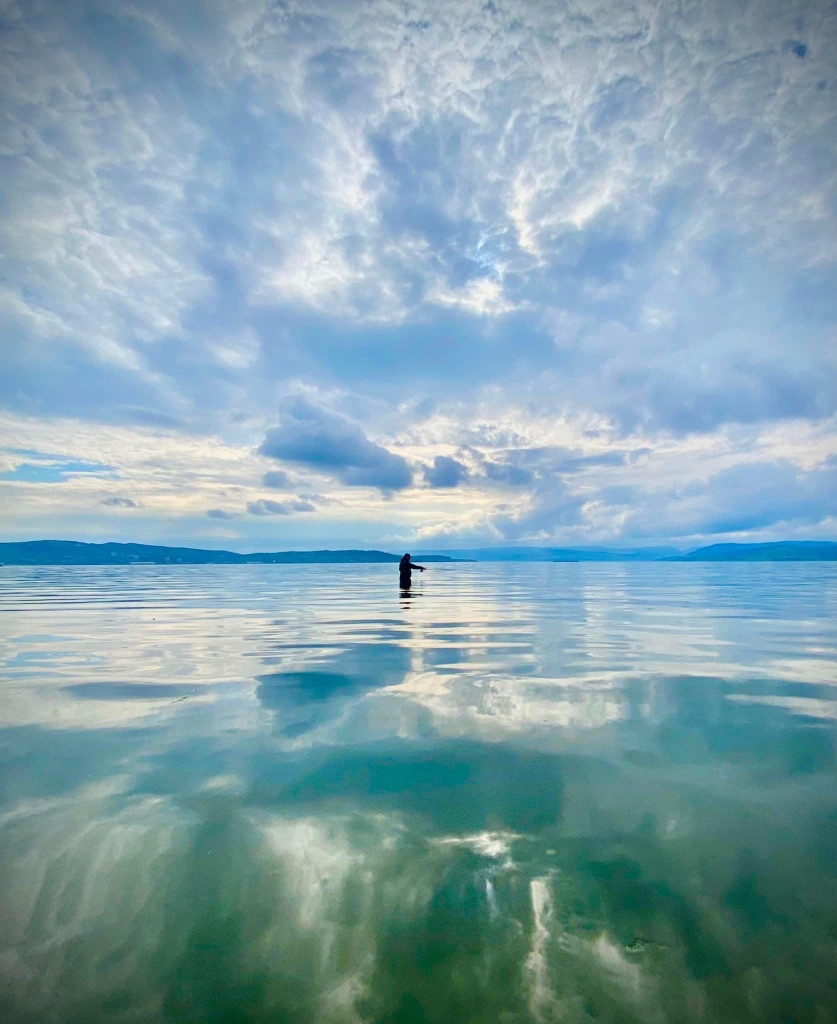 Angler Paul Black had an enjoyable and productive trip on the 24th May landing several nice Sea Trout around the 1-1.5lb mark and clearly delighted. Congratulations and well done Paul.
On the 30th May experienced local anglers Chris Turner and John Bell enjoyed some evening great action on The Estuary showing the quality and range of fine Sea Trout around with several fish in the 1.5lb-3.5lb mark.
Congratulations and well done both!
More reports are required to more accurately reflect the level and quality fish being caught on The Estuary so come on folks let's have some details please?
Loch Lomond Coarse Fishing
As a reflection of both Lomond's reputation as a quality coarse fishing venue and the high number of LLAIA coarse anglers who fish Lomond then the following summary of coarse fishing activities and catches has been included in these system reports. As always we would encourage all coarse anglers to share details of their catches, trips and experiences in one of the country's top coarse fishing locations. Where requested specific details including actual locations can be withheld of course.
The LLAIA Coarse angling representative is Daniel Gheorghe, should you have any questions or issues concerning coarse fishing on our Lomond system OR to provide and share information concerning catches then please contact Daniel by email at: dan1_sb@yahoo.com
For many years this group of dedicated Pike anglers have made the trip from the North West of England to fish Lomond often spending a week or more each time. During the previous few years then Covid-19 has prevented them from making their trips North but this year thay have once more returned and as can be seen they recently enjoyed some really good Pike angling on Lomond.
The party of anglers included: Andrew Clarke, David Seed, Clifford hartshorn, Lee farnhill, John Pickering, Philip Thompson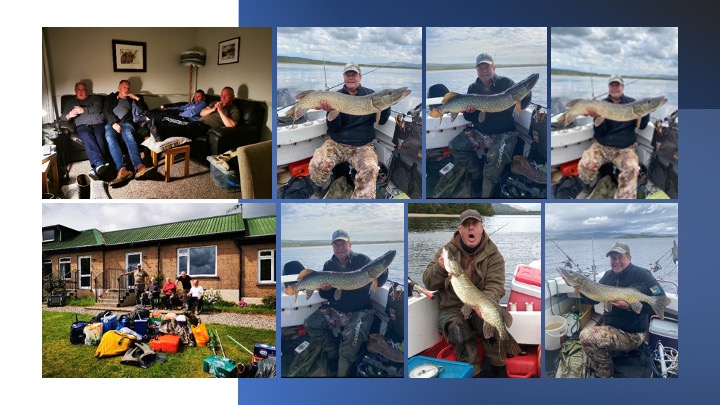 June 12th and Alex Allan (The Eternal Angler) has been targeting Lomond Roach with a great deal of success.
June 22nd and Alex Allan (The Eternal Angler) has been searching out new areas around Lomond for Perch.
Alex: "It's definitely not the biggest of Perch, but this was the best of the bunch whilst wading the shores for a very enjoyable few hours last night. A bit of an exploratory session on a promising new area of the loch. There are still so many areas of Loch Lomond uncharted by us; part of the reason I enjoy fishing it so much. The views aren't too bad either."
Footnote:
We would like to take the opportunity to express our gratitude to all anglers and members of the public who have continued to assist our Bailiffs to recover and collect so many life rings from the river. Our Bailiff Team have been required to recover and return these to the appropriate authorities in order that these important pieces of equipment can be reinstated. This 'mindless' action by a few miscreants is unacceptable and if anyone should someone interfering or unnecessarily removing any of these life preservers then please contact Police Scotland (999) as this is not only selfish but also a crime.
Shockingly the image below shows the number of lifebelts that have been recovered from the River Leven in just one month! These have been collected and will be returned to the appropriate authority by our Bailiffs.