The start to the season has seen a gradual but steady increase in both the numbers of fish and the number of anglers venturing out onto the system.
Our 2o22 Season got off the mark in April with the first reported Salmon – a lovely fresh fish of around 13lb being landed by Leven angler Chris Cameron on 16th April.
Following reports of the first fish then as expected the number of rods steadily increased.  Significant numbers of Sea Trout and Salmon were seen running upstream linked no doubt to the series of Spring high tides during April. Over the next week then reports of further Salmon being landed followed, confirming that the start of the Season was truly underway. On 26th April reports came in of the first fish off the Loch being landed, a beautiful fish of around 13lb being landed by Loch angler Jamie Hyslop.
During the month of May the Loch has seen a marked increase of particularly nice catches of Sea Trout with many in the range of 4-5lb which is encouraging.
Earlier in April Scottish Water advised the LLAIA that the Loch Lomond level had triggered the requirement to raise barrage gates. This is unfortunate so early in the season but this is a Scottish Water entitlement that is underpinned by legal statute. We can only hope for some decent rainfall in the comings weeks as we certainly do not want to witness a repeat of the early long dry period of last season.
Also in April we received notification by Scottish Water that the plates had been raised yet further. This action it was intimated was in fact a 'false trigger' within Scottish Water's system system and that the plates would be lowered again in stages within 24 hours which was done. Having been alerted then our Bailiff Team were carefully checking the shallow areas of the river should any fish rescues be required. Fortunately in this instance this error did not appear to have caused any stranding issues to juvenile fish. Even following recent rains the Loch remains unseasonably low with many anglers commenting that they had not seen Loch levels so low for many a year.
From the beginning of the season our Bailiff Team have continued to routinely remove debris and objects from the River Leven when water conditions permit.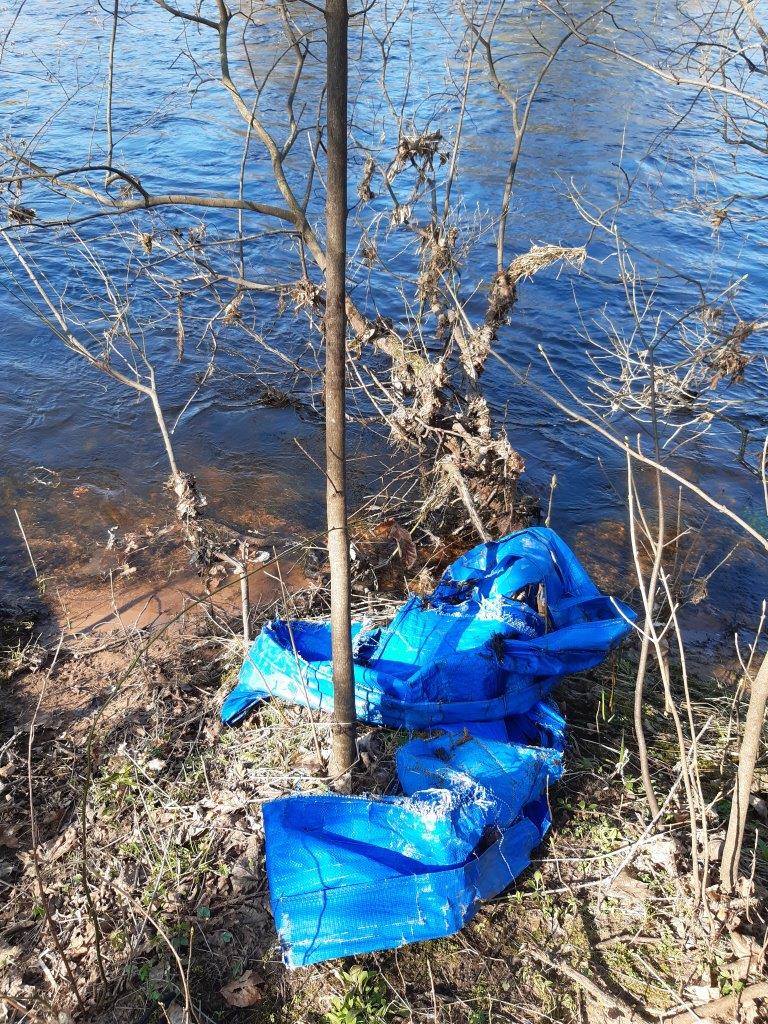 We would like to remind all anglers of the requirement to handle all fish with the care and respect that they deserve during catch and release.
We would also remind all anglers of the requirement to ensure that any retained fish have a 2022 Tag inserted immediately following capture, given the rules in this regard then failure to do so may have serious consequences for the angler involved.
Conservation, Maintenance and Improvement
Looking ahead then there is a great deal of focus and work both planned and already underway in relation to conservation, maintenance and improvement work across our precious catchment. This work involves many stakeholders including LLAIA, LLFT, Glasgow University, SCENE and our riparian landowners. The scope of these ongoing and planned projects include,but is not limited to, habitat improvement, fish stock audits, smolt migration tracking and mortality.
In order to increase awareness and understanding of this vital work then we plan to share and provide regular updates in relation to each key project so watch this space. Aside from increasing visibility of such work then it is envisaged that membership involvement and contribution to this important work concerning our system may be improved.
Finally we wish all anglers every success and tight lines as the season progresses and please ensure that you share your catches and tales with us at reports@lochlomondangling.com
River Leven
The number of anglers casting a line has steadily increased since early April and this combined with a series of Spring high tides provided good conditions in April with many Salmon and Sea Trout being spotted running upstream at this time. It was not long before we received unconfirmed reports of the first Leven Salmon being landed. A beautiful fresh bar of silver landed by Leven angler Chris Cameron on 16th April, well done Chris.
We have also received reports in early April of experienced Leven angler Gavin Lees successfully hooking, playing before alas unluckily losing a fish at the very last moment which is a real shame. A short time later then reports were received that Gavin had hooked a substantial fish at the Factory Wall which promptly took off downstream. Such was the size of this fish that attempts to slow its progress and turn it resulted unfortunately in the loss of this fish which is truly unfortunate once more. Later examination showed that such was the size of this fish and the forces involved that it had broken the hook. Unlucky Gavin and I am sure that the next one will stick.
On 20th April Leven angler William Clark successfully hooked and landed a fish 14lb just below "Stuckie Bridge" . This report is unconfirmed. Also we received an unconfirmed report of Gordon Scott hooking and landing a 13lb Salmon on the River on 2nd May congratulations to both.
Well known and experienced Leven angler Chic MacLean got his season underway on 25th April with a lovely silver fish of around 14lb at the top of "The Sawny"' on a Rapala, well done Chic and no doubt the first of many for you.
On 11th May unconfirmed reports were received of a 14lb fish being landed on the River Leven by angler Barry Mathews caught on the worm near Linnbrane, well done Barry.
As the season progresses and the increasing number of rods on the river then the numbers of fish landed is expected to rise over the next few weeks. The recent welcome rainfall will hopefully help to freshen things up and encourage more fish to enter the system.
We would respectfully ask all anglers to report and share details of their catches so that we may in turn share their success (Reports@lochlomondangling.com).
Run Loch Lomond 2022
We have been contacted by the organisers of the above that their 10K run will take place Saturday 18th June between 10.00 and 11.30am.  Runners will be on the towpath between Balloch Bridge and Bonhill Bridge. No other parts of the towpath are affected.
The towpath is not being closed, but there will be marshals' advising pedestrians, cyclists etc of the amount of runners on the path at that time, so all anglers should consider this and be careful as always towards other persons using the towpath, especially at this busy time.
Bonhill Bridge car parking area
The Association have recently received communication that a local " Bike Repair Station" will be constructed and installed where anglers normally park at Bonhill Bridge. I believe similar station is located in Dumbarton and other places on the National Cycle Path network.
There is little that we can do in relation to raising objections to this plan since we don't own the land and it has never been an official car park, plus we are not paying for this.  We have acknowledged the email and indicated that if the station can be placed as far to the side of the block paving as possible then this may reduce any impact and also may reduce the likelihood of damage to the proposed station by cars manoeuvring in this area. This installation will proceed regardless of any objections by the Association but best we advise area where it may have the least impact.
River Leven Water Conditions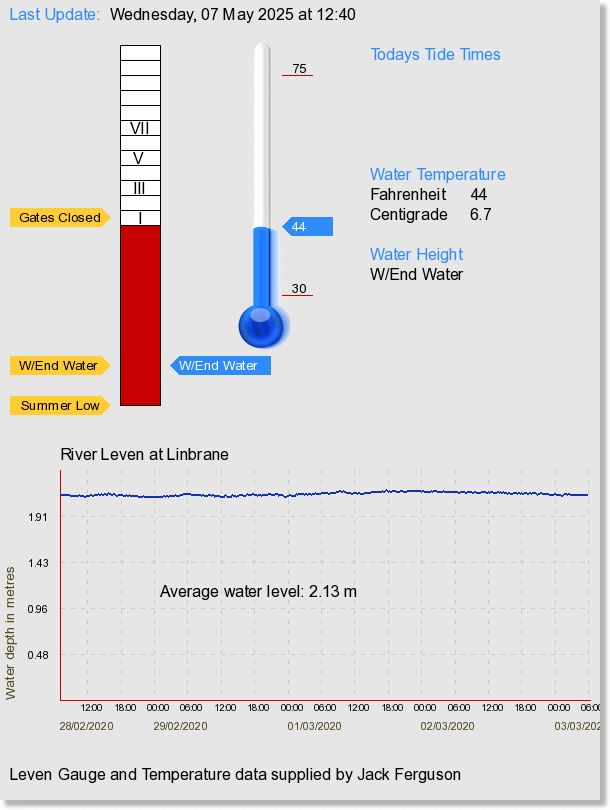 Additionally the current water gauge level for the River Leven at Linbrane can be obtained from SEPA by following this link https://www2.sepa.org.uk/WaterLevels/default.aspx?sd=t&lc=133107
Local information concerning tide tables can be found here http://www.ukho.gov.uk/EasyTide/easytide/ShowPrediction.aspx?PortID=0404&PredictionLength=7
Loch Lomond
The Loch has also shared a gradual but successful start to the 2022 Season with Loch angler Jamie Hyslop getting things underway on 23rd April with a fish of 14lb. It is heartening to see that there have been some very notable catches of Sea Trout during the months of April and May with good numbers of fine Sea Trout in the 3-5lb class being regularly caught during April and May.
By way of example Scott Sinclair (LLAIA Treasurer) has landed around a dozen nice Sea Trout during the past two weeks of between 3-5lbs, well done Scott.
Experienced Loch angler Hamish McCaig further demonstrated the numbers of Sea Trout present in landing six Sea Trout ranging from 1.5-3lb on 12th May, congratulations and well done Hamish.
We received unconfirmed reports that seasoned and experienced Lomond angler John Connelly landed a beautiful Salmon of 22lb on Friday 13th May.
There have also been several unconfirmed reports of other fish being landed during the past week or so. Lomond angler John Bell reported hooking and playing a nice fish on the 11th May which unfortunately was lost after several minutes battle, unlucky John.
On 19th May Scott Sinclair continued his run of success in landing this lovely Ferox of around 6lb (estimate) in addition to further Sea Trout which were all safely released, congratulations Scott.
Continuing a great start to his 2022 Season Scott SInclair successfully hooked, landed and returned this absolutely beautiful 15lb cock fish off "Lonaig", on 20th May congratulations Scott!
General
As some members may already be aware the Loch Lomond and Trossachs National Park have issued invites for a review of LLTNPA Bye Laws concerning Loch Lomond and its users. We would like to confirm that your Association will attend at least one of these planned reviews in order to ensure that the interests of our members, anglers and angling are represented in relation to any proposed changes in existing bye laws. Further information will be provided following these consultations regarding any proposed changes.
River Endrick
No reports. As many members will be aware the River Endrick has yet to begin its traditional season for migratory fish.
River Fruin
No reports. As many members will be aware the River Fruin has yet to begin its traditional season for migratory fish.
The Estuary
Unofficial reports from the Estuary have been very positive with unconfirmed catches of some very large Sea Trout up to 8lb being reported. The number of rods fishing the Estuary has seen a positive increase since mid-April and we would encourage all anglers to share their catches and tales in all cases.
Footnote
Great to see a good 'steady' start to our new 2022 Season and we wish all of our members and anglers a safe, enjoyable season. Once again we would urge all anglers and members to share their successes with us and in turn all of our membership. Please send any images and reports to Reports@lochlomondangling.com.