Introduction
Despite a comparatively slow start to the 2023 Season we are pleased to announce that we now have our first confirmed Salmon which was successfully caught on the River Leven last week.  There have been rumours or unofficial reports of another fish being landed however the good news is this first reported Salmon catch that can be validated. There have been reports of some good fish being either risen or hooked but alas lost on the river in recent weeks.
Rod pressure during the last few weeks on the River Leven has been low with very few anglers on the water for whatever reason. Despite good water heights, low air and water temperatures have not been very favourable for fishing. Reports from our Bailiff Team and others have consistently highlighted sightings of decent numbers of fish running up the river during recent weeks.
We are receiving encouraging reports of really good numbers of Sea Trout being caught on the loch with fish in the 1lb-3lb class being regularly landed.  Good catches of Sea Trout on the Estuary have also been reported during the last month or so with sme notably larger fish being landed around the popular marks.
Given that a standard change to the barrage operation at this time of year will result in a slight reduction in water height shortly then potentially this will 'slow down' some of the numbers of fish been seen running through.
As a reminder we would respectfully request all anglers to treat our precious Wild Salmon with the care and respect that they deserve when playing, landing and handling these fish. The use of a net to aid the safe capture, handling and return of  these beautiful fish is requested.
We would also remind and encourage all of our members and anglers to please share their catches, successes and tales with us so that we may recognise and share their stories, successes and catches with other anglers.
REMINDER: Loch Lomond 10k Race 17th June 2023
Attention all River Leven anglers, a reminder that the towpath from John Sweeney's Cruises down to Bonhill Bridge will be busy with participants of this year's 10k race between 10.00am – 12.00pm on 17th June. We would ask all anglers to exercise caution and to take extra care during this period in order to allow the race to successfully be undertaken.
River Leven
As mentioned there has been relatively light rod pressure on the river since the beginning of the season with few anglers venturing out. Water height has been good and fairly constant, however air and water temperatures have remained low with a prevalent distinctly chilly often east wind not helping matters.
In mid April experienced Leven angler Gavin Lees successfully hooked a good sized fish on the fly at "The Piles". The fish made a surging run down the far side of the island and sadly came off when Gavin tried to brake its progress.
On Monday 24th April well know Leven angler Ricky Gill unfortunately lost a fish of around 15lb.
On Thursday 27th April Ricky was rewarded for his perseverance by successfully hooking and landing a lovely silver fish of around 17lb near the top of the river. Congratulations and well done Ricky for getting the 2023 Season finally off the mark! This catch was witnessed but not photographed.
Given the numbers of fish that have been seen running up the river, together with hopefully some increase in temperatures then both the number of rods and resultant catches will no doubt increase over the coming weeks. In line with existing protocols the barrage plates will soon be raised slightly resulting in a slight drop in height, this is likely to force running fish to halt or slow their progress and hold up in their normal lies and pools.
River Leven Water Conditions
Additionally the current water gauge level for the River Leven at Linbrane can be obtained from SEPA by following this link https://www2.sepa.org.uk/WaterLevels/default.aspx?sd=t&lc=133107
Local information concerning tide tables can be found here http://www.ukho.gov.uk/EasyTide/easytide/ShowPrediction.aspx?PortID=0404&PredictionLength=7
Loch Lomond
The number of boat anglers on the loch has been 'steady' with a few anglers now regularly out on the water. Conditions have been mixed with the a noticeable cold wind and water temperatures. Given the numbers of fish seen running up the River Leven in recent weeks then it can only be a matter of time when we get our first reported Lomond Salmon.
Whilst we have no reported catches of Salmon to date, there have been a very significant number of Sea Trout being caught on the loch with some boats reporting up to seven Sea Trout in a day. This is a welcome sign and mirrors the very high number of Sea Trout catch returns from last season which showed a very substantial increase compared to previous seasons.
A guest of experienced angler Stuart Sutherland (FishX) landed this fine Sea Trout kelt earlier in March of this season, congratulations Stuart. The fish was safely returned to feed up and recover.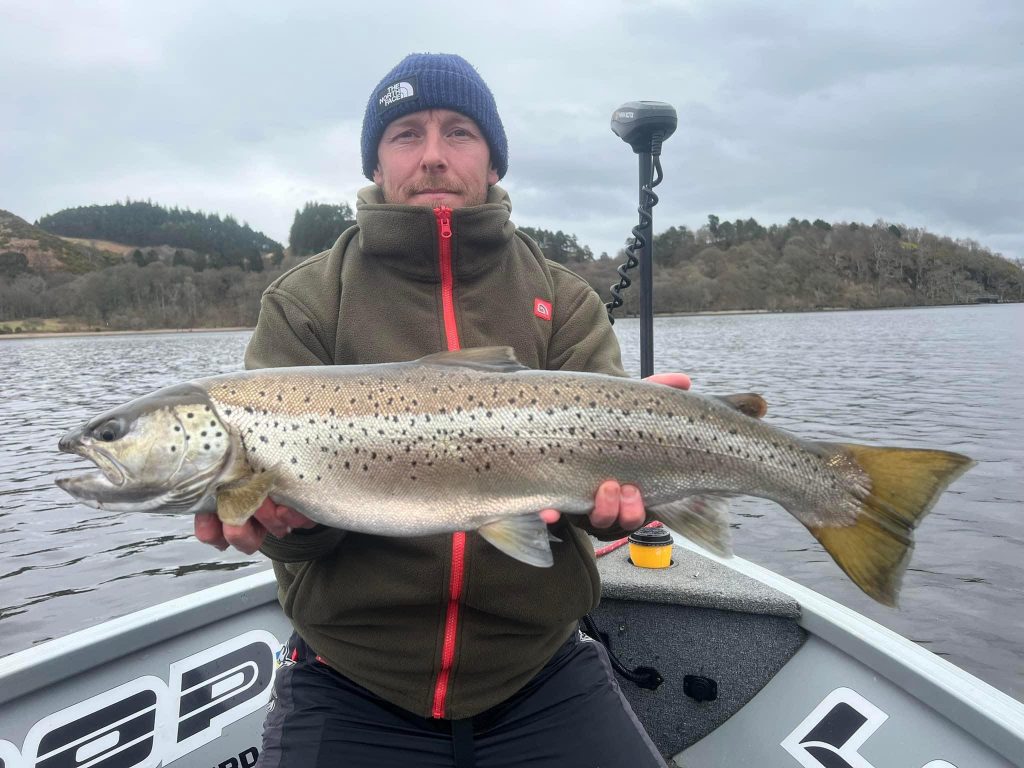 Lomond angler John East has been enjoying some very good Sea Trout catches including this beautiful example caught on April 25 on an Orange Vision 110, congratulations John.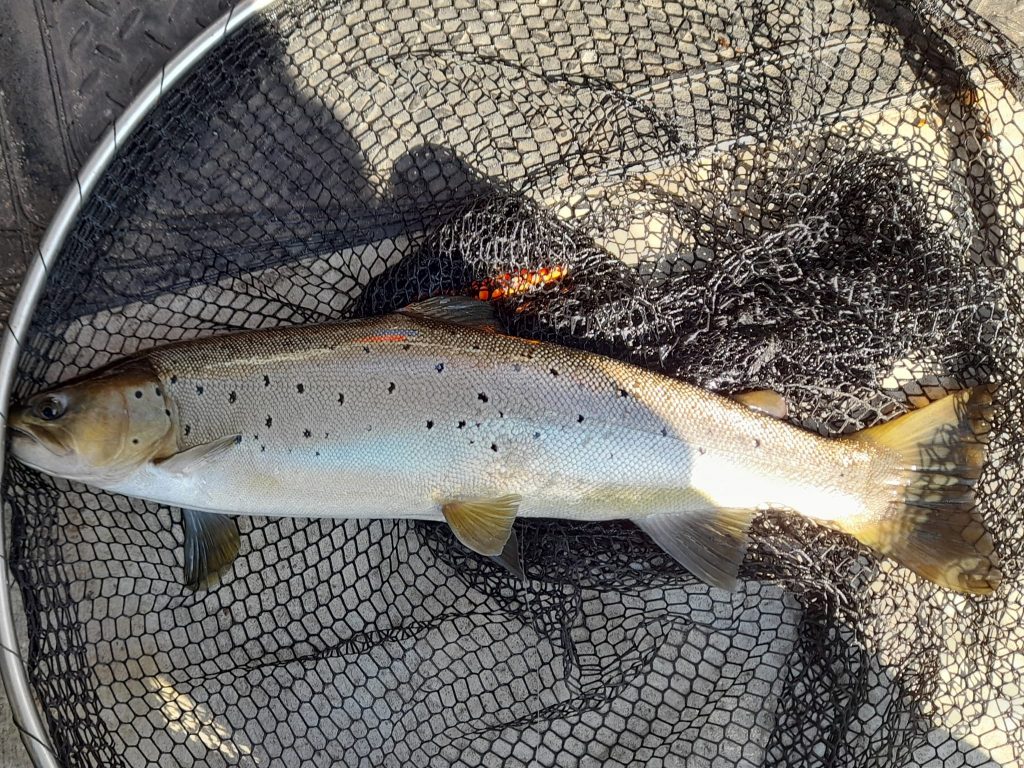 Seasoned Loch angler Ritchie Miller excitedly thought that he was in when he hooked this classic Lomond Pike on 1st May!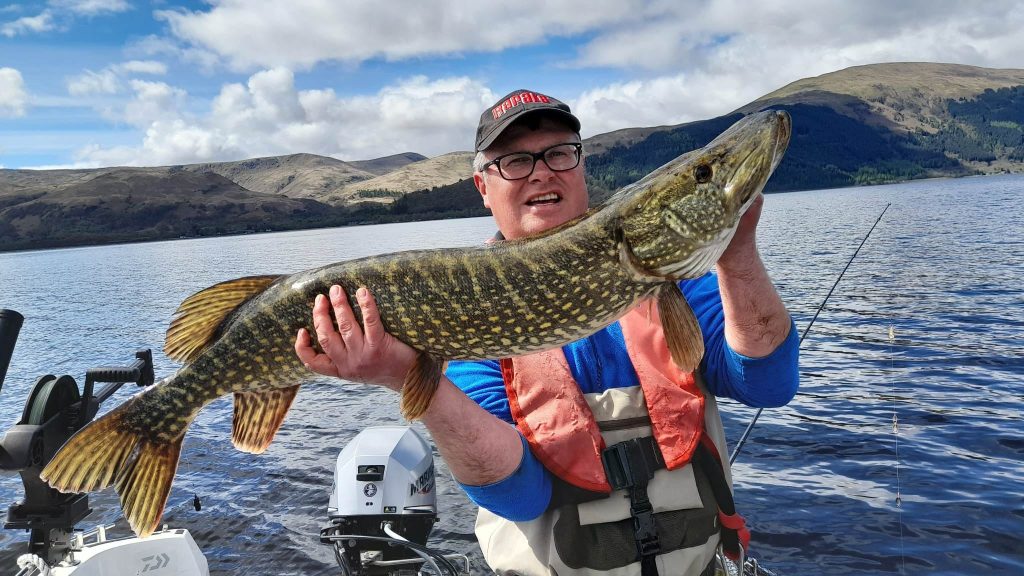 As always we would encourage and welcome reports from all anglers concerning their catches, near misses and trips.
River Endrick
No reported catches as yet. The Endrick normally does not start to fish until later in the season and being a spate river is very dependent on those first initial spates to allow fish to enter the river. The Endrick however does hold some really nice trout which often can provide some good sport and which are rarely targeted by anglers.
River Fruin
No reported catches as yet. The Fruin normally does not start to fish until later in the season and being a spate river is very dependent on those first initial spates to allow fish to enter the river.
The Estuary
Estuary fishers have been enjoying some really good sport since early in the 2023 Season with some quality catches of Sea Trout being landed up and down the Estuary marks. The majority of fish have been in the 1-3lb class however several fish of around 7-8lbs have been reportedly caught in and around the usual spots of Cardross and Ardmore Point with fish falling to the fly, spinners and mackerel strip.
Footnote
It is good to see that we are now 'off the mark' with the first confirmed Salmon being landed last week. A little later than previous seasons where we normally see our first fish by early April. The prospects for the coming weeks look good with good numbers of fish witnessed running through the River Leven in recent weeks and some notably large fish being spotted. Surely with a wee rise in temperatures then we can expect to see anglers who make the effort rewarded.