In this the final week of the 2023 season then it clearly has been a season of mixed results. As reports from other systems show then almost without exception this has been a very challenging season with Spring and Summer runs and catches of fish well down by any standard. Whilst the late season Autumn catch returns and reports show good numbers of fish being landed this unfortunately does not compensate for the disappointing early and summer season experienced by most fisheries.
During September and October there have been some good fish landed by those anglers making the effort to fish. The first catches from the Fruin and Endrick now being reported following the heavy rains and spates in recent weeks. Again for those rods willing to make the effort then the Leven has produced some quality fish.
Reminder to all anglers of the legal requirement to submit a catch return for the 2023 Season by the end of November 2023.

NO Catch Return = NO £25 Voucher = Extra £25 to renew annual River Leven permit
As per the details below we would request that all anglers take advantage of submitting their return online. If for some reason this cannot be done then please complete and return your catch reform via collection box at VOLDAC or at O'Briens Newsagent. 
Completion & submission of 2023 Catch Return Forms
In order to maintain an accurate categorisation of our system then we would remind all anglers of the requirement for each to provide an accurate and timely completed catch return for the 2023 Season. We would encourage all anglers and members to take advantage of submitting their catch return online which is by far the easiest and quickest method to do this.
Everyone is required to complete a catch return form regardless of numbers or nil fish caught
Please ensure that you complete your catch return online where at all possible (using the link on the website: https://catchreturn.lochlomondangling.com/#/
You can complete and submit your catch return online at any time or post or drop at colection box at VOLDAC or O'Briens
All catch returns must be submitted by the end of November 2023 at the latest
Alternatively, if you cannot for some reason complete and submit your return online then please either mail back your catch return form that you receive in the post or  you can drop your completed catch return form in collection box at VOLDAC or O'Briens.  Failure to provide an accurate and timely catch return will undoubtedly impact the classification and gradings for our system going forwards with 100% C&R not being an unlikely result.
Reminder: Given the number of missing catch return forms in recent years, together with the significant effort and postage expense in sending out repeated reminders to specific members and anglers, then for Season 2024 an incentive for anglers to submit an accurate timely catch return was proposed and agreed at the 2023 AGM.
For associate members wishing to renew their River Leven Season permit for 2024 then:
There will be a £25 Catch Return Retainer fee initially added to the cost of the annual permit renewal.
This £25 charge will be waived for anglers renewing their annual permit provided that a competed, accurate catch return has been received in advance.
All annual permit holders who submit an accurate, timely Catch Return for 2023 will receive a unique credit voucher for £25 which they should produce when renewing their annual permit at a retailer.
By presenting this voucher then anglers renewing their annual permit will receive a £25 discount towards their annual permit renewal cost.
Anglers who do not return an accurate, timely Catch Return will not receive this £25 voucher and therefore will not be entitled to the discounted cost of their permit renewal fee. 
In short: NO Catch Return = NO £25 Voucher = Extra £25 to renew annual River Leven permit
The intent here is ensure that all anglers provide a completed catch return and also that we reduce the effort and expense currently incurred in chasing missing catch returns by certain anglers.
River Leven
As in the Summer months rod pressure on the River Leven has been light compared to previous seasons. Despite this then we have received reports of some nice fish.
On 23rd August Leven angler John Smyth successfully hooked and landed a nice Grilse of 6lb on the fly at "The Piles", congratulations and well done John.
On the 20th September experienced Leven angler Graham Dunt Stewart landed an absolutely stunning fish on the fly at the 'Chapel Hole Stream' whilst testing a new line! Congratulations and well done Graham, your are continuing your track record of targeting and landing big fish!
On 14th October Leven angler Sinclair McAllister successfully hooked and landed a nice Grilse of 7lb on the fly at 'Linbrane Pool', excellent and well done Sinclair.
On Tuesday 17th October Leven angler Duncan Campbell landed a nice Salmon of 8lb at 'Linbrane' on a Cherry Red Devon. Good Congratulations  Duncan and great to see the Devon still in use. (No image available)
River Leven Water Conditions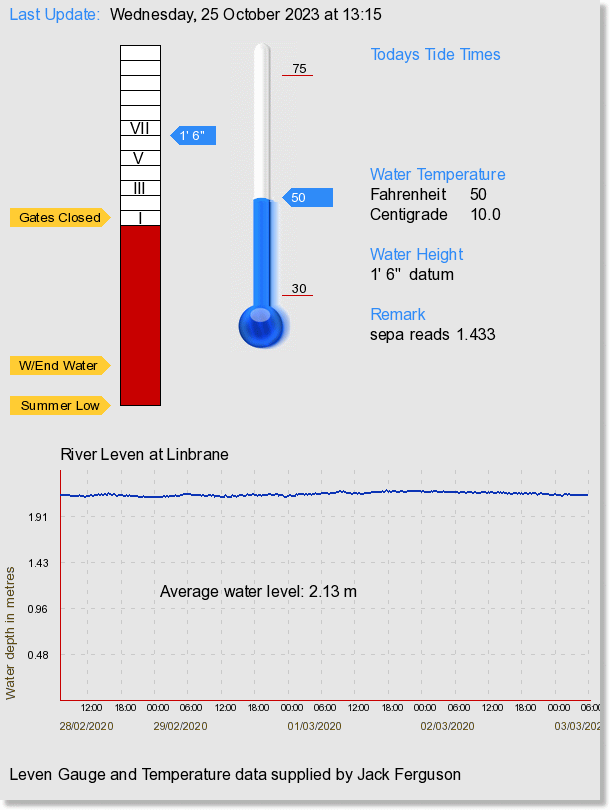 Additionally the current water gauge level for the River Leven at Linbrane can be obtained from SEPA by following this link https://www2.sepa.org.uk/WaterLevels/default.aspx?sd=t&lc=133107
Local information concerning tide tables can be found here http://www.ukho.gov.uk/EasyTide/easytide/ShowPrediction.aspx?PortID=0404&PredictionLength=7
Loch Lomond
During recent weeks, then  aside from the few boats venturing onto the Loch there has been relatively few boats venturing out on the water. Reports of fish have been scarce with boats reporting little in the way of catches aside from Pike. Water levels have been high in recent weeks as a result of the recent very heavy rainfall levels.
With the end of the Season approach VOLDAC anglers will have their customary final outing on Saturday 28th October followed by food, raffle draw and a social evening at the end of the day at the clubhouse.
River Endrick
Following the recent spates and resultant rod pressure then the Endrick has finally come alive. Fish are now well distributed throughout the river with some very large adults being seen moving upstream. On 17th September Colin Ferguson and Endrick regular John Copola landed some fine Sea Trout of around 2lb at Barnsford. Congratulations and well done Colin and John.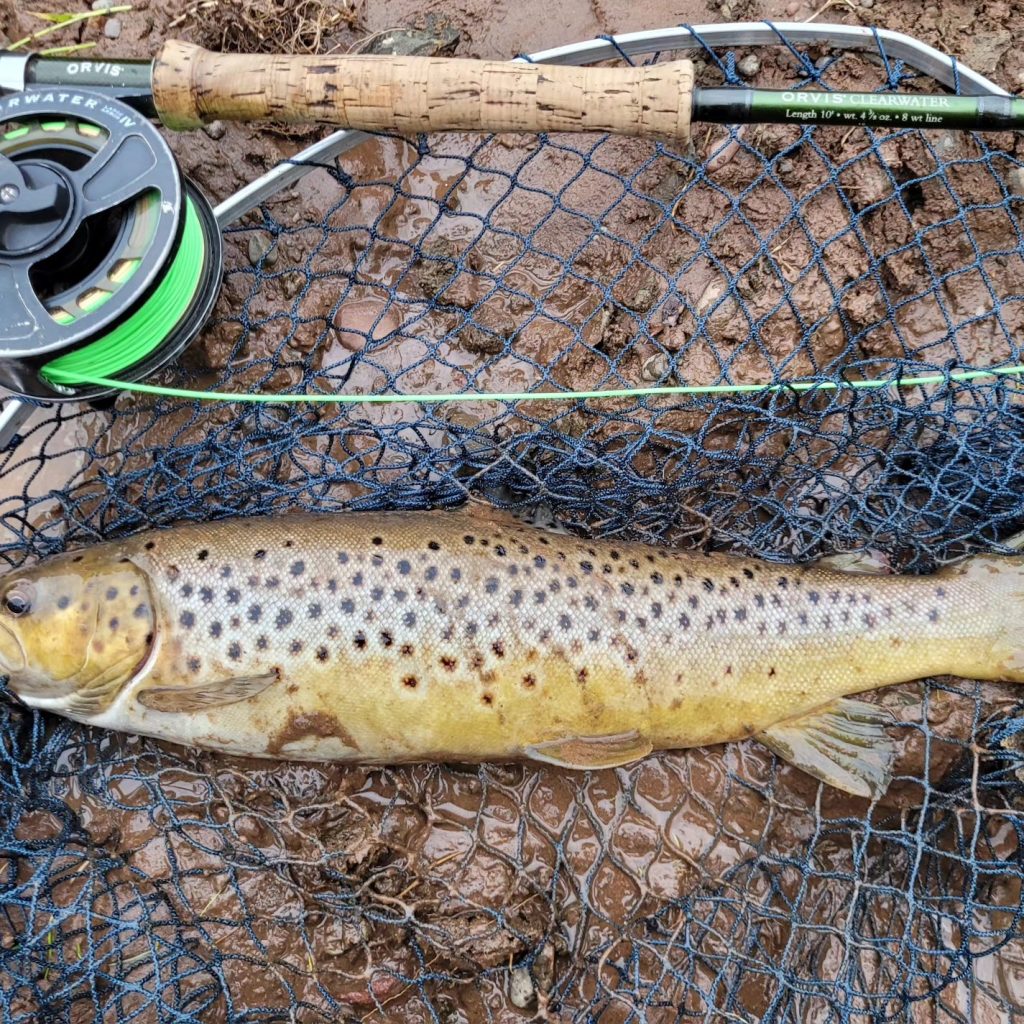 On 22nd September experienced Endrick angler Lee Taylor successfully hooked and landed a lovely Grilse of 6lb at Barnsford. There's a saying if all normal flies aint working try something different! Following this logic Lee caught this Grilse on a Red and Black Foam Beetle surface pattern, not the 'normal' Endrick menu option. Congratulations and well done Lee.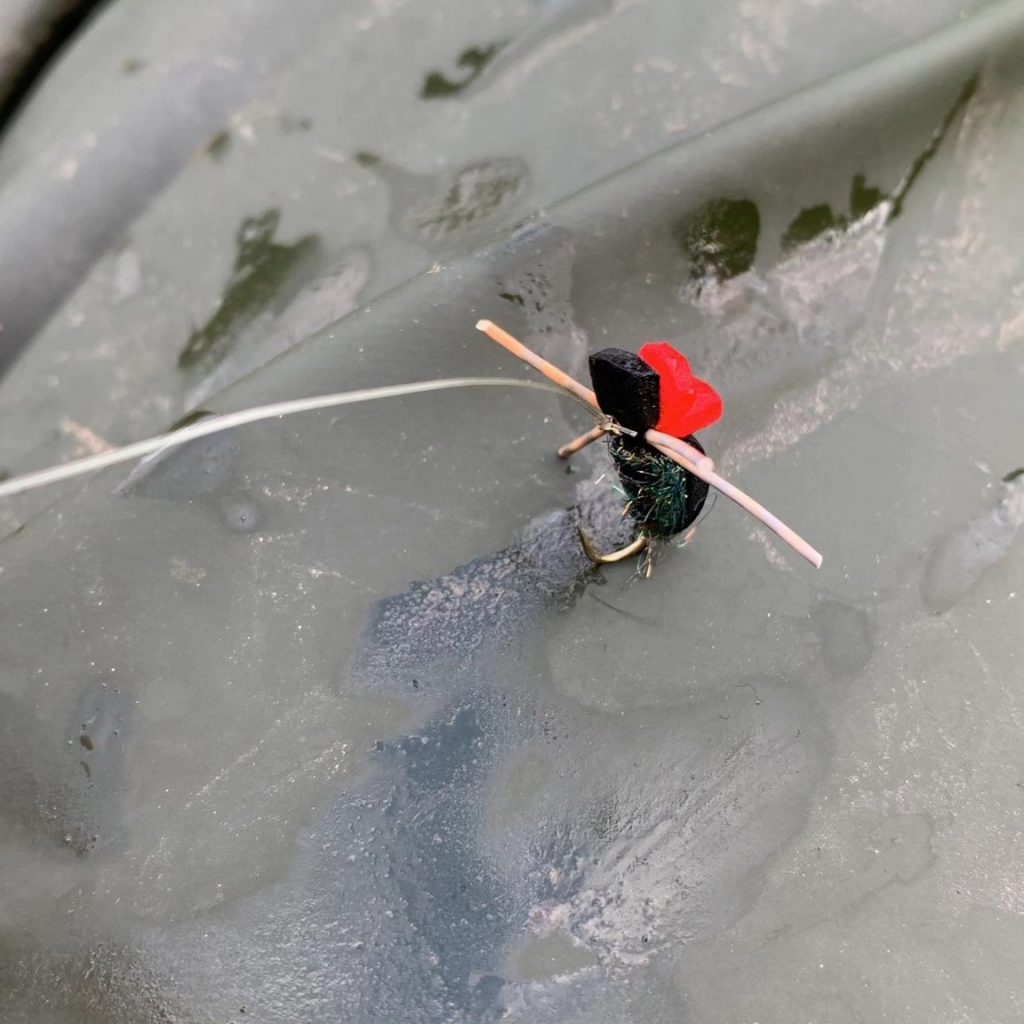 On Saturday 21st October experienced angler and Endrick regular Colin Ferguson had a series of firsts. On his first run down the 'Red Brae' pool at Drumtian Colin hooked into a large fish of 14lb which smashed his small Red Ally's tube fly. In the enung arm wrestle on a single handed 8wt rod there were periods where the fish was anchored to the bottom leaving little options for Colin but to hang on. After a lengthy struggle Colin eventually netted this beautiful 14lb hen fish which was safely and carefully revived and released. This was Colin's first Endrick Salmon of 2023, his first from this pool and also his biggest Endrick Salmon! Congratulations and well done Colin. Colin has captured these moments on video which can be be viewed using the link below.
Click this link to view Colin's VideoThats a Big Fish! Colin Ferguson
River Fruin
The Fruin having had the benefit of several large spates has like the Endrick now had both anglers and fish landed.
On 25th September experienced angler and fishing author Dick Dickson landed a lovely Grilse of 7lb at 'The Castle Pool' on the Fruin which fell for a size 14 Cascade fly. The fish was safely revived and returned. Congratulations and well done Dick.
There have been reports of several other catches up and down the Fruin in recent weeks but no details or images have been provided.
The Estuary
The Estuary has continued to provide good sport and some nice catches of Sea Trout in the 2-2.5lb range with the occasional larger fish up to 7-9lbs. Recent weather conditions have made fishing challenging and the number of anglers fishing the Estuary has begun to decrease. Official reports have been scarce so we would welcome any details and images from anglers on the Esuary please!
Footnote
With the end of the 2023 Season almost upon us then as stated there it has clearly been a challenging season for the Lomon and other systems around the country. Hopefully this is an anomaly and we will see a return to more normal trends and fishing in the forthcoming seasons.
Following successful funding application and award from the Wild Fisheries Fund by the LLAIA then survey, licensing and design work is progressing well in relation to various barrier or obstruction improvement projects on the River Fruin and its tributaries. This survey and design work will continue over the close season with a view to starting the physical in water improvement work during 2024. We will keep members updated as to progress and developments concerning these initial projects.
I will leave further summary and reflection of this year's season for the next annual issue of "The Lennox Angler" which will be published and issued to members shortly.
Finally we would respectfully once more remind all anglers for the requirement to complete and return an accurate catch return, even in the case of nil catches a catch return is required please.