River Leven.
July can be a frustrating month on the system with low water on the rivers and the arrival of the grilse run awaited….not so this year. Good amounts of rain have kept the Leven flowing and the fish keep coming through.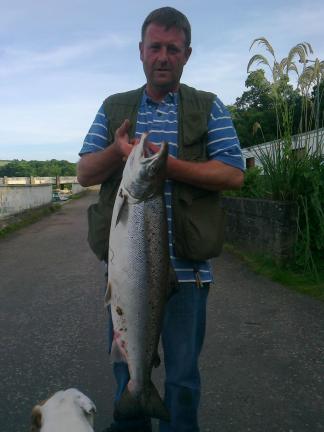 The most recent catch was made today, 25th July, by Scott Laird pictured above with 17.5lb salmon taken at Stuckie Bridge on the worm. A well proportioned specimen.
Earlier in the week Euan Slowik(10lb) Glebe on the worm. Chic McLean (5lb) Street Run on the fly (returned). Jackie Miller(6lb) Stuckie Bridge. Dunky Campbell(5lb)Chapel Hole. Brian Stewart(12lb) Piles(returned) and Ryan Kerr(13lb).
The heavy rain on Monday brought the river level back up and catches continued. Jim McDonald(4lb) Glebe on a black flying-c. Rab Kerr(5lb) Piles on a cherry red devon. Euan Slowik(8lb) at the Glebe. This was Euan's fourth fish of the season and was returned. Frank McGeachie(10lb) Hole in the Wall on a cherry red devon.
As this report is being prepared we hear that Chic McLean has landed and returned another grilse (6lbs) at the Bucks on the fly.
Loch Lomond.
Loch boatmen still finding fish. The level was beginning to drop back until Monday's latest monsoon and is showing at just above 8 metres on the Sepa website, which is an 'average' level.
The bottom end of he Loch is still the place to be. The Endrick Bank is relatively weed free, which is unusual for this time of year, though there has hardly been much in the way of sunlight to promote growth. A number of Vale of Leven District Angling Club boats have been concentrating on the top end but all appears quiet.
On Tuesday 17th July Ross McNair learned that perseverance on the Bank eventually pays off….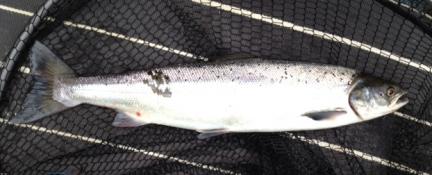 'Caught our first fish at Stewart's hole, Endrick bank. 6lb covered in sea lice. Took a home made copper/silver toby. We had  lost two fish at the back of the boat the previous week, one at the Long Point and one on the Bank again! '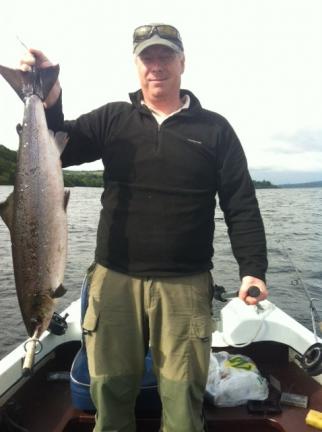 On Saturday 21st July, David Henderson was out on the Loch on  his second trip this season and landed this fine 11lb salmon at Claddich Point. A green and gold toby was the lure of choice. Several other anglers returned to Voldac the same day with fish, including Ray Pryce and Alan Dorrian.
Tuesday 24th July sees Scott Pryce out on the Loch with son Charlie learning the ropes……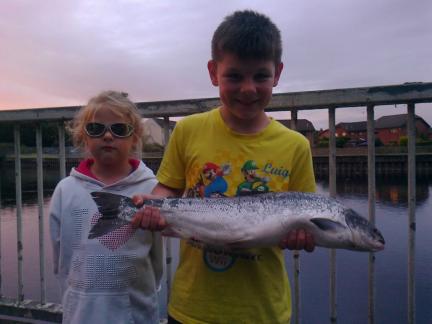 Not long before a trip along the Bank produces this 6.5lb grilse, expertly netted by Charlie…… Young sister taking careful note…..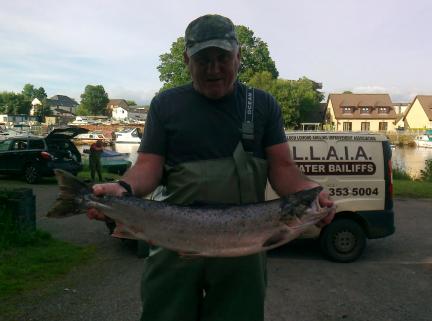 Other catches from the Loch this week include Ian Steel with this 10lb salmon, Steven Gilfeather (14lbs)and Sammy Burgoyne(8.5lbs).
River Endrick.
The Craigbell Pool fishings are now available for members as mentioned on the Committee's Blog. Jim McVey gave it a try and had some good sport on the fly with a 4lb sea trout.
Today the following catches were reported on the river. John Coppola, 3lb grilse and Alex Halley, 4lb grilse. Both fish were taken at Drumtian. Jimmy Brown, 6lb grilse at Coolies.
Good numbers of fish have been seen at Barns Ford as Chris Turner tells us…
'A few people fishing Barns Ford last night. I had a sea trout of 2.5lbs, very silver. As it was getting dark I rose a bigger fish. Plenty of sea trout and grilse moving with the biggies.'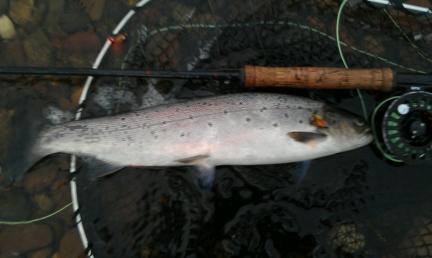 Chris mentions that another angler had a 10lb salmon at the Meetings. This angler, it appears, has fished the Endrick three times and each time had a salmon. Chris can't quite remember his name, only that he smokes cigars……wonder why!
Contact Reports at: web@lochlomondangling.com