River Leven.
A quieter spell on the Leven with falling levels and fewer anglers out. Nevertheless still a few fish coming off, mainly grilse, and good to know that some anglers are still choosing the catch and release alternative.
On the 9th of August, Jim McDonald landed a 3lb grilse at Mckinnons and the following day a 5lb fish at the Polaroid Bridge. Brian Stewart (8lb) Glebe. Derek McKenzie (8lb) Stuckie Bridge on a single handed fly rod.
Friday 17th, Jack Ferguson (16lb) Bonhill Bridge, released. Saturday 18th, Gareth Bourhill (5lb) Bonhill Bridge, also released.
On Monday 20th the gates opened and there were at least four fish landed.Brian Ward (6lb) at Chapel Hole on a flying-c. Brian Stewart (5lb) Double Pipes. Euan Slowic (8lb) Glebe, released. Paul McNeill (6lb) released.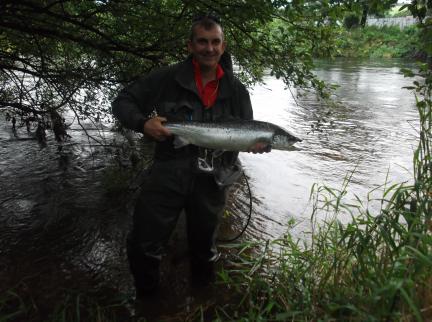 Tuesday 21st, Malcolm MacCormick landed this 12lb bar of silver at the Glebe. However, it was a farmed fish. We hadn't heard of any confirmed escapees for some time and there have now been three further reports.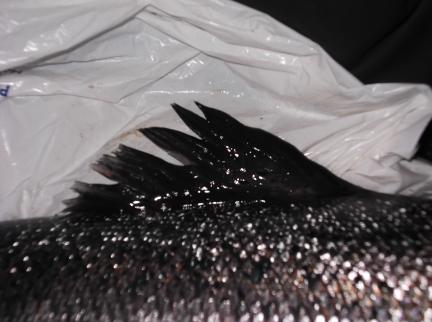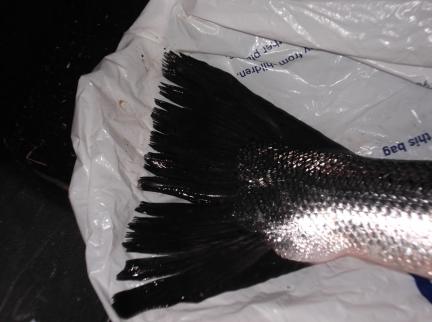 Farmed fish usually look like well proportioned bars of silver and fight hard, but one look at their tail and dorsal fins is enough to confirm their origins. Malcolm will be passing on samples to LLFT biologist, Dr Andy Burrows.
Loch Lomond.
Quite a few boats out on the loch at the weekend with some unconfirmed reports of grilse off the bottom end. Quieter during the week, but some enterprising anglers continue to make their way to the top end to live with nature. However, catches so far this season have been on the lean side, with some boatmen spending several days 'up top' only to blank.
Alan Raeburn, Jim Raeburn and Gerd Elsweiler spent a couple of nights up near Inversnaid last week, 13th to 15th and were reminded just how bad midges can be……. eating meals while wearing a midgie hood can be difficult but necessary.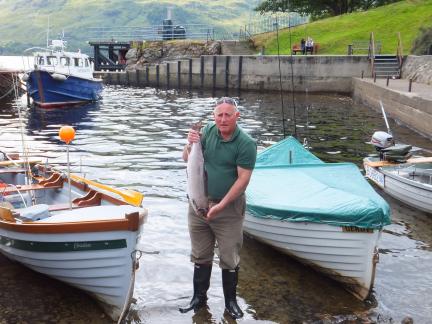 It was worth it for Jim though, bringing a 10lb salmon to the net just off Rob Roy's cave. The green and gold toby proving effective once again.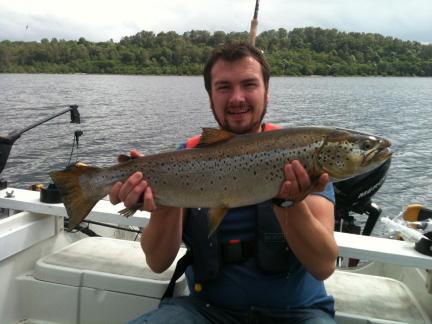 Earlier in the month, specimen hunter Robert Wilson set out from Balloch in search of ferox:
'Hi, just a quick mail to say that I had another great day with the trout last Friday. The day started out glorious and just after 12 we had a nice take. After a fantastic fight with the fish clearing the water by about five feet she was finally netted.'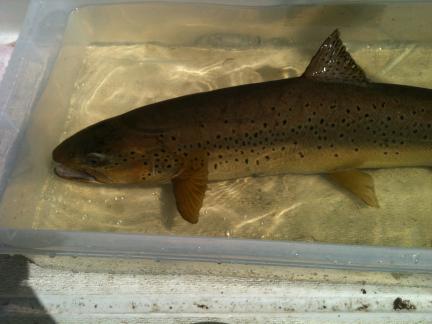 'A recovery period in the tank and she weighed in at 10lbs then released to fight another day.'
'We had a 5lb pike mid afternoon, but just before we called it a day another fish took which gave a great account of itself. On netting was found to be a 12lb cock fish. It was also released.'
On Monday 20th, Alan Sloss had his first fish of the season.
'16lb 4oz salmon caught today trolling with an orange rapala between Inchcruin and the marked rocks. My first salmon of the year.'
Today, 23rd August, Gerd Elsweiler continued his run of success, with a 5lb sea trout taken at the Black Rocks on a green and gold toby.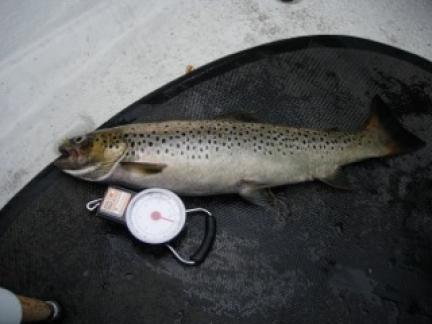 The fish was weighed and released. Note the 'luggage scales'…. must be hoping for a monster!
River Endrick.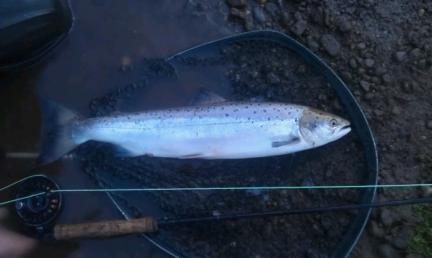 On 13th of the month Chris Turner fished in low water conditions down from the Meetings pool and attracted this 5.5lb grilse to his Stoats Tail double on the dropper. It's never easy getting conditions on the Endrick 'just right' but with a little perseverance you just never know, there are plenty of fish about.
On 17th, John Coppola (5lb) Drumtain- released. Scott Kidd sent us this account of his day out on 18th:
'Knew it would be busy at Drumtian and the Oak Tree area, so headed upstream of Balfron. Started at Cowdenmill at 6am, landed a fresh run 5lb grilse at 0730 somewhere amongst the jungle downstream before Kiltrochan. I really need to practice my roll casting! It is my first ever salmon on a fly. Roll on the next spate!'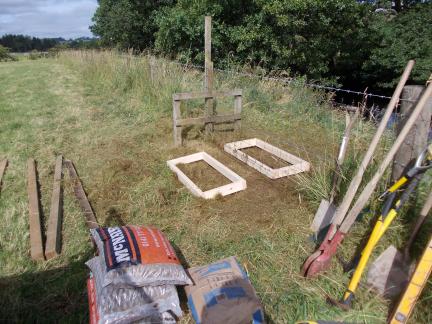 Work has started on erecting the new stiles on the river, seen here at Netherton.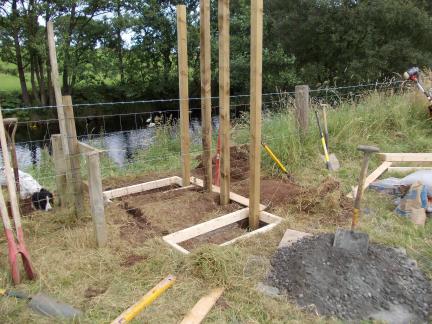 A fair bit of work to be carried out, but when completed will be of great benefit to the less agile among us, not to mention reducing the chances of torn waders and family jewels……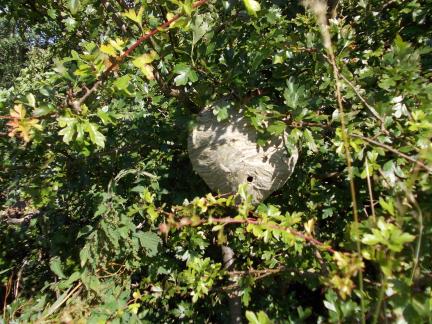 Bailiff Colin McFadyen recommends caution when negotiating the riverbank up at Coolies. He spotted this wasps nest hiding in a bush. With the vegetation level quite high just now there may be a few more unpleasant surprises lurking.
Loch Lomond Fisheries Trust.
The work of the LLFT has continued over the summer assisted by LLAIA members. Surveys of the catchment area have been carried out and early indications seem to have been very encouraging.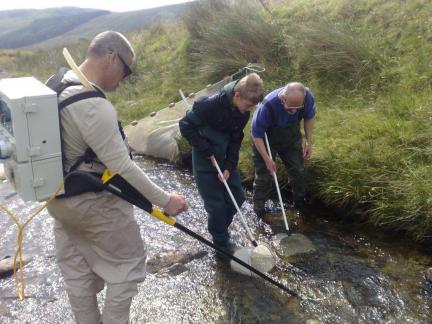 Electrofishing is carried out under the supervision of Dr Andy Burrows.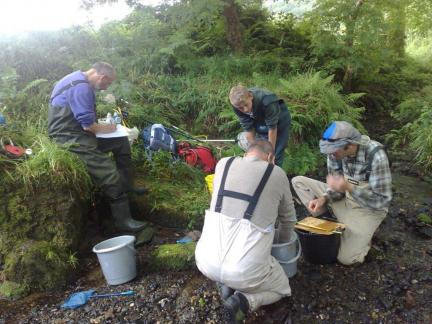 The results of these studies will help identify areas where habitat improvement is necessary and combined with the evaluation of the smolt traps results earlier in the season, give a clearer picture of the health of the Lomond system.
Unusual Catch.
Here's one fish that may be of interest to Dr Burrows:
'Saturday 18th of August, landed this one on my way up the Endrick Bank towards Balmaha. Had just landed a pike 5 minutes earlier and thought it was another. I'm led to believe it's a tench. that's my size nine wellie next to it for comparison. Regards, Phil'
Thanks Phil, wellies have their uses….
Update: Dr Andy Burrows is (99% )certain that this fish is a bream. Only one other bream was been verified in the loch (2006) and he would be very interested to hear of any further catches. Thanks to those who contacted us.
Contact Reports: web@lochlomondangling.com