River Leven.
The river level over the last fortnight has been constantly very high. Overall,the Leven seems to be fishing well.
Chic McLean recently caught and released grilse of 5lb and 6lb, taken on a rapala. A 3lb brown trout was also returned.
On 24th August, Ross MacLeod (4lb) McKinnons on an Allys Shrimp. 25th, Paul Kelly (5lb) at the Piles. 28th, Davy Robertson (5lb) Double Pipes on the fly, released. 29th, David Watt (6lb) Glebe on a brown trout rapala, released.
Loch Lomond. 
The Loch level has remained high for weeks, much to the dismay of boatmen. Even at the weekends there have been few heading out.
However, on Saturday 25th August, Phil Shannon returned to Balloch with a 12.5lb fish onboard.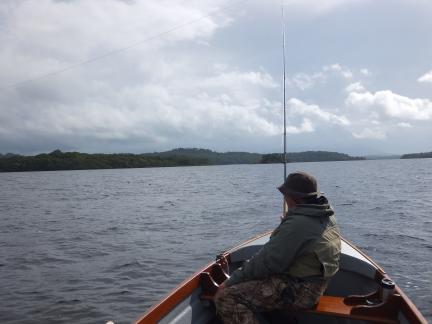 On Wednesday 30th August, John Bell decided to leave the trolling rods at home and have a day out on the fly. He tackled up  wet fly and dapping rods and set out towards the islands. A good steady SW breeze meant that there was plenty of scope, though conditions were on the bright side…..he thought.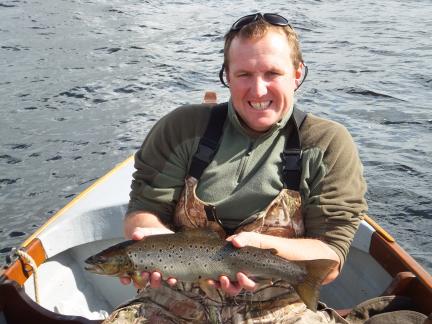 After spending the morning fishing wet flies John decided to try dapping, his first ever attempt. Daddy longlegs imitations were given an airing without any interest, so after lunch he changed over to a Black Pennell style fly. It wasn't long before a fish came up for a look and shortly afterwards, off the Ladies Point at Inchcruin, he had a good solid take from this 3lb sea trout. The fish gave a great account of itself, stripping line and taking off round the boat. It was netted and quickly released…one happy angler! John tells us he'll be back out on the dap this week.
River Endrick.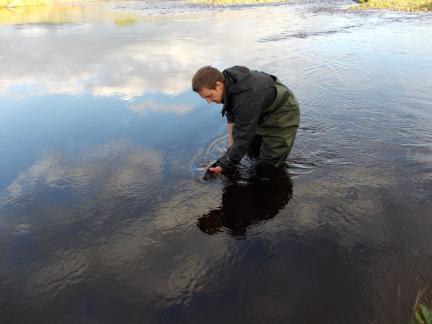 Fishing the Endrick is all about getting the water 'just right' between deluges. Two members who enjoy regular success are John Coppola and Chris Turner. On 30th August, John landed a 5lb grilse at the Meetings. Then on 1st September a 6lb grilse, which was released, also at the Meetings. Chris is pictured above on 30th August releasing a 5lb grilse at Barnes Ford.
The Met Office has announced that this has been the wettest summer for 100 years…..think we had already worked that one out….
Contact Reports at: web@lochlomondangling.com