River Leven.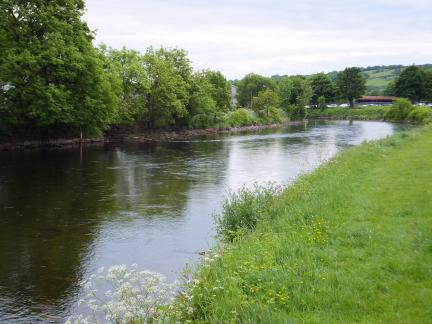 The last two weeks has seen the Leven in good condition with steady catches reported including: Ross MacLeod (6lb) at McKinnons on the fly. Charlie O'Hara (17.5lb) Howgate on the worm. Brain Ward (9lb) Chapel Hole. Sinclair McAllister (13lb) Bonhill Pool on the fly, returned. Brian Stewart (10lb) Stuckie Bridge, returned. Andy McIlwee (7lb) farmed fish, the Glebe on the worm. Chic McLean (9lb)(6lb) at the Street Run and Bucks on the fly. Both fish were returned. Russell Boyd (8lb) Glebe, returned. Simon Griffen 7lb.
River Endrick.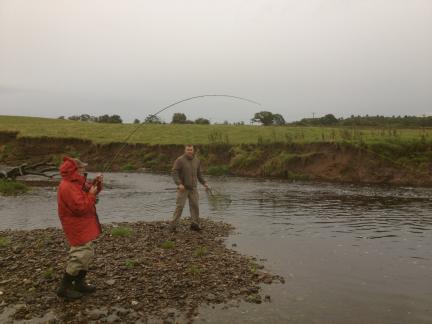 Endrick fisher John McNab enjoys good sport with a 7lb salmon at Barns Ford.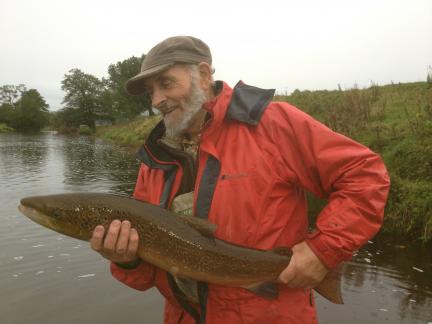 The fish was quickly released to continue on it's way.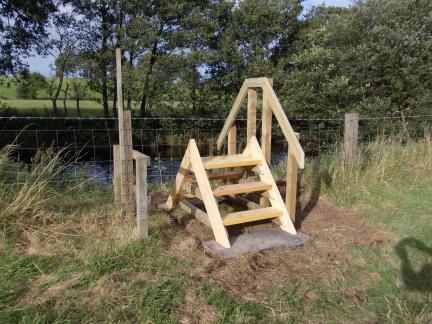 The stile at Netherton is now complete and with the bank strimmed makes for a more pleasurable day out.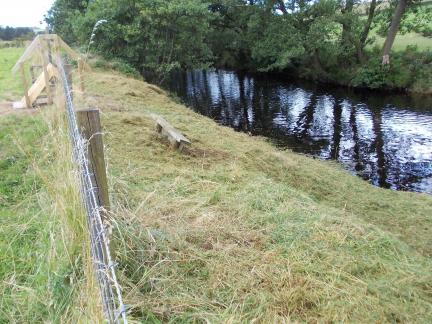 Work will continue on the river over the winter period. Thanks again to bailiff Colin McFadyen for his much appreciated labours.
Not many reports received recently from Endrick fishers, however we know that there has been a good run of grilse. The most recent catch was on 14th September by Alec Grant (4lb) at Coolie's Lynn.
Loch Lomond. 
The continuing high water has not been helpful to the boatman's sport this season and there was little evidence of the grilse run remaining in the Loch for any length of time.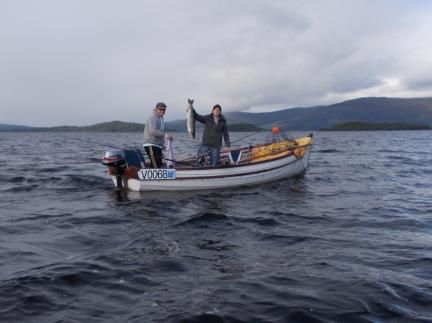 A few boats are still setting out on the troll. As these anglers discovered there is always the chance of a fish.
Reports have come in recently of sea trout to 4lb being caught on the troll and returned as far up the Loch as Tarbert, Rowchoish and Doune, areas which are not normally fly fished these days.
On Saturday 8th September, Balmaha boatman Scott Sinclair decided to give the top end of the Loch one last visit for the season, resulting in his heaviest salmon to date….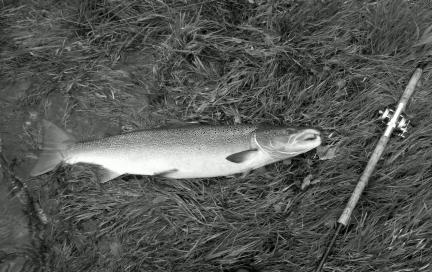 At Rowchoish Scott connected with this fearsome gent who had taken a dislike to his trolled orange rapala. Scott tells us:
'Caught this handsome chap on the troll up at Rowchoish. He's obviously been in for a while and would have been some fish when he was fresh. I beached him, took a few pics and released him to charm the ladies up the Endrick or wherever he was heading. Sorry about the black and white pics, wet hands and a touchscreen mobile phone don't always do what you expect'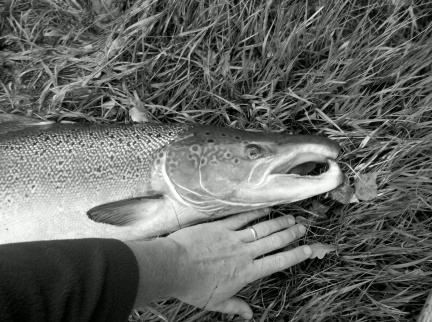 'I estimate this one to be about 20lb. He was 97cm long and approx 44cm girth, but open to any other guesstimates…as long as they're heavier of course!'
Well done Scott, we certainly agree with your estimate. Different….. a coloured fish in black and white….we get the picture though!
Contact Reports at: web@lochlomondangling.com
Late News.
**Endrick Webcam** now active. Sited at the Pots O' Gartness showing 10 minute updates of river height. Select 'Endrick Webcam' button on home page.