River Leven.
At the beginning of the week the level fell back slightly but has risen again and looks set to remain at a good height for the rest of the season.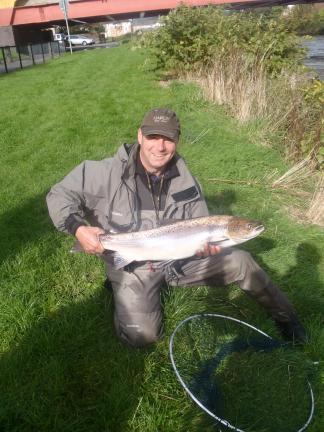 On 4th October, Derek Hughes landed this fine 'back end' salmon at the Bonhill pool. It weighed in at 11lbs and was carefully returned. Other catches include:
1st October, Gavin Brand day-ticket (8lb) Bonhill pool-returned. Keith Adams (6lb) Managers, worm-returned and (10lb) Two Lades on a rapala-returned. Iain Quinn (7lb) Linnbrane, cherry devon- returned. Sam Burgoyne (18lb) returned.
3rd October, Euan Slowic (10lb) Piles, worm-returned. Alan Petrie-day ticket (8lb) Managers, worm-returned.
4th October, Rodger McMonagle (5lb) Linnbrane, worm. 8th October, Rab Melville (6lb) Glebe on the fly. On 10th, Brian Stewart-day ticket (6lb) and (8lb) at Bonhill pool-both fish were returned. Alex Davis-aged 13yrs (9lb) McKinnons on the worm.
River Endrick.
Saturday 29th September was a memorable day for Chris Turner. He netted and returned three salmon ranging from 7lb to 14lb which were all released. 2nd October, Bob Rodgers (9lb) – returned.
Thursday 4th October saw two happy anglers. Bob McKinlay with his first fish (4lb) off the system…….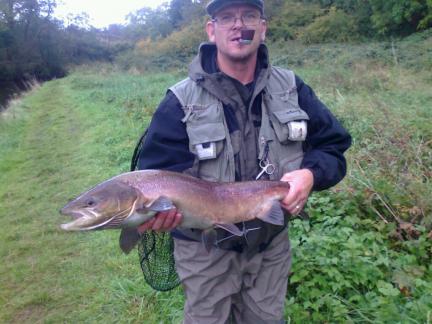 and Paul McNeill (14lb). Both fish came off Craigbell and were quickly returned.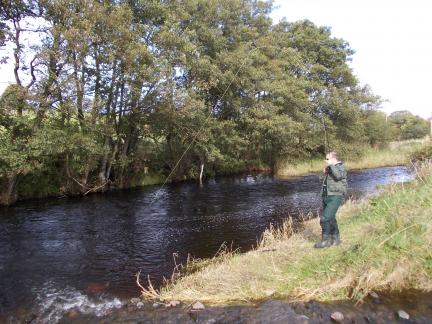 On Saturday 6th, bailiff Colin McFadyen caught Andy McIntee with a good bend in his rod at Coolies……..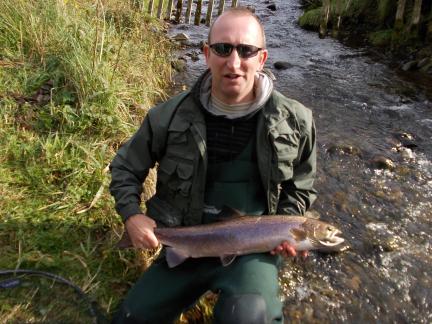 caused by this 11lb salmon…… even though it was a bright day and the river level had dropped.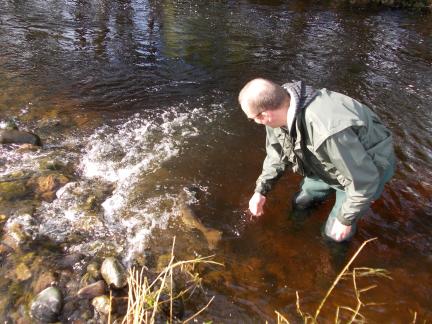 After a couple of photos it was released to continue on it's way.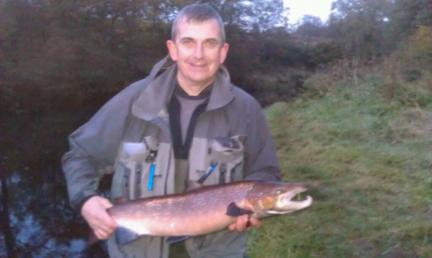 LLAIA Chairman Malcolm MacCormick has plenty to smile about. This 8lb cock fish was his tenth salmon in two weeks. Malcolm has also netted a couple of good sea trout. He only tends to spend a couple of hours on the river at a time, but when he does it's with great results.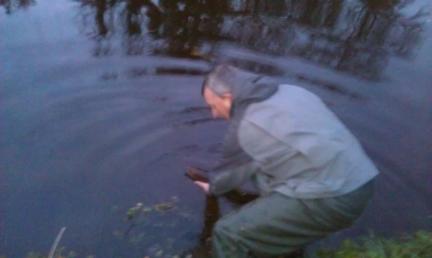 and back it goes to join the other nine…….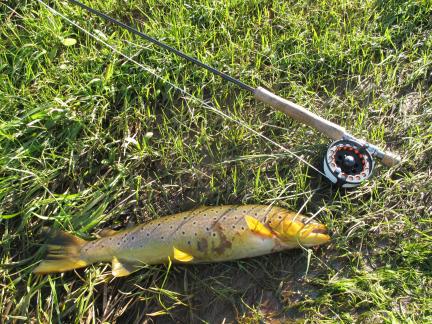 Earlier in the week, John Bell was fishing just below the Meetings when he ran in to this chap. It's thought that yellow belly trout like this one, which weighed 4lbs, come out of the Loch into the Endrick every year. It was released. Dr Andy Burrows, LLFT biologist, would welcome any photos and scale samples from similar fish if possible.
New Fishings .
We are delighted to announce that the LLAIA now has the lease of the Claylands  stretch of the River Endrick which extends for approx. 2 miles downstream of Cowdenmill. For full details see – Committee's Blog entry of 8th October, 2012.
Kenny Johnston contacted us to ask if members could keep an eye open for a 'Gerber' multi tool contained in a webbing pouch. He dropped the tool, which is of sentimental value to him, between the car park and Drumtian pool. Let us know if it's found and we'll return it.
Bill Candlish contacted us to report landing a 5lb grilse at the Tree Stump run on the Fruin on 2nd October. We've not heard much from the Fruin this year, but there's bound to be a fish or two about.
Unusual Catch.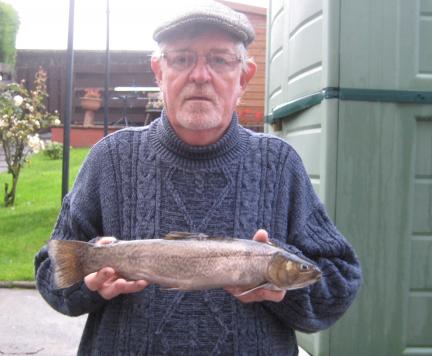 James Cowan recently came across this alien specimen at the Blue Bridge pool on the River Leven. It's believed to be a tiger trout, a hybrid cross between a male brook trout and a female brown trout. It weighed 3lbs and is most likely an escapee from a nearby fishery. These fish are voracious predators and can do a lot of damage to juvenile fish stocks. This report will be passed onto Dr Andy Burrows. Should more of these fish turn up in the system please get in touch.
Contact Reports at : web@lochlomondangling.com