Arrival of The New Season.
The Lomond System fishing season 2013 (migratory species) opens on Monday 11th of February. The ceremony will take place at Bonhill Bridge – 9.00am. So let's get those rods dusted down and reels oiled up for another year . Fly boxes will no doubt be in need of the usual reorganisation and lures cleaned and inspected. A few weeks to get properly organised you would think, but you just never know. Sammy the Seal, seen recently at the Old Bridge at Dumbarton, wasn't waiting for opening day and certainly has no respect for conservation. Most probably a very unfortunate kelt.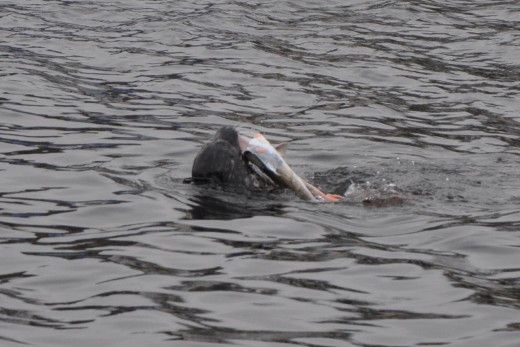 Memberships/Permits
All membership applications received to date have been processed and permits and tags dispatched. Leven tickets are available as usual from O' Briens store. Anglers are reminded that they must be in possession of a valid membership/permit before setting out on the Rivers or Loch. The new mandatory catch and release and tagging conservation measures are effective immediately. The LLAIA would like to thank Gareth Bourhill Consulting for kindly donating the tags.
Annual General Meeting.
The Annual General Meeting of the Loch Lomond Angling Improvement Association will be held at Partick Burgh Halls, Glasgow on Tuesday 26th of February 2013. Doors open at 6.30pm for a 7.30pm start. Admission by ticket only which is included in the Annual Report package being forwarded to members. Membership fees will be accepted on the evening. Hope to see you all there.
Website.
Over the winter the LLAIA website has been given a fresh look and some new features added. There's an online 'Catch Return Log' you can use to record of your catch over the season. If anyone has any problems accessing or using it please get in touch. We have also introduced a 'Contacts' page with various options. Any membership or permit queries should be directed to the Treasurer. A 'Gallery'  has been added for those who are handy with the old 'Box Brownie' and wish to contribute. We'll be refreshing the homepage periodically and on the look out for some good images to include, so please feel free to mail us your masterpiece. There's a also a useful 'Resources' page. The 'Reports and Blogs' page……. keep your fellow anglers updated by contacting 'Reports' with your news and photos. Take a few minutes to familiarise yourself with the site. Archiving work is still in progress and access links will be added to the site.
Maintenance.
Some of you may have noticed that work has already started on the River Leven. The 'Community Payback Scheme' has been busy opening up paths and trimming back bushes. A date will be announced shortly for this year's 'Leven Clean Up Weekend'.  Last season's work parties were well attended and the efforts of those involved had a major and lasting effect on accessibility.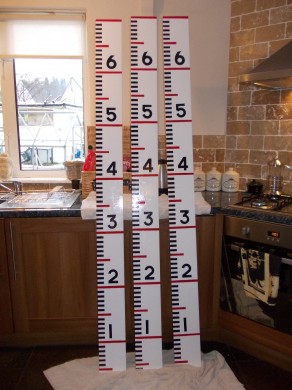 Bailiff Colin McFadyen has been busy fabricating new water gauges which will be appearing on the rivers soon.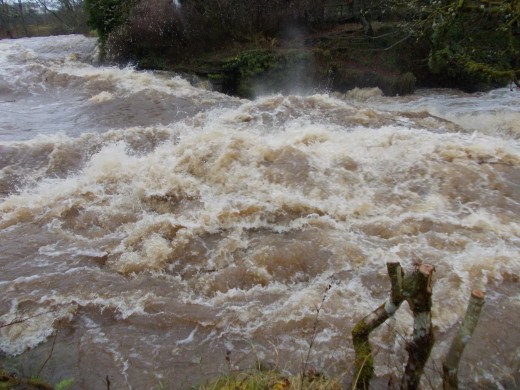 Will the gauges cope with this? A winter spate at the Potts of Gartness.
There's never a shortage of work on the Endrick. The erection of new stiles will continue and particular attention paid to bank side vegetation before it becomes unmanageable. Fallen trees to be removed. Once again we'll call on members for their valuable assistance. Bring your wet suit!
Association News.

Newsletters were sent out to our members and associate members detailing the progress made over the past year. The Annual Report will be circulated to members prior to the AGM. It contains a Chairman's and Treasurer's report which we hope you will find make very good reading.
The support shown for our 'Voluntary Catch and Release Policy' strengthened as the season progressed and the percentage of fish returned was very encouraging. Catch Returns increased, possibly due to the new online return form, providing more accurate figures. A general picture of numbers of fish landed etc will be included in the Committee's Blog.
Coarse Fishing.
Winter pike fishing is well underway and we'd like to take this opportunity to ask coarse anglers to forward  reports and photos for inclusion in this blog. The Loch Lomond system is not only about game fishing and as we know regularly produces some huge pike. The committee is very keen to raise the profile of coarse fishing on the Loch. This will also be mentioned in the Committee's Blog. In the meantime, if you get a big toothy critter….let us know!
Were you captured here, doggin school and doon the Leven catchin troots? If you were tell us about it.
Have a great Season!
Regards,
Jim Raeburn.
Contact Reports at : reports@lochlomondangling.com