River Leven.
Last weekend the river was at a good fishing height with catches of spring salmon continuing on Bank Holiday Monday, 6th May.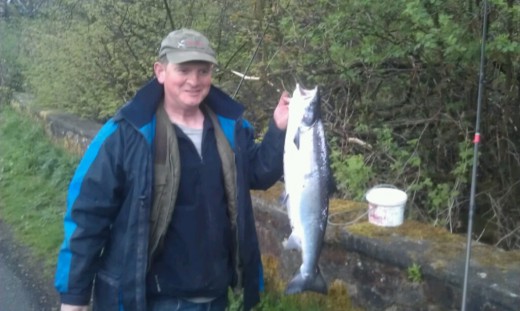 Alec Doey landed a (13lb)springer at the Haldane Burn on the worm and Stephen Gilfeather (12lb)salmon also on the worm at the top pool.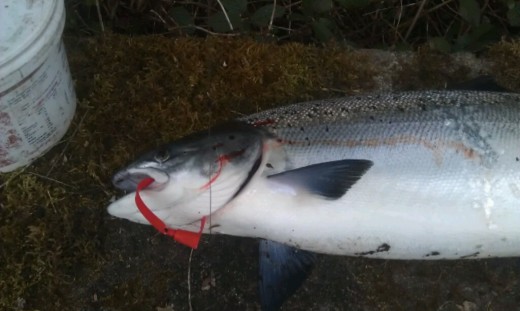 Alec's fish with sea lice-and tag-attached.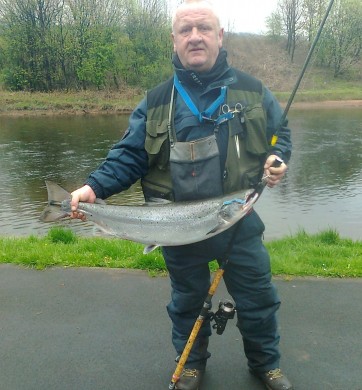 Brian Ward landed this spring salmon (15lbs) the same day at the Double Pipes. There were numerous reports of good fish lost including a 20lb springer from Chapel Hole which was dropped at the net.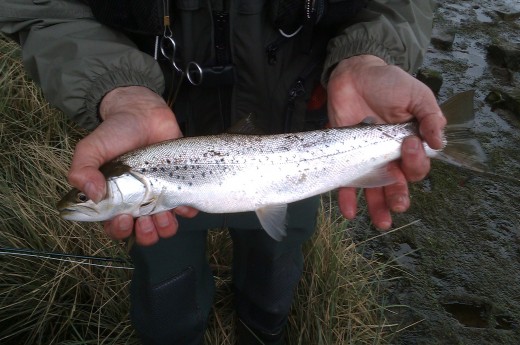 More reports have been received of sea trout going through the system. Graham Dunsmore contacted us with this report:
'In the last couple of days 8th/9th May, I've been enjoying great sport with sea trout on the Leven.'
'I wasn't able to fish for any length of time either day but managed 7 sea trout (all returned of course!) to the fly with a couple more lost. 
All between 3/4lb to 1lb 8oz. Not big sea trout but the largest one fought spectacularly and until I saw it, thought I was playing a fish of approx 3 or 4lbs!
I can't remember getting sea trout on the river like this at this time of year for many years.
Interestingly only one had a single sea louse. Some were fairly lean, very bright looking and suspect that some in fact were well mended kelts.
This makes me wonder – are some of the sea trout now running later and spawning later?
I've attached a pic of one of approx 1lb 4oz.'
Thanks for that Graham.
On Tuesday 6th, due to the height of the Loch, Scottish water dropped the gates and the river turned into a raging torrent. Some anglers did persevere and we hear that Scott Laird (15lb) and David Watt (13lb) both landed fish at the top pool. There is an unconfirmed report of a further salmon landed and possibly four lost. This morning the river remains high, but is beginning to drop back slowly.
There's a good chance that quite a few springers will have passed through into the Loch and spread out……. there's no truth in the rumour that the gatekeeper is on the Loch fishermen's payroll!
LochLomond.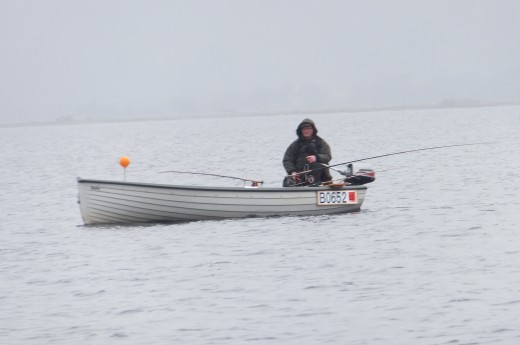 A good number of Bank Holiday boatmen out on the Loch, the bailiffs estimated at least twenty hopefuls out on the troll.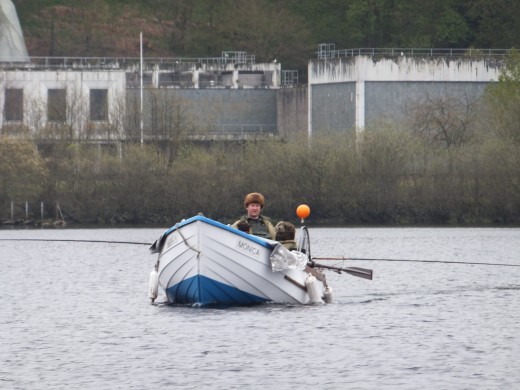 Most boats were seen patrolling the Boturich and Claddich shores, and of course the Endrick Bank.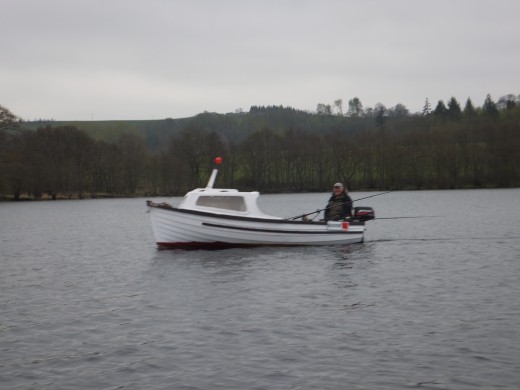 However, there were no reports of fish landed into either Balmaha or Balloch.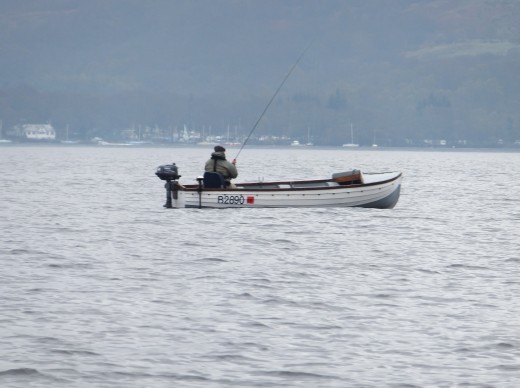 Even though conditions were fairly calm a few fly fishers were on the usual drifts.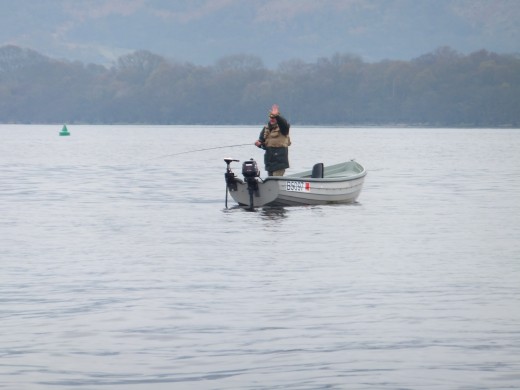 Andrew Gilchrist had a near miss at the Ladies Point with a salmon rising to the fly.Unfortunately it didn't connect.
Although the Loch surface temperature is still sitting around 8C, fly fishers are having sport with sea trout around the islands. Colin McCrory boated a fine 5.5lb specimen on Saturday and other Balmaha boats reported good catches of finnock.
River Endrick.
No more news from the Endrick, but bear in mind that the first salmon came off in May last year…..
Membership Fees.
Just a wee reminder to those who have still to raid their piggy banks and gallon whisky bottles:
'Any Member who has failed to pay his Annual subscription by the 1st day in March in any year shall be held in arrear, and any member still in arrear by the 1st day in June in any year shall, in option of the Committee, cease to be a member but shall, notwithstanding, be liable for all arrears. Members subscriptions for any season must be paid before they fish.'
It's getting near that time …………
JR
Contact Reports at : reports@lochlomondangling.com