River Leven.
Over the past fortnight the Leven has been fishing very well with good sport being enjoyed by anglers on the fly, spinner and worm.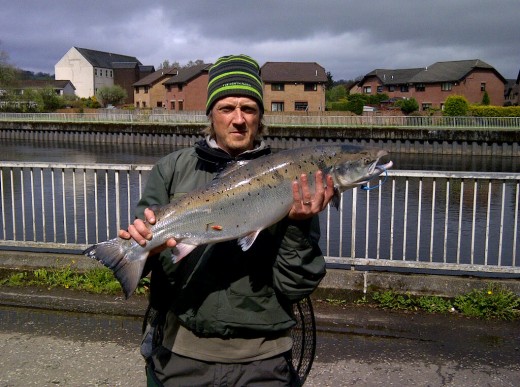 On Saturday 11th May there were at least four fish landed including this 16.5lb springer, caught on the worm by Andrew Casey at the Haldane Burn.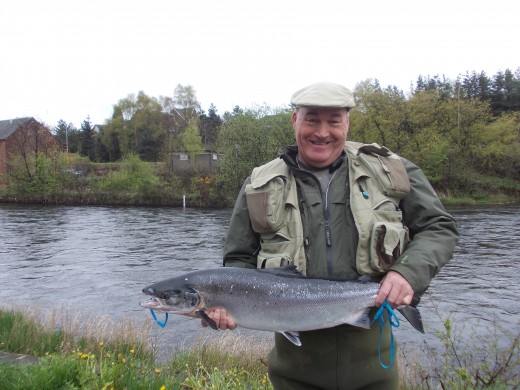 Malcolm Campbell with a 15lb spring salmon caught at the Glebe on the fly.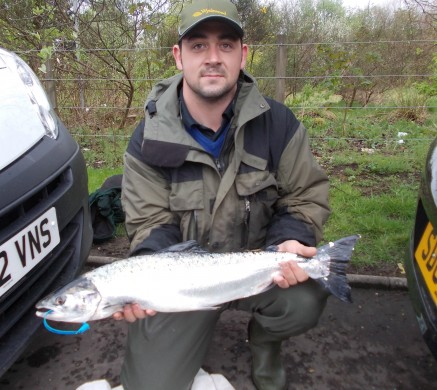 David Sunman jnr with an 8lb springer on a cascade fly at McKinnons.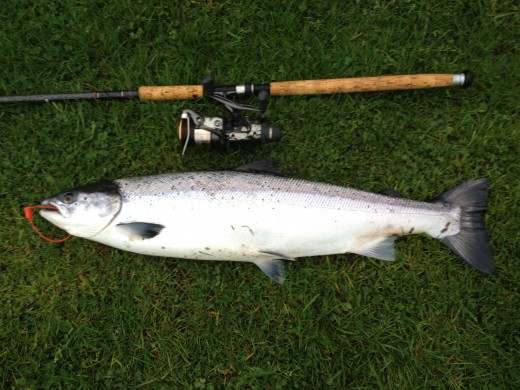 Sean McAulay landed this 12lb, sea liced  spring salmon on the worm at the Piles.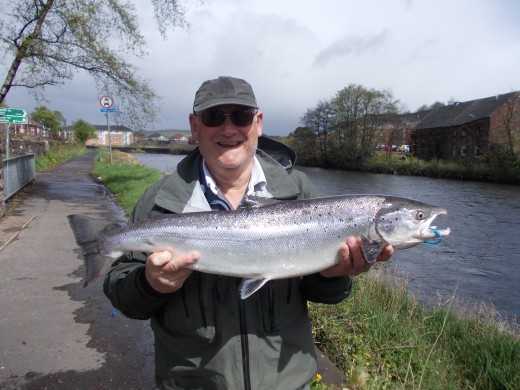 On Monday 13th May sport continued. Mike Palmer landed this 15lb salmon on the fly at Factory Wall and Sam Burgoyne (10lb) at the Top Pool which was released.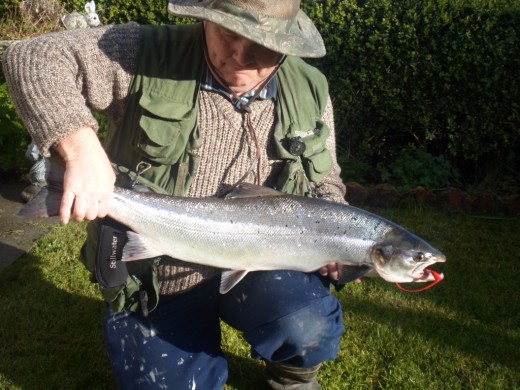 On Tuesday 14th May, Tam Mitchell landed his first salmon of the season at the Glebe. Here's his story. Angler in distress..damsel to the rescue.
' I left the house about 6.00pm en route to collect my wife from work via the Glebe. Fished down the straight at the rear of the church, half dozen casts but nothing doing. Moving on to the bend, after two casts I had a take and up the river it went. My heart was jumping at this time as I had left my net in the car. I was in a real panic until a lady walking along the path with her dog's approached and asked if I had caught something. She did a bit of fishing herself and asked if she could help land it for me. In great trust I handed her my car keys and she returned with my net landing a 12lb fish. A big thank you to that lady!…………….'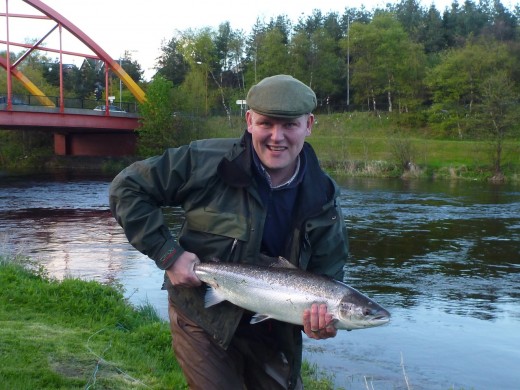 The very same day, Neill Sproull connected with this fine 13lb springer on the fly at Bonhill Pool.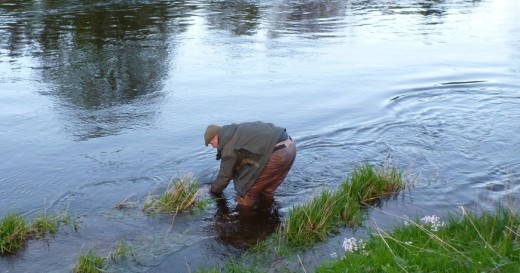 'Struck lucky at last this evening with a 13-14 pounder from Bonhill Pool. Sea liced and took a size 9 Ghillie just above the Cables. Expertly netted by Alan Pryce and photographed by Jack Ferguson. The fish was returned'.…. Well done Neill!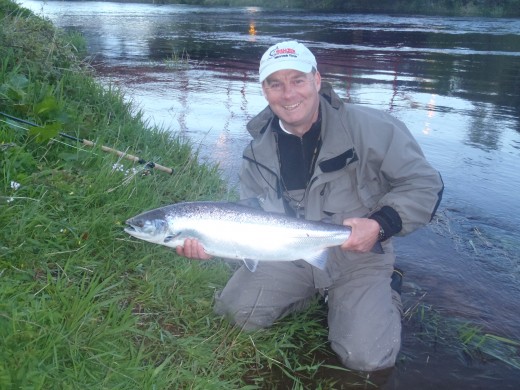 15th May, Derek Hughes has similar success at the Bonhill Pool with this 14lb springer coming to the fly. A bar of silver indeed! Once again a spring salmon was released back to the river.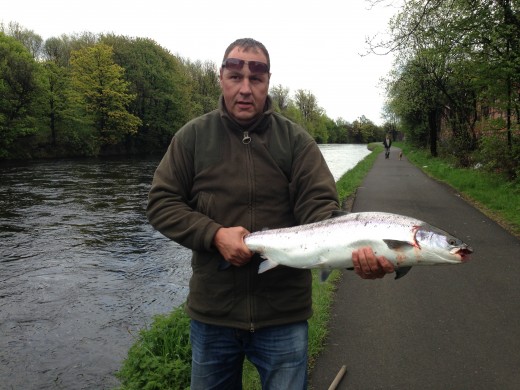 There are further reports of fish caught and released by Sam Burgoyne (12lb) and (10lb) returned. Scott McFarlane (14lb) returned. 17th May, Billy Quinn (13lb) double pipes, returned (above). Jim McDonald (12lb) returned.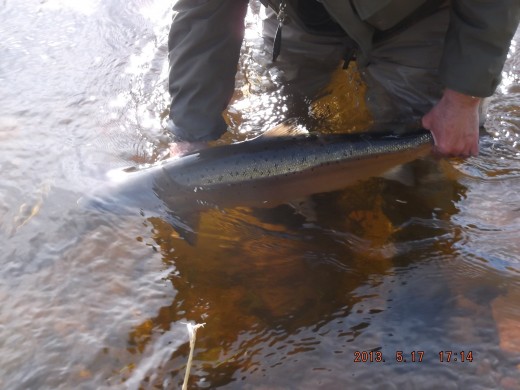 Also on 17th, Chic McLean lost a good fish at the Bucks and then landed this 15lb springer, returned. Shortly afterwards, Hugh Russell had a 14lb fish at the top end of the Street Run.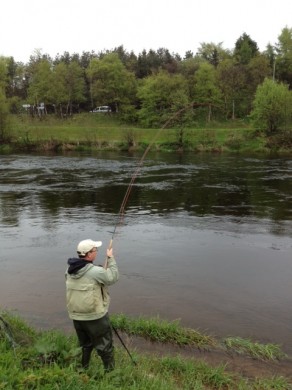 18th May, it was Colin Smith's turn for some rod bending stuff at Bonhill Pool…..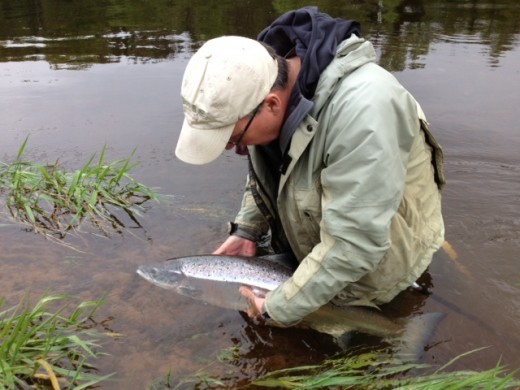 …..resulting in the capture and release of an estimated 14lb spring salmon…..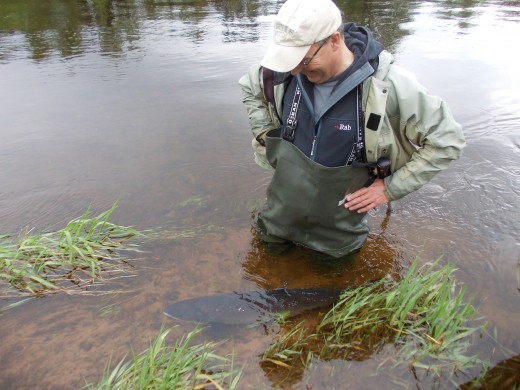 …..sent safely back on its way.
20th May, John Little (13lb) Chapel Hole on a flying c.  Ally Barrowman (10lb) Stuckie Bridge, flying c, returned. Tam McBride (10lb) Stuckie Bridge. 22nd May, Ian Quinn (9lb) Linnbrane Hole, returned. 23rd May, Ally Barrowman (15lb) Back Stream, returned.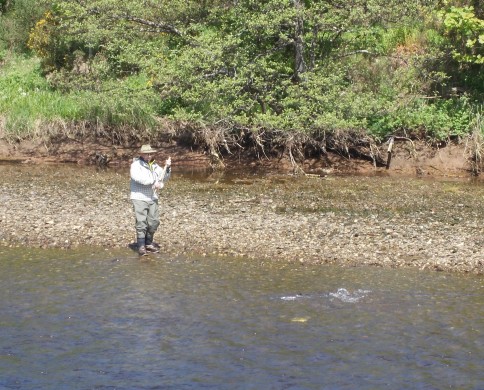 22nd May, Peter Ingram is captured by our bailiff Colin, playing a good fish, caught on the fly at McKinnons.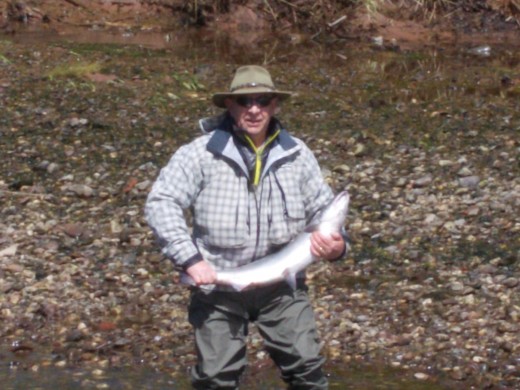 A good 13lbs in weight, it was quickly photographed……
……and another of our spring run fish is returned into the system.
The most recent report we have had is from David Sunman snr, who on 27th May, not to be outdone by David jnr, landed a 9lb fly caught springer at the Garden Stream. It as taken on a Bann Shrimp.
Unfortunately the gates closed yesterday, but the Loch is still at a good height and the unsettled weather may produce enough rain to see them open again before the weekend…..we hope.
Loch Lomond.
May started off very quietly on the Loch with nothing reported over the first Bank holiday weekend. Last year it was towards the end of May before the spring run filtered through and some good sport was enjoyed by loch boatmen, well into June. But there are fish about…..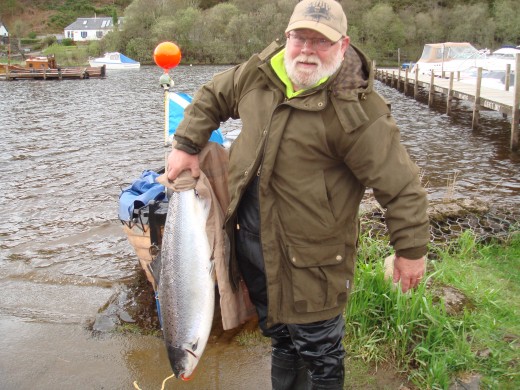 Saturday 11th May, Balmaha regular Geordie Fyfe has his first fish of the season. Weighing in at 22lbs and almost as deep as it is in length, it's a memorable start to the season.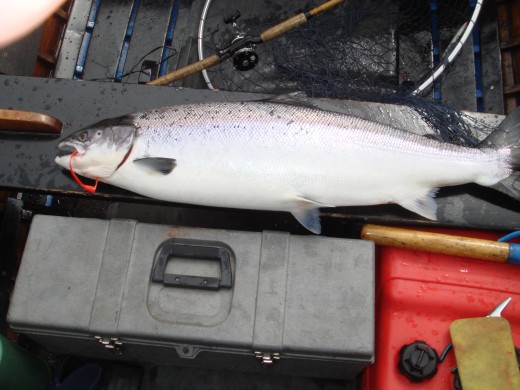 'Saturday 11th was quite windy, blowing south westerly, so I headed along the bank down as far as the pumping station, about turned back  towards Balmaha for the third time and the poker rod let out a scream – fish on! After about 10 mins of getting tossed about the boat the fish broke the surface. A cracking 22lb Salmon came to the net, what a fight!'  Wee Geordie.
Other lucky boatmen this month include: Scott Pryce (13lb). Russell Boyd (10lb) returned. Craig John (10lb)
River Endrick.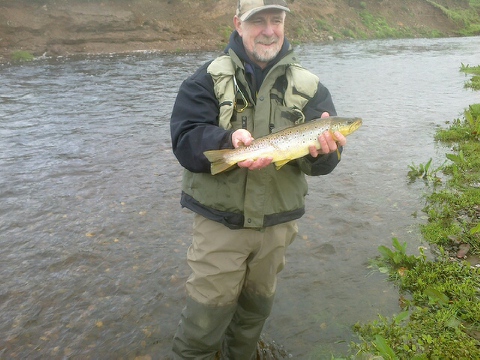 Robert McKinlay was rewarded for his efforts this morning with a 2lb brown trout coming to the fly. Still early season on the Endrick but there are stalwarts like Robert who know that there's always the chance.
It's very apparent from the content of this report that a fair percentage of our members and ticket holders have exercised their right of choice by electing to return spring fish back to the system. This investment in the future of our wilds salmon stocks is commendable. Not all of these anglers may feel that they want to claim the rewards offered under the LLAIA's 'Return our Springers' initiative, but for those who wish to, please forward an evidenced application to the secretary using the link on this website.
We'd also like to thank those of you who have contributed to our 'Report's page this season so far. Whether it's on the Loch or the rivers it's always good to know what's happening and where. So if you have some good news, once again… don't sit on it until it hatches and flies away….share it with us all!!
JR
Contact Reports at: reports@lochlomondangling.com