River Leven.
Despite fluctuating water levels the Leven continues to produce good quality fish. A few reports may escape our notice, but this one certainly didn't 'slip through the net'.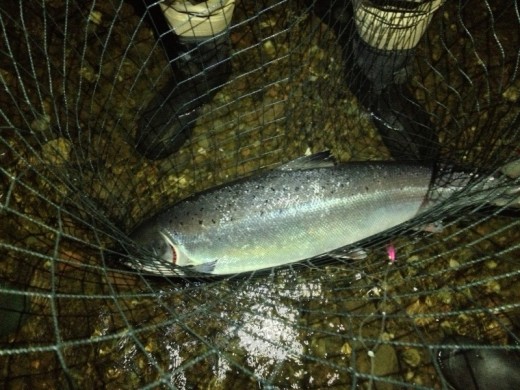 Vinny McMenamin landed this beauty at the Bonhill Pool on 24th May. He was using a self tied fly on a single handed rod. It weighed approx. 16lbs and was returned.. Vinny's catch has been authenticated and he can expect to receive £40 of Glasgow Angling Centre vouchers very shortly.
Other recent catches include: 28th May, Derek McKenzie (12lb) returned. Jack Ferguson (12lb) returned. 29th, Alan Pryce (13lb). Alec Doey (13lb) Top Pool returned. Alec's catch is also being considered for GAC vouchers. 3rd June, Keith Adams, (10lb) Street Run on the fly, returned.
Loch Lomond.
The run has now entered the Loch with good numbers of fish coming to trolled lures, particularly on the Boturich and Claddich shores, Endrick Bank and Auchentullich Bay.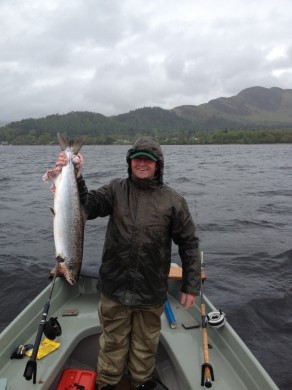 On 27th May, Frank Caldwell boated this 13lb bar of silver on the Endrick Bank.
28th May, Balmaha boatman Joe Brown with a 12lb springer landed at the Ross Isles, showing that some fish are already heading up to the deeper, colder water.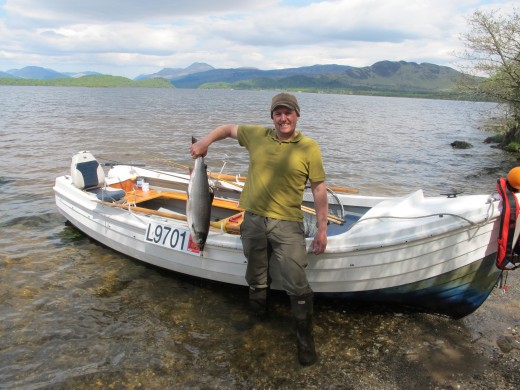 30th May, happy Balloch boatman John Bell with his first fish of the season, weighing 13lbs,taken in Auchentullich Bay on a copper/silver lurgan. Makes up for a blank season last year.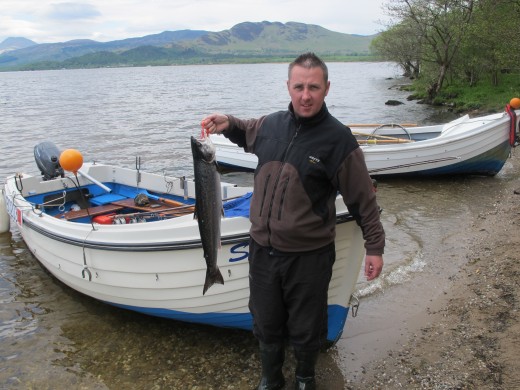 Stewart McBean with his first salmon of the year, 10lb, on the Claddich shore.
Other Loch catches include: 23rd, Donald Brown (14ll). 24th Euan Slowic (8lb) returned. 28th, Danny Dochetry (17lb) Claddich shore. 29th Jackie Millar (12lb). 30th, Brian Follett (14lb). 31st, Stuart McBean (10.5lb)., Paul Dorrian (11lb). Rab Strachan (13.5lb). Daniel Gray (19lb) & (7lb). 3rd June, Mark Lees (11lb) St James Bank/golf course.
River Endrick.
In our last update we mentioned that it was still early days for the Endrick. However, on 28th May, after some overnight rain, Malcolm MacCormick and Chris Turner decided to head out in search of the first salmon of the year…or two…or three..
In less than two hours Chris landed two absolute crackers weighing 14lb and 10lb……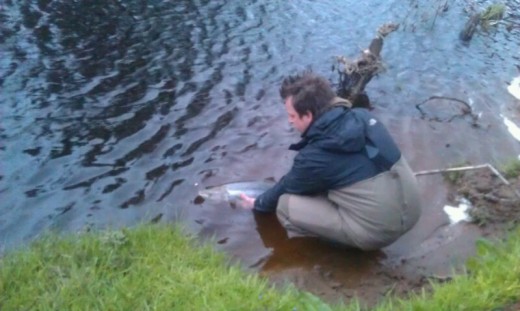 releasing both back in to the system. Chris also landed the first salmon on the Endrick last year.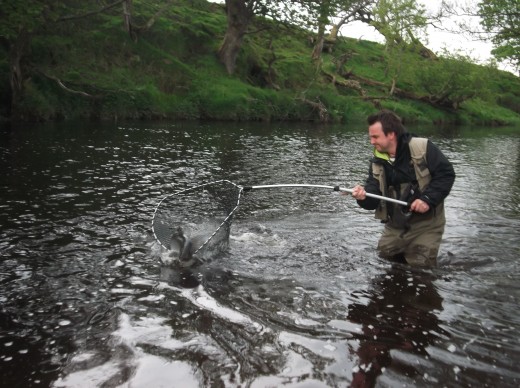 Malcolm hooked into a 10lb springer seen here jumping out of the net……..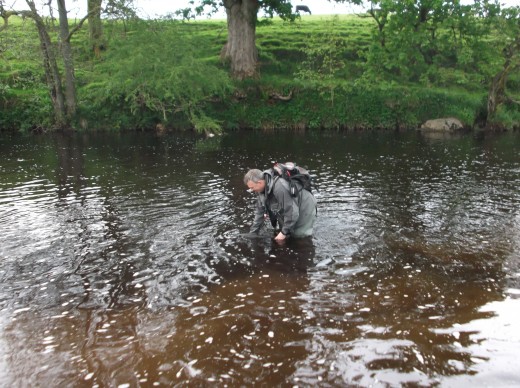 ……before it was carefully returned…..Great stuff!!!
Members and ticket holders are reminded that all fish that are dispatched must be tagged as soon as possible with the numbered tags issued. The tag must also be clearly showing in photos submitted for inclusion in the Reports section……..unless the fish is being returned of course!!
JR
Contact Reports at: reports@lochlomondangling.com