River Leven.
Unfortunately the rain at the weekend didn't have much effect on the system, certainly not enough to top up the Loch level. The gates have been closed since Monday and the river is at summer low. Not much activity reported, which is not unusual at this point in the season. The spring run has gone through and the arrival of summer salmon and grilse is awaited.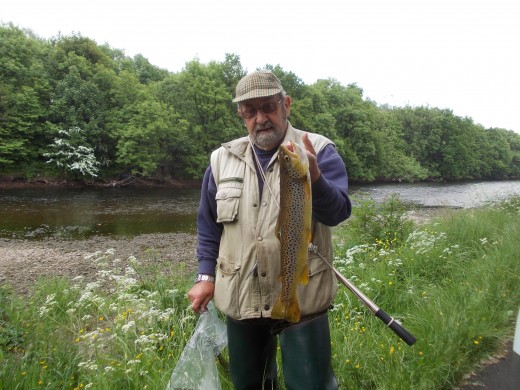 Still fish to be caught though with a few sea trout coming to rods willing to persevere. Russell Hall recently landed this fine looking brown trout of 2lbs at Stuckie Bridge.
Leven Clean Up.
The clean up takes place this weekend meeting at Bonhill Bridge, Saturday/Sunday at 10am. All welcome and (soft) refreshments will be provided. Anglers are advised that the gates will remain closed over the weekend to enable debris to be removed from the river, but should open again on Monday morning.
Loch Lomond.
After a couple of busy weeks the Loch's beginning to quieten down. The spring run will be well dispersed by now, taking up residence wherever they can hide…….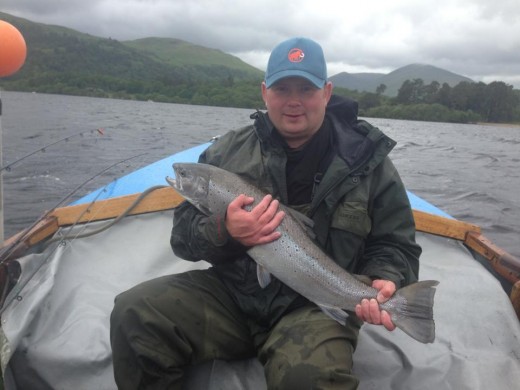 Saturday 15th June was a particularly inhospitable day out on the Loch weatherwise, but Alan Dorrian landed this cracker of a sea trout off Inchmoan. It weighed approx.12lbs and was returned.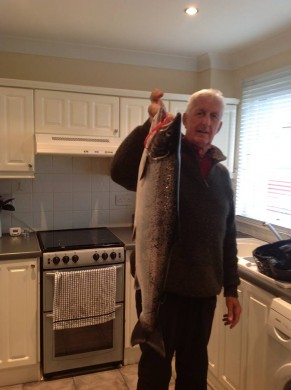 Jim McNiven had success in the more sheltered south end of the Loch with an 8lb fish taken on the troll off Lomond Castle. There are still reports of salmon being landed, mainly in the Claddich, Net Bay and Endrick Bank areas, but in fewer numbers. Only a handful of boats have ventured up the 'tap end' of the Loch and there have been no reports of any activity.
Recent Catches include: 10th June, Robert Paterson(12lb), 12th June, Alec McElwee(10lb). 13th June, Steven Gilfeather (13.5lbs) returned. Rab Strachan(12lb).14th June, Albert Biddulph (14lb), Eric Donnachie (8lb), Ross McNair(12lb)&(8lb), 18th June, Dave King (15lb).
Obituary.
It is with much regret that we announce the passing on 19th June 2013, of George Malloch. 'Geordie' was a very keen fisherman and with his 81 years experience, probably knew Loch Lomond better than anyone. He had been a member of the Vale of Leven Angling Club 'since it was built' and was well known and liked by his fellow anglers. He will be sorely missed. Our thoughts at this time are with his family, to whom we offer our condolences.
George Malloch's funeral will take place on Tuesday 25th June at  the Vale of Leven Cooperative funeral parlour at 11am, thereafter to Alexandria cemetery.
JR.
Contact Reports at : reports@lochlomondangling.com