River Leven.
A few heavy rain downpours recently, but not enough to raise the Loch level sufficiently for Scottish Water to drop the gates. Definite sightings of fish in the river and some reports coming in, but once again we can only post we know about…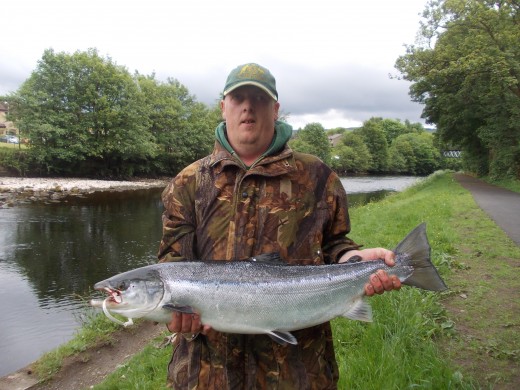 On Tuesday 15th June, Andy McPherson landed this cracker (15lb) at the top pool.
Chic McLean has seen more action: 30th May (10lb) at the Twin Lades – returned, and on 2nd June (11lb) which apparently 'took him over the twin pipes'….take from that what you will……before it was landed and returned. 7th June, Jordan Granger (15lb) Piles.
Loch Lomond.
Looking back at reports from the last two seasons, the end of May and first couple of weeks of June are now the prime time for Loch boatmen on the troll. Spring salmon, having run the Leven, are in the Loch seeking sanctuary at the various lies around the shores and islands. Once again, as one would expect, the Boturich and Claddich areas feature.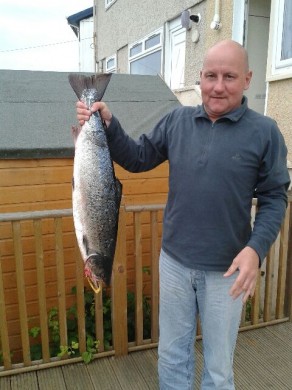 On 29th May, John McClurg landed his first salmon of the year on a rapala off Inchfad. Fortunately not a rod breaker this year John!
Other catches: 28th May, Alec Doey (10lb) Claddich. Walter Gilchrist (13lb) Mid Ross.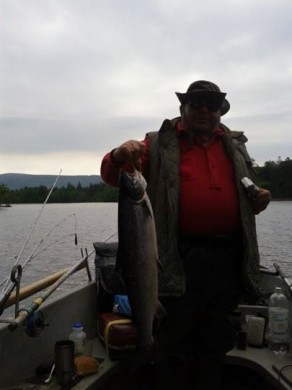 On Saturday 7th June there were at least four boats with fish aboard. Well known Loch boatman Ernie East landed his first of the season  (12lb) at Strathcashell….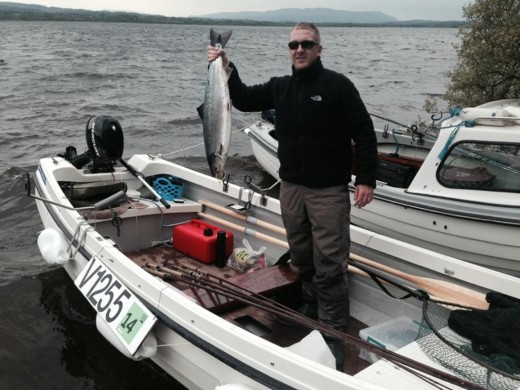 …and the same day Sean McAulay (10.5lb) on a toby at Boturich.
Other catches: 3rd June, Frank Caldwell (12.5lb) Endrick Bank and 9lb sea trout off Balloch Park. 7th June, Scott Pryce (10lb) 10th June, Eric Donnachie (14lb) Boturich.
A few boats have ventured up the 'Tap End' but nothing reported yet. The northern end of the Loch is by far the most scenic area and well worth the trip, but over the past few years salmon catches have been very much on the decline…..there used to be brown bears up there too…..I remember them well…
River Endrick.
The news we've been waiting for at last, the first reported fish from the Endrick!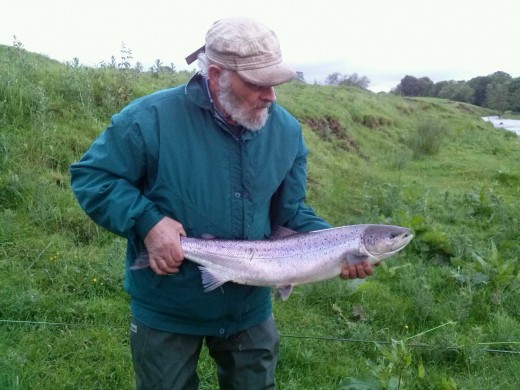 Tuesday 10th May was a significant date for John McNab. Assisted by Colin Ferguson he landed the first reported salmon (11lb) this season from the River Endrick. It was quickly released to continue on its way. That old favourite the Ally's Shrimp once again proving its worth…..nice one John!
New Angling For Youth Development Training Group "AFYD Dunbartonshire".
LLAIA  (Loch Lomond Angling Improvement Association) have formed a joint project with an angling charity called "ANGLING FOR YOUTH DEVELOPMENT" (Charity No SCO39286) with the intention of offering YOUNG PEOPLE of all backgrounds & abilities the opportunity to participate in angling and angling related subjects, thereby improving their quality of life.
We want to be operational and teaching Schools/ Clubs by May 2015.
Free Qualification/ Insurance & PVG Registration;
SQA Angling Coaching Course!
We need 6 volunteer Anglers from the Dunbartonshire Area, members of LLAIA, who are willing to give up 3-4 weekends (9am-5pm) to be trained FREE OF CHARGE to become Qualified SQA Angling Coaches with Dunbartonshire AFYD Hub.  Coaching Courses will be Late October/ November 2014. The Qualification is recognised worldwide.
We are also looking for Volunteer helpers to assist our Coaches, who may after gaining confidence might consider putting themselves forward to do the Coaching Course in the future.
All volunteers & coaches will have to pass in the first instance a Government PVG Scheme run by Disclosure Scotland before you can work/volunteer with children.
AFYD Dunbartoshire have funding and all Disclosures & Coaching Courses will be paid for.
AFYD patrons include Professor David Bellamy OBE & Fiona Armstrong.
Website: www.AFYD.co.uk
Lampey Watch 2014.
We recently mentioned that SEPA are carrying out a survey of the lamprey population in the River Leven.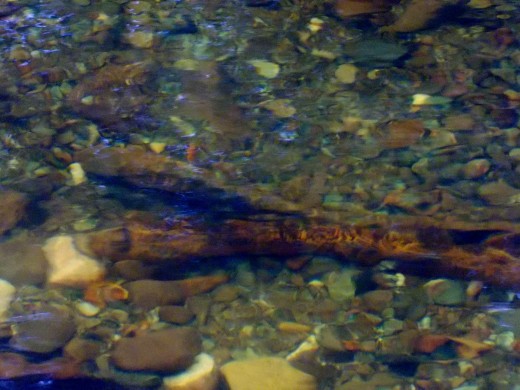 Yesterday Colin McFadyen spotted several of these creatures nesting under Stuckie Bridge. SEPA would be grateful for as much information as possible. This link explains what we're looking for Lamprey Watch 2014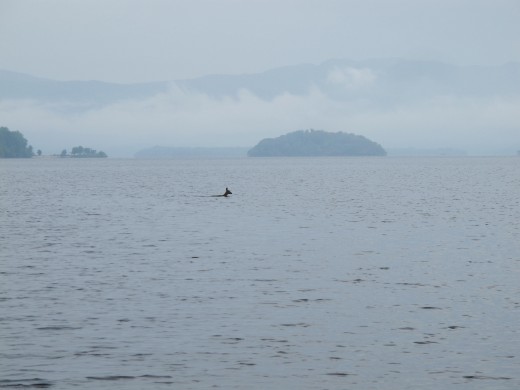 Recently Balloch boatman John Bell was heading up the Boturich shoreline when he spotted something unusual ahead. Definitely not a seal!  Nessie lost?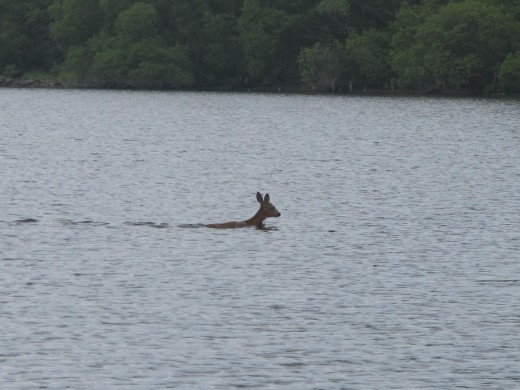 ….nope…just Bambi joining in the springer hunt…….
Thanks to all for their contributions.
JR
Contact Reports at : reports@lochlomondangling.com